2018 Bracket Picks Year In Review
A review of our bracket picks in the 2018 NCAA Tournament, breaking down what worked and what did not with our pick recommendations.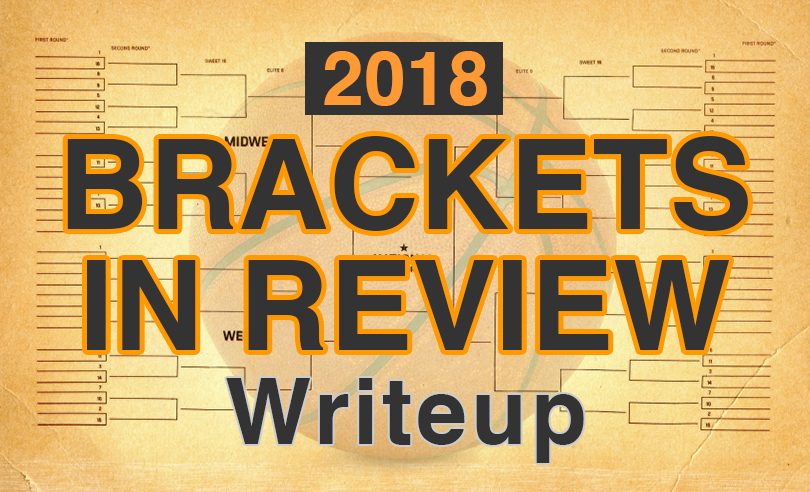 For the 2018 NCAA Tournament, our Bracket Picks had another very good year. According to survey responses provided by our subscribers, 63% of customers won at least one prize in 2018. Across all pool types, customer win rates were 3.8 times higher than you would expect based on pool size, payout structure and the number of brackets entered. If you're interested, you can see more detailed information on our Bracket Picks performance over the last five years.
Overview of the 2018 NCAA Tournament
2018 will likely be most remembered for Loyola-Chicago's Cinderella Final Four run as a No. 11 seed. Virginia also became the first No. 1 seed to ever lose to a No. 16 seed. That massive upset was a precursor of things to come in the 2018 tournament. By the end of the first week, one entire side of the bracket had only one No. 3 seed (Michigan) remaining among the top six teams on that side of the tournament.
In the end, though, a No. 1 seed did win the title, as Villanova won for the second time in three seasons, and did so in impressive fashion. The Wildcats won every game by double digits on their way to the title. You can see a full summary of the 2018 NCAA Tournament results here.
Here is how our average recommendations compared to the public for the 2018 tournament in each round.
| Bracket | Round 1 Correct | Round 2 Correct | Sweet 16 Correct | Elite 8 Correct | Final 4 Correct | Champ Game Correct | Points (Based on 1-2-4-8-16-32 scoring) |
| --- | --- | --- | --- | --- | --- | --- | --- |
| TR "Best Brackets" For 1-2-4-8-16-32 Scoring | 23.7 | 8.5 | 2.9 | 1.50 | 1.00 | 0.95 | 110.7 |
| TR "Best Brackets" for All Scoring | 23.9 | 8.7 | 2.9 | 1.37 | 0.97 | 0.93 | 109.4 |
| All TR Brackets | 23.6 | 8.8 | 2.9 | 1.11 | 0.54 | 0.43 | 84.0 |
| The General Public | 21.6 | 7.0 | 2.5 | 1.09 | 0.39 | 0.15 | 65.4 |
Overall, the numbers in the table above are quite solid:
Our average bracket had more correct picks than the average public bracket in every single round.
Our Best Brackets for standard scoring averaged 111 points, over 70% higher than the public's average of 67 points.
93% of our Best Brackets correctly picked the tournament champion (the most important pick in most scoring formats), compared to only 15% of the public.
But our goal is not just to be better than average, we want to have brackets that finish near the top and win our customers money. And we did that this season: our "Best Brackets" at various pool sizes ranged from finishing in the 91st (pool size: 1000-2499) to 98th percentile (pool size: 26-50) compared to scores on ESPN's Tournament Challenge bracket contest.
What Worked in our 2018 NCAA Tournament Picks
We will take those overall numbers. But let's put some specific details with them to show key pieces of analysis that led to those results. In addition to access to a variety of data and tools, our subscribers get other information throughout tournament week.
We provide an early bracket write-up on Monday with initial thoughts and reactions to how the pick recommendations are likely to shape up. A final bracket write-up is released on Wednesday night further detailing some key recommendations. (Note: any direct quotes from those write-ups included here have been italicized.)
We also generate customized picks for our subscribers, so that your pool scoring system (and any modifications like upset bonuses or seed bonuses) and pool size can dictate the best strategy in each particular case. While the advice for one type of pool may be different than for another on a specific game or type of team advancing, some key over-arching themes led to success in a variety of pool types in 2018.
We Had Villanova as Our Most Frequent Championship Pick
Early in the week, we had identified Villanova (slightly over Virginia) as the most likely tournament champion, and one who wasn't all that popular in a tournament year that seemed wide open. By Wednesday, with news of Virginia forward DeAndre Hunter's injury (see below), that gap had widened.
"After recalculating round by round advancement odds based on Virginia's new power rating plus some other team rating changes listed below, Villanova is now the clear favorite to win the tournament."
Villanova (16.6% chance of winning title) was projected with a 6% higher chance than our second-favorite, Duke, by Wednesday.
That led to Villanova being the nearly universal recommendation (93%) to our customers in their "Best Brackets." Getting the title winner is a pretty important piece to success in most years.
We Downgraded Virginia Based on the De'Andre Hunter Injury
No one could have predicted Virginia becoming the first No. 1 seed to lose in the first round against a No. 16 seed. But we did downgrade Virginia in our evaluation, and that led to reduced exposure to Virginia compared to the general public when the upset did happen. Here's what we wrote on Wednesday:
Hunter is a 6'7″ redshirt freshman who was voted the ACC Sixth Man Of The Year. However, in this case, "sixth man" severely understates his importance to Virginia. If you're an NBA fan and old enough to remember, this guy is kind of like "Kevin McHale status" sixth man. He played more minutes than starter Jack Salt, and is arguably the team's most athletic player and most skilled offensive player.
…
To exacerbate the situation, Virginia does not have great team depth. Their regular rotation involves only 8 players, and the player with the next-most playing time in the 2018 calendar year is Marco Anthony, who has averaged a measly 2.2 minutes per game. Either Virginia's rotation is going to have to go only 7 players deep, thus increasing their fatigue risk late in games, or they will have to play an essentially untested freshman.
By Wednesday, Virginia had been replaced in our bracket recommendations with other teams advancing to the final to face Villanova. Some of our brackets were recommending Cincinnati to the Final Four out of the South (more on that below in the "What Went Wrong" section.)
We Did Better than the Public in the First Two Rounds
The public loves to pick upsets, usually more frequently than they should based on the scoring format. We sometimes get comments from customers who think our picks are too chalky, until they earn them money. But you would think in a year where the tournament went crazy on one side of the bracket before the first weekend was done, the public might have had their day.
Not so fast.
In the First Round, the only No. 11 seed or higher that we suggested in more than 10% of Best Brackets was Loyola-Chicago. So our upset picks in that seed range in most Best Brackets went either 1-0 or 0-0.
The general public, on the other hand, picked teams seeded #11 or worse at a greater than 10% rate. Those teams went only 3-8 in the first round. On average, considering all first round games except for the No. 8/9 and No. 7/10 "toss up" matchups, the public picked 17.8 games correctly while our Best Brackets picked 19.1 games correctly.
In the Second Round, there were zero No. 6 seeds or worse that we suggested picking in more than 10% of Best Brackets. So our Second Round "upset picks" went 0-0 in most of those brackets, and we averaged 5.9 correct picks in those 12 slots. 6 of 12 doesn't seem all that great, until you compare it to the public results. The public picked eight teams seeded No. 6 or worse to make the Sweet 16 at a greater than 10% rate, and two teams (Florida and Miami) at a greater than 20% rate. None of those eight teams reached the Sweet 16. On average, the public only got 4.7 correct picks in the 12 "non-toss-up" Second Round slots, compared to our 5.9 correct picks.
That's right. In a year where teams like No. 11 Loyola-Chicago, No. 11 Syracuse, No. 9 Florida State, No. 9 Kansas State, No. 7 Nevada advanced in upset fashion, the public was on none of those teams at a rate of even 10%, while getting most of their upset teams wrong.
Add in that we went three-for-four in most brackets in getting teams out of the toss-up 4/5-seed quadrants (With Kentucky, West Virginia, and Gonzaga) while the public averaged getting two right, and even through the chaos of opening week, our brackets were in better shape than the public.
The Loyola-Chicago Run Did Not Hurt Us
Besides getting one of your own picks right deep into the tournament, the next-best result is for a team that no one was picking to advance instead. While years from now everyone will tell the tale of how they picked Loyola-Chicago's Cinderella run, very few entries actually did. While our brackets did pick Loyola-Chicago to win against Miami in some cases, none had them going further.
But their run to the Final Four was a perfectly acceptable result for us. It largely meant no one else scored points in that quadrant of the tournament either.
What Did Not Work in Our 2018 NCAA Tournament Picks
While our results outperformed the public, and our customers reported winning prizes nearly four times as often as you would expect by chance, not everything went our way. While we nailed the champion pick with most of our "Best Brackets," we had some other key results swing against us that kept it from being a great year, rather than just a good one, for our customer base.
The Cincinnati Loss Hurt, Badly
Cincinnati was an undervalued No. 2 seed in the South, with the public heavily on Virginia. Plenty of our brackets had Cincinnati advancing to the Final Four, and some to the Championship Game. Things looked like they were setting up nicely for us in the South Region after Virginia's loss, No. 4 Arizona's loss to Buffalo, and No. 3 Tennessee's loss to Loyola-Chicago.
All those results had already happened before tipoff of the second round game between Cincinnati and Nevada. Then, Cincinnati built a 22-point lead with 11 minutes left. Nevada completed a wild rally with a go-ahead put-back basket with 10 seconds left, followed by a steal.
Villanova winning the title helped, and Loyola-Chicago's run dampened some of the lost opportunity. But Cincinnati was sitting in prime position to provide great value until a wild and improbable comeback.
Michigan's Run to the Final
Michigan was the one remaining team in the South/West half of the bracket that could hurt us, since only 1.5% our recommendations had them in the Final Four. Thus, the Jordan Poole buzzer-beater that got Michigan past Houston ended up being a huge negative for our customer base. Nearly 20% of the public had Michigan in the Final Four, and around 7% of the public got points for them advancing the title game.
Those points likely meant the difference between winning some money and just missing out for some of our subscribers.
Key Injuries After the Tournament Started Didn't Help
Two key injuries derailed the chances for a couple of teams we were backing to advance to the Elite Eight. While they didn't have the same impact as Michigan's advancement, they also did not help our cause. Killian Tillie was ruled out of Gonzaga's Sweet 16 matchup with Florida State, and the Bulldogs lost.
Purdue center Isaac Haas fractured his elbow in the first round matchup, and never played again. That was enough to shift Purdue's chances in the Sweet Sixteen, and it was No. 3 seed Texas Tech that advanced to face Villanova in the East Final.
If it sounds like we are saying that luck wasn't always on our side in the 2018 tournament, well, it wasn't. That's not the case every year. There have been plenty of occasions where the close results and breaks went our way to help produce even better results. But those injuries and close shaves (Poole's buzzer beater, Nevada's epic comeback) did not help us on balance in 2018.
Wrapping It Up
When the dust settled on the 2018 NCAA tournament, all of our Best Brackets for standard scoring had beaten at least 91% of the public. Survey results indicate 63% of our subscribers won at least one prize. Those are positive results, even with some bad breaks in some key close games along the way.
For those of you that have been subscribers, we hope that you found value in both the NCAA Bracket Picks product and our accompanying writeups and analysis. For those that have not yet subscribed, we hope that this has given you a deeper look into the kind of analysis and value that we can provide.
Year-to-year results will always be subject to high variability, and even with our picks you're not going to be expected to win a prize in any given pool. But in the long run, sticking with our analysis and strategy should yield strong results. We wouldn't be here today, still doing this after almost 15 years, if it weren't for our returning customers, and new customers, that gave us a chance.
If you want to see other yearly write-ups you can also see the 2019 Brackets in Review and 2017 Brackets in Review articles.