2021 Bracket Picks Year in Review
We review the performance of our 2021 NCAA bracket picks, including what went right and wrong with our data-driven pick strategies.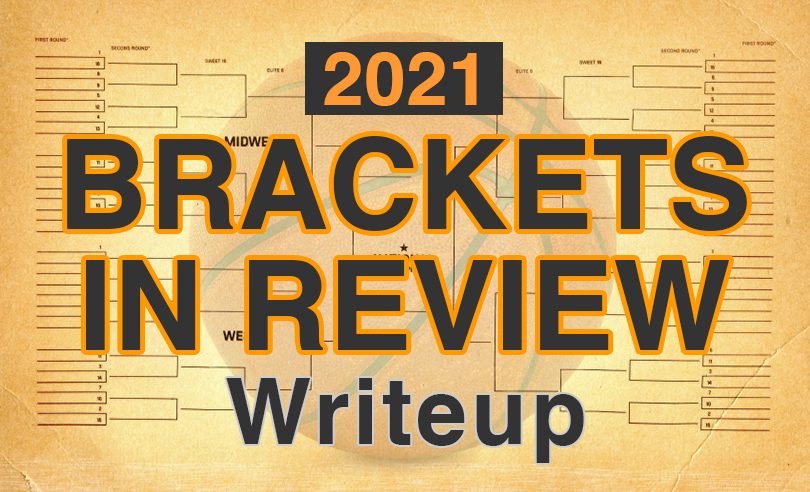 In most bracket pools with standard scoring (1-2-4-8-16-32), winning a pool often comes down to one of two things:
Picking the NCAA champion correctly.
In smaller pools, beating your opponents in the rest of the bracket if a dark horse team that nobody picked wins it all.
In the 2021 NCAA tournament, our recommended Best Brackets for a high percentage of pool sizes and scoring systems were focused heavily on No. 1 Gonzaga as the national champion pick. Despite a scare by UCLA in the Final Four, that Gonzaga pick still looked like a great call right until the tipoff of the championship game, as Gonzaga closed as a 4.5-point favorite over No. 1 Baylor in the betting markets.
Unfortunately, things went downhill quickly from there, and almost all TeamRankings subscriber brackets missed out on the ever-important championship pick points.
In large part because Baylor was the fourth most popular NCAA champion pick this year, most TR brackets did not finish at or near the top of most bracket pools in 2021. That's a bummer, and we certainly have some learnings to take from 2021 as we continue to refine our bracket picking methods, which we'll touch on in this post.
At the same time, a result like this should never be a big shock, given that bracket pools are a high-risk game where winning doesn't happen frequently, but typically provides a huge reward when it does.
Putting 2021 In Context
Between 2017 and 2019, a minimum of 63% of NCAA Bracket Picks subscribers each year reported winning a bracket pool prize. As we noted at the end of our 2021 Bracket Picks Writeup, "that's a pretty insane stretch that has produced some unsustainably big returns for some subscribers … and bad luck is bound to occasionally strike. In some years, only a very small fraction of our subscribers may win prizes."
We'll see where we end up in terms of subscriber win rates this year; early returns indicate somewhat higher prize win rates than we expected. Still, subscriber win rates will certainly end up below that recent torrid stretch from 2017-19.
April 23rd Update with 2021 Survey Results
Subscribers reported winning a prize in 9% of pools in which they participated. About 19% of subscribers reported winning a prize in at least one pool in 2021. Based on the reported pool sizes and payout spots, an average public entry would have been expected to win a prize in 10% of pools, and have a 22% chance overall of winning a prize in at least one pool.
That's disappointing but not unexpected given the championship game results. It's also roughly in line overall with how an average public entry performed in 2021, in a year that was very down by our standards.
Subscribers did report higher win rates than the public in upset bonus pools, which is also not unexpected given the performance of some value plays that showed up at greater frequency in upset pools, as we detail below. Subscribers reported winning a prize in 27% of upset bonus pools in which they participated. That includes pools with flat upset bonuses along with seed difference bonus pools.
Now, let's take a look at what went right and wrong in 2021, with a focus on the factors that prevented 2021 from being another outstanding year for most TeamRankings brackets.
Overview of the 2021 NCAA Tournament
The 2021 NCAA tournament featured Gonzaga (No. 1 seed, West) and Baylor (No. 1 seed, South) facing off in a showdown between the two teams that had been ranked at the top of the polls for the majority of the 2020-21 season. Gonzaga was ranked No. 1 from start to finish, while Baylor had a three-week COVID pause in February, and returned to lose two games, which dropped Baylor out of the No. 2 ranking. In the last pre-tournament AP Poll, Baylor was ranked third, a hair behind No. 2 Illinois.
The tournament was also notable for the volume of early upsets, as two No. 11 seeds, a No. 12 seed, two No. 13 seeds, a No. 14 seed, and a No. 15 seed all won in the First Round. Oral Roberts became just the second No. 15 seed to reach a Sweet 16, and came within a shot at the buzzer of advancing to the Elite Eight. Oregon State became only the second No. 12 seed ever to reach the Elite Eight. Finally, UCLA became only the second team ever to play in the First Four play-in round and then advance to the Final Four, as a No. 11 seed.
All those earlier upsets likely resulted in chalkier picks advancing later. Gonzaga and Baylor, along with No. 2 Houston out of the Midwest, advanced to the Final Four as the best remaining seeds in their respective regions. UCLA was the lone darkhorse to advance to the Final Four, producing two of the three seed-based upsets from the Sweet 16 onward. You can see the full bracket results for the 2021 NCAA Tournament here.
Gonzaga largely dominated in its run to the Final Four, winning each of their first four game by at least 16 points. Then, Gonzaga survived against UCLA in the Final Four on Jalen Suggs' three-point heave to avoid a second overtime. Baylor, meanwhile, continued to improve throughout the tournament, saving its best performances for the 19-point win over Houston, and the 16-point win over Gonzaga in the title game where they led wire to wire.
Here is how our bracket picks compared to the public for the 2021 tournament in each round:
Bracket Type
Correct Round 1 Picks
Correct Round 2 Picks
Correct Sweet 16 Picks
Correct Elite 8 Picks
Correct Finalist Picks
Correct Champ Picks
TR "Best Brackets"
For 1-2-4-8-16-32 Scoring
20.9
7.7
3.89
1.67
1.00
0.00
TR "Best Brackets"
For All Scoring Rules
20.9
7.5
3.72
1.60
1.00
0.00
All TR Brackets
20.7
7.3
3.58
1.57
0.98
0.01
The General Public
20.6
6.8
2.96
1.34
0.81
0.10
As you can see, TR bracket recommendations outperformed the public in the first five rounds of the tournament on average, but fell short in the title game because of being pretty much all-in on Gonzaga.
Including Alternate brackets, about 1% of TR brackets had Baylor as champion, but that pick rate was much lower than Baylor's pick rate for the public overall.
What Worked and Didn't Work in Our 2021 NCAA Tournament Picks
As a quick reminder, we published notes on all 68 teams and provided subscribers with our adjusted tournament predictive rating for every team. Those notes detailed the judgment calls we made to adjust the season power rating of each team for things like lineup changes, injuries, and in 2021, COVID-related issues.
At the end of the day, a successful bracket picking strategy in many types of pools, especially larger ones, requires making some educated "bets" against the general public, and some of the team rating adjustments we make for the tournament end up driving the bets inherent in TR brackets. Over the years, these adjustments have benefited our bracket picks overall.
We also provided a detailed writeup containing our thoughts on the 2021 bracket and associated pick strategy, that was first published the day after Selection Sunday, then updated through Thursday night before the First Round started.
Because our system customizes its recommended picks based on a pool's size and scoring system (e.g. modifications like upset bonuses or seed bonuses), subscriber pick advice can differ quite a bit from pool to pool. Nevertheless, we can extract key over-arching themes that impacted our 2021 results for most subscribers.
1) Baylor Defied Our Expectations
Very few of our suggested brackets had Baylor reaching the title game, and a big reason why was because of the late-season COVID related issues suffered by the Bears. Baylor came off a three-week COVID pause in February and played poorly to close out the season, including two very bad games in the Big 12 tournament.
Just a few weeks earlier, our analysis had Baylor and Gonzaga as being roughly equal, with both teams rated a clear cut above the rest of the college basketball field. Had the NCAA tournament started in early February, our bracket recommendations would have reflected that. However, Baylor's poor form to close the season was a cause for concern, and caused us to downgrade them in a one-and-done format.
In the end, Baylor survived the early stretch of the tournament, though not without some adversity; they trailed Villanova by 7 points at halftime in the Sweet 16, before clamping down in the second half. From the Elite Eight on, though, Baylor looked like the best team in the nation, or at least tied for the best with Gonzaga.
This profound change was reflected in various statistics. For example, Baylor's Jared Butler made 32.4% of his three-point shots in the 10 games after returning from the February COVID pause. In the final three games of the tournament, in contrast, he shot 10-for-17 (59%) from three, including several daggers in the title game.
On the defensive end, from the beginning of February through Selection Sunday, Baylor's adjusted defensive efficiency was ranked 162nd in the country by Bart Torvik. From the start of the tournament onward, their defense ranked 4th.
We adjusted Baylor's power rating down because we did not think they had a high chance of reverting to early season form in the tournament, and it ended up burning us in the worst possible way. Day-after hot takes aside, to say that Baylor's dismantling of Gonzaga should have been obvious in retrospect is clearly a stretch; as mentioned above, even by tipoff of the national title game, after Gonzaga had barely survived UCLA and Baylor had blown out Houston, Gonzaga was still favored to win.
It just so happened that Bears played well enough to get to the Final Four, and then peaked at the best possible time. Baylor's last two games of the season ended up being two of the best three games it played all season long, based on opponent-strength-adjusted margin of victory.
Looking back, it's still very tough to construct a scenario where Baylor looks like a smarter champion pick than Gonzaga for most types of pools. Baylor regaining its early-season form for the tournament was always a possibility, but how likely it was to happen given the data available at the time is a different story altogether. It certainly didn't seem like a wiser move to bet on it happening … but as all bettors know, the unexpected does occasionally happen.
2) Our Downward Adjustment on Michigan Worked Out … in the End
We also made a downward adjustment to another No. 1 seed, Michigan, because of a key injury, and called the East the most wide open region in the 2021 tournament. To wit:
We suggested picking a No. 6 seed or worse to reach Final Four from the East region in more TR subscriber brackets (22%) than we suggested picking No. 1 Michigan (15%), with those picks spread over four different teams.
For TR Best Brackets, Michigan was our recommended Final Four pick in less than 1% of brackets, compared to a public pick rate of nearly 38%.
As it turns out, the East was the region that produced the one dark horse Final Four team of 2021, but unfortunately it wasn't one of the ones we most expected to get there.
Michigan got through the early rounds, but the issues caused by losing Isaiah Livers really came into focus in the UCLA game. The Wolverines had difficulty defending UCLA top scorer Johnny Juzang, whom Livers would have almost certainly guarded.
3) Our Team Ratings Adjustments Identified Underrated Teams, but their Impact was Muted In Most Brackets
On balance, the manual adjustments and judgment calls we made on teams in the 2021 tournament, particularly those related to injury issues and mid-season lineup changes, succeeded in identifying a number of underrated teams. (As we saw with Baylor, trying to estimate the continuing impact of COVID issues on a team was far more difficult and uncertain.)
For example, teams whose predictive rating we adjusted upward included upset-pullers like Ohio, Loyola-Chicago, Oregon State, Abilene Christian, Syracuse, and Oral Roberts.
In pools with upset bonuses and seed-based scoring, we ended up hitting a pretty good number of upset picks in the first two rounds as a result. However, in pools with standard 1-2-4-8-16-32 scoring, where picking upsets is riskier from an expected scoring perspective, these upwards ratings adjustments we made for underdogs weren't quite big enough to result in more actual upset picks in TR brackets.
In the future, we're going to invest more time researching specific statistical profiles and matchup effects that may warrant even higher ratings boosts among lower seeded teams.
4) We Lost Some Key Picks Early, Especially For Larger Pools with Standard Scoring
Some of this was just bad luck. No. 7 Connecticut, for example, was a dark horse Final Four pick in several of our brackets for very large pools, and lost to Maryland despite having 22 more field goal attempts. (For comparison, Baylor had 19 more field goal attempts than Gonzaga, and the result was a blowout.)
In addition, including the play-in games, the team most TR brackets had advancing went 1-5 in overtime in the 2021 NCAA Tournament, including one game (Alabama vs. UCLA) that went into OT after Alabama shot 11-for-23 from the foul line in regulation. Jalen Suggs's buzzer beater to beat UCLA was the lone win.
At the same time, there were some effects at play in the 2021 tournament that warrant more study on our part, such as Pac-12 teams widely exceeding expectations, and Big Ten teams significantly underperforming overall. That underperformance included No. 2 Iowa, a team that featured as a prominent deep-run value pick in several of our brackets.
As a result, for next year we plan to do more research into factors that could indicate whether a conference as a whole could be overrated or underrated.
What a 2021 Winning Bracket Looked Like
Especially in a year when most TR brackets won't win bracket pool prizes, it's informative to look at what did work very well in 2021.
To do that, we're going to analyze the top 10 scores in a 500-entry pool with standard 1-2-4-8-16-32 scoring that was run on Yahoo!, in which we entered several TR brackets. As you review the highlights below, keep in mind that this was not a very small pool:
All of the top 10 brackets had No. 1 Baylor over No. 1 Gonzaga in the championship game.
Nine had No. 2 Houston in the Final Four (the tenth had No. 1 Illinois).
Zero had No. 11 UCLA in the Final Four.
Only one had UCLA advancing as far as the Sweet 16.
Only one had a team lower than a No. 2 seed in its Final Four (No. 3 Texas, who lost in the First Round).
On average, they picked only 1.4 teams that were not a No. 1 or No. 2 seed to the Elite Eight, with the biggest long shot pick being No. 6 Texas Tech.
On average, they picked only 2.4 teams that were not a No. 1 to No. 4 seed to the Sweet 16.
Seven of them missed their biggest upset pick to the reach the Sweet 16 by seed number.
That Strategy Looks Familiar…
What's most important to realize here is that the 10 prize-winning brackets in this 500-entry pool had a lot in common with the pick strategies that TR brackets generally employed in 2021. Specifically:
They did not take huge chances with their Final Four picks, even in a large pool.
None of them even took big risks with Elite Eight picks (one entry had No. 4 Florida State, some others had No. 3 Arkansas, Texas, or Kansas).
None of them hit a high percentage of the many upsets that happened in the early rounds.
In fact, some of the entries would have finished higher by taking fewer risks in the early rounds. The third place finisher, for example, picked No. 12 UCSB to the Sweet 16, which cost him points relative to his competition.
So if you look at a bracket we recommend and think there is too much chalk in the later rounds, just remember that in most scoring systems, you win pools with your late-round picks, and getting those picks right is the most important thing.
As the results of the 500-entry pool above demonstrate, missing a bunch of early round upsets didn't end up mattering in standard scoring pools — even in a year that was historically upset-heavy.
Several of our specific later-round picks this year, and in particular our big bet across all Best Brackets on Gonzaga as champion, unfortunately didn't pan out. But in principle, the strategy behind our picks for standard scoring pools was very much in alignment with what ended up "winning" in 2021, and what wins more often over the long term.
Switch a few results (Gonzaga wins the title game, Alabama hits its season-average free throw rate against UCLA and then beats Michigan to make the Final Four) and we'd be looking at a much different outcome in 2021.
Wrapping It Up
Overall our 2021 bracket picks didn't deliver wins for the majority of our subscribers, which is always our hope, and it's frustrating to have to wait another 12 months to get another shot at it.
Unfortunately, that's the nature of the bracket picks business. Even if you have a great process, you only get one chance per year to apply it, and great outcomes are never guaranteed. In the long run, sticking with our analysis and strategy should continue to yield strong results.
If you were an NCAA Bracket Picks subscriber in 2021, we appreciate your business, and it was great to see our long-term customers back after last year's unfortunate tournament cancellation. Our commitment to all of you is that we will continue to improve our research and strategies in the future.
Every year isn't going to be a big winner, but we're not so arrogant to believe that bad luck or COVID-19's unique impact on the 2020-21 college basketball season was the only reason why 2021 wasn't one of our best.
We've got a bunch of concrete goals to work on for 2022 already lined up, from improving upset predictions to better understanding why a particular conference may outperform or underperform expectations in the tournament, along with more general feature improvements for the NCAA Bracket Picks product. As usual, we'll also review all the responses to our subscriber survey and prioritize enhancement ideas accordingly.
Have a great summer and we hope to see you back in 2022. If you want to read some of our past yearly bracket picks recaps, you can check out our 2019 Brackets in Review, 2018 Brackets in Review and 2017 Brackets in Review articles.