2019 Final Brackets Writeup
If you want to see everything we said to our subscribers in our final bracket writeup for the 2019 NCAA Tournament, you can check it out here.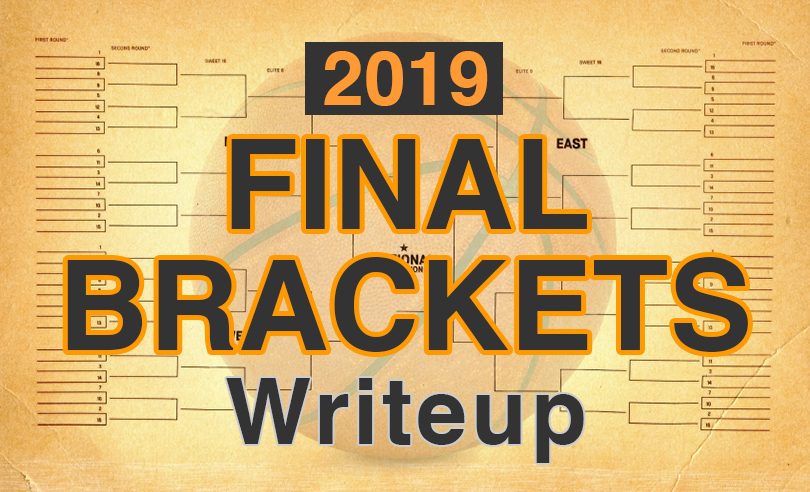 Editor's Note: The following is the 2019 Final Bracket Writeup, which was released to our subscribers on Wednesday, March 20, 2019. If you want to see how the picks performed, check out our 2019 NCAA Tournament Picks in Review.
We're excited to announce the release of our official, customized NCAA brackets for 2019!
We hope you have enjoyed using our NCAA Bracket Picks product so far this week. If you're a first-time subscriber, welcome aboard. If you're a TR veteran, welcome back. We greatly appreciate your business and your trust in our analytical skills.
Obligatory Disclaimer About Realistic Expectations
Hopefully, with some luck, our picks will come through for a good portion of our customers this year.
Just remember — it certainly doesn't happen every year. This is a long term game. The really great thing about bracket pools is that you can give yourself a huge edge to win, in comparison to your average opponent. The really bad thing about bracket pools is that you need to beat lots of opponents, so the odds are still pretty long, and you only get one shot at it each year.
When you're competing against tens, hundreds, or thousands of people in a bracket pool, even with the smartest picks in the pool going in, you're never going to be expected to win. We don't sugarcoat reality here; that's just probability. If you're in a 100-person pool and you're four times as good as everyone else, you're still only expected to win that pool about once every 25 years.
Should you still play? If you like making money and are willing to think long-term, yes. Over time, the expected profits on your pool entry fees with an edge like that should be fantastic. But it's certainly not a get-rich-quick scheme, unless you get lucky and score your first win early, then stop playing.
Expectations have also been on our mind because we've had a few pretty solid years lately, especially 2017 when 91% of our post-tournament customer survey respondents reported winning at least one bracket pool prize. Last year it was 63%. Since 2015, it's been 61% overall — meaning that every year, an average of 61% of our survey respondents has reported winning at least one prize. We hope we can continue that trend, but that's a pretty insane run, and from year to year our performance is bound to fluctuate.
In addition, the algorithms we've developed now customize bracket picks for many different types of scoring systems, several of which have radically different scoring structures (e.g. huge upset bonuses vs. no upset bonuses). So our brackets for two different types of pools can look much different. That usually means that when a portion of our customers' picks are doing great (say, if lots of favorites are winning), some other portion of our customers' picks probably aren't doing so great (say, if they're in upset bonus pools with really aggressive picks).
As a result, it's almost a guarantee that we'll never have a March Madness season where all of our paying customers walk away thrilled. That's a bummer to us, because we want all our customers to be thrilled with TR. But unfortunately, it's just the nature of this business. The value is in the analysis, which should help you win more often than expected in the long run. It's always great to be hopeful, but it's just as important to be realistic.
So if you'd like to profit from bracket pools, and you're a rational human being, you've basically got two options:
Trust the process and keep playing. Bracket pools are a beatable game, but the odds of winning in any given year are low. Stick with our picks for the long term, and hopefully you win your 30-person pool once every 10 years instead of once every 30 years, which is the baseline expectation. Since 2015, when we started our customized picks product, subscribers in 11-30 person pools have done even better, winning a prize 3.9x as often as expected, for an implied pace of one pool win every 7.7 years in a 30-person pool.
Play more brackets each year. If you're hell bent on increasing your odds to taste some sort of victory on a more frequent basis, then you have to play more brackets. You'll technically sacrifice a bit of your edge. After all, as Highlander says, THERE CAN BE ONLY ONE Best Bracket for a given pool, and the next-best bracket you play in that pool is by definition at least a little bit worse. But the expected returns of playing 2+ brackets in a pool can still be quite good, and our alternative brackets diversify your risk by making different key "bets" in each one. Plus, it's a lot more fun when you have a bunch of different dogs in the fight. David, our resident bracket maniac, plays about 30 brackets a year in various pools with various scoring systems. You don't necessarily need to be as crazy as him, but lots of our customers play two to five brackets per year.
If you're a new subscriber, or if you remain unconvinced about TR after using our picks for a year or two and not winning anything, it's probably best just to listen to one of our long-term customers, which also touches on the dynamic of playing multiple brackets. He sent us this email after the 2016 tournament:
I've been using TeamRankings for a few years now. Don't remember how many. However, each and every year since the late eighties I've participated in an NCAA March Madness Pool that's grown to about 100 entries per year. It includes astute players from many states.
Me I'm a rank amateur. I hardly ever watch any of the NCAA Men's basketball games leading up to the tournament. The only reason I even watch the games beginning with the Sweet Sixteen is — after using TeamRankings I might add — I'm always in the running to at least place or show. So, as it goes, it's more enticing to watch a game if one has skin in the game.
Let me qualify. I don't do just one pick. Generally, I'll throw five to seven entries in the 100-entry pool. It pays five places win, place and show. That said, the results over the past four years defy the odds. I won this March Madness Pool in 2016 picking UNC over Villanova. (Only one picked Villanova to win; he placed fifth.) And I won it all with Louisville in 2013.
So, participating in this 100-entry Madness Pool for over 30 years, and placing multiple entries each year, one of those WON it outright two out of the past four years. To put this into perspective, before TeamRankings, I may have placed or showed up in the top 5, but split sharing a win only once in over 30-years, I think 1987 or 1988. Wow. What a difference TeamRankings has made.
He sent us another update after last year's tournament, telling us that one of our brackets came in 5th place and cashed, and that in 2017 one came in 3rd place and cashed. That made it three straight years that he had won a prize in his 100-entry pool using our brackets, plus two first place wins in the last seven years.
Playing multiple brackets is obviously a numbers game. The years you don't win you take a much bigger hit, and some years a 3rd or 5th place finish may or may not win back your investment. But if you think you have a really big edge, especially in larger pools, you may not want to wait for potentially 10, 20, or 30 years for that edge to hopefully manifest itself in the form of a pool win.
In conclusion, we're confident we're delivering value with this bracket picks service, and we're happy to say that we've also compiled and published the data substantiating that claim on our new "Past Performance" page. (You can find it in the top navigation bar.)
When those overall stats about prize winning will apply to you personally will depend on how lucky you get during your first few years as a customer, and it may take more patience to reap the rewards than a lot of people are willing to commit. We understand that, but there's nothing we can do to change it. We just keep on doing the best analysis we can, and working to improve our methods year after year.
A Note On This Year's Bracket, and Chalk
Before we discuss the latest developments since Monday's Early Deadline Brackets release, we wanted to make sure we drive home some key points about this year's NCAA bracket.
1) The 2019 bracket is extremely top-heavy. The No. 1 seeds especially are historically good, and No. 1 Duke is the biggest NCAA tournament favorite since 2015. By our latest projections, there is a 65.7% chance that a No. 1 seed wins it all this year. (Last year it was only 42%.) Even in larger standard rules pools, you're taking a huge risk this year not having No. 1 seeds feature prominently in your Final Four and beyond.
2) Nearly 56% of the public is picking either No. 1 Duke or No. 1 North Carolina to win it all, and as a result, Virginia and Gonzaga have very strong value for being No. 1 seeds. A big portion of the 44% of public picks NOT on Duke or UNC is distributed somewhat evenly across the other two No. 1 seeds and the four No. 2 seeds, from No. 1 Gonzaga at 8.6% popularity down to No. 2 Michigan at 3.0% popularity. The result of that dispersion is that Gonzaga and Virginia are historically strong value picks for being No. 1 seeds. In fact, they are the 3rd and 4th biggest NCAA champion value picks (win odds minus pick popularity) since we started tracking the data in 2011.
3) So you have a very strong favorite (Duke) that is very risky to pick against, coupled with the two next most likely teams to win (Virginia and Gonzaga) being underrated by the public. That is a rare combination that calls for a No. 1 seed heavy Final Four, especially in the most popular 1-2-4-8-16-32 scoring system that highly values late-round picks.
4) An all-No. 1 seed Final Four is probably going to be nowhere near as common as you think in this year's brackets. We get the sense that many people don't realize that given how relatively unpopular Gonzaga and Virginia are, by our rough calculations, about 95% of the public will not pick all No. 1 seeds in the Final Four. If you do, you may be one of only 5% of people in your pool that does it, AND you'll have the best odds of getting your entire Final Four correct.
If recommending an all-No. 1 seed Final Four is so obvious that 95% of your opponents probably won't do it, then that doesn't seem very unoriginal or "chalky" to us…
What Has Changed Since Monday?
The primary benefit of our bracket picks simulation engine is that it tailors picks for your bracket pool based on your pool's size (i.e. number of entries), scoring system, and payout structure. The level of computation that our approach applies to the extremely complex challenge of optimizing a set of bracket picks for a specific pool can generate a huge edge.
The bad news is that having algorithms optimize picks for thousands of different scoring systems and pool sizes means that there's no quick answer we can give to a question like, "What's changed in your recommended brackets since Monday?"
In short, we're asking these optimization algorithms to solve thousands of different problems, none of which are exactly the same. The result is lots of different answers, and not a consistent logic or reasoning that applies uniformly across all of the many brackets we publish.
Between Monday and tonight, thousands of individual picks likely have changed across all the unique brackets being seen by all our customers for different types of pools.
Still, we do our best to compare as many "Early vs. Official" brackets as we can, and in this writeup we'll summarize some of the biggest changes likely to be seen by customers using the most popular 1-2-4-8-16-32 scoring system.
First, though, let's quickly review why picks can change between Monday and Wednesday.
Why Picks Change Between Monday And Wednesday
Our customized brackets are data-driven, and over the course of the two days, important data inputs to our algorithms can change. Examples include:
Player or team information (e.g. injuries, suspensions)
Public picking trends (certain picks getting more or less popular nationally)
Betting odds / betting market expectations (sharp bettors causing lines to move)
In addition, time is another critical element to our analysis. We go into sprint mode the moment the tournament field is announced on Selection Sunday evening, until now. By Wednesday night, we've had three times the amount of time to analyze the 2019 bracket as we'd had on Monday night when we released our Early Deadline Brackets.
This means:
Roughly 48 more hours to run millions more bracket and bracket pool simulations on the 18 computer servers we have fired up over at Amazon.
The same amount of additional time (minus a few hours of sleep a night, advantage computers) to scour the web to identify and incorporate solid bracket analysis being done by other thought leaders; observe how betting lines are moving; pore over proprietary tools we've built to analyze team-specific factors like lineup performance; and explore matchup effects between individual teams that are likely to play one another.
That's why we urge everyone to wait for our Wednesday bracket release, unless they absolutely can't. In short, we're smarter on Wednesday.
So…what HAS changed in the last two days?
There are essentially three main inputs to our bracket simulations:
Adjusted team power ratings. We use these to simulate the tournament.
Public picking rates. We use this to simulate your pool opponents.
Your pool details (number of opponents, scoring system, etc.)
That last item (pool details) doesn't really change. But the first two can. Let's review the most important changes to both of them that occurred over the past few days.
Changes In Adjusted Team Power Ratings
Changes in the adjusted team power ratings are important, because they are used to calculate the advancement odds for every team to make it to every tournament round. Those odds are then used in our tournament simulations.
Here are the most important new pieces of information that have caused us to re-adjust our adjusted team power ratings since the Monday bracket release, along with the high-level expected impact on custom bracket picks.
Marques Bolden (East No. 1 Duke) is expected to miss more time than we originally thought. Coach K thinks Bolden might return for a potential Elite 8 game. In our original batch of brackets, we assumed we was likely to be back by that point. Bolden is no Zion Williamson, but he's no slouch either. And Duke isn't a very deep team, so we expect missing their starting center will have an impact. We've lowered Duke's adjusted power rating by a point. That still puts them more than 2 points clear of the field, and they are still a big favorite to cut down the nets, but the gap has narrowed some. That means that the tipping point in the "favored Duke or value pick Virginia/Gonzaga" champion pick decision is now at a smaller pool size.
Cameron Johnson (Midwest No. 1 North Carolina) has been held out of practice this week due to a shin injury. Johnson is UNC's most efficient offensive player, and if he is out or hobbled, it's a huge blow to the Tarheels. At this point, it's not clear how serious the injury is, but if it's enough to keep him from practicing, it's concerning. We've lowered UNC's adjusted rating by a small amount to reflect the possibility he may not be full strength. This — combined with a small positive adjustment we made to Kentucky's rating in order to better match the betting markets — has resulted in the gap between UNC's and Kentucky's Final Four odds closing considerably (from 40% and 28%, respectively, to 35% and 32%). It makes Kentucky a more attractive Final Four pick than they were before, and you may see No. 2 Kentucky subbed in for No. 1 UNC in some brackets.
Kyle Ahrens (East No. 2 Michigan State) is doubtful for the tournament. MSU's sixth man was injured during the Big Ten title game on Sunday, but it wasn't clear how serious the injury was at that time. Michigan State has displayed insane resiliency this season, with essentially no drop off in play despite losing multiple starters. And they do have a capable replacement in Gabe Brown. So we're only making a small negative adjustment for this one.
Dean Wade (South No. 4 Kansas State) was clarified as "doubtful" for the tournament. We were already penalizing Kansas State for his projected absence, but we've increased the strength of that penalty slightly with this announcement. As a result, you may see No. 13 UC Irvine subbed in as a first round upset pick in some very large brackets, or in brackets with upset bonuses or seed scoring.
Frank Howard (West #8 Syracuse) has been suspended for a team rules violation. He's out "indefinitely". We're not clear if he'll be available later in the tournament, but with Syracuse large underdogs to Gonzaga in their second game, there likely won't be a "later in the tournament" for the Orange, anyway. This news broke too late for us to include it in our pool simulations directly. However, we handled it my making some manual changes to the custom picks logic. Syracuse will still show up in alternate brackets some, for pick diversity purposes, but shouldn't appear in any new Best Brackets for pools with standard 1-2-4-8-16-32 scoring.
A couple of our adjustments since Monday were made not because of news, but because we had some extra time to analyze the teams. Those are:
East No. 4 Virginia Tech's rating with Justin Robinson is propped up by some cupcake blowouts. Star senior guard Justin Robinson has missed a good chunk of the season, but is supposed to return for the tournament. We originally marked that as a positive for Virginia Tech. However, a more detailed look at their game logs this week revealed that their performance rating in games where Robinson played was inflated by several blowouts of terrible teams. Removing those from consideration lowers their expected rating upon his return. As a result, you may see No. 5 Mississippi State subbed in as a Sweet 16 value pick in some very large pools.
We're increasing the penalty for East No. 3 LSU's head coach Will Wade being suspended. Based on the spread and money line for this game, and LSU's futures odds, it looks like the market is lower on LSU than we are. We don't have any hard analysis or a big sample size of relevant historical data telling us how much to penalize LSU for missing their head coach, so in this case we're going to trust that the markets probably provide the most trustworthy estimate. We've lowered LSU's adjusted rating by another point.
Changes In Public Pick Rates
Returning customers may recall that we had a slight issue last year with ESPN's pick popularity data. ESPN allows users to sign up for their bracket contest before the bracket had been announced, and "pre-fills" all of their brackets will all higher seeds winning once the field is announced.
That practice skews the initial pick popularity rates that ESPN publishes, and last year, we didn't realize what was happening at first. So all of the seed favorites ended up having too-high pick popularity in our initial bracket release.
(We wonder how many people out there actually know this is going on with ESPN's "Who Picked Whom" data. Luckily, we're partners with ESPN, and once we noticed some odd looking values last year, we were able to confirm the reason with our contacts there.)
We're recapping this as context, so we can let you know that:
We already know how to "unskew" the ESPN data, based on last year, and we're doing that. So the initial brackets this year didn't have had a major public pick rate issue.
We've added a second contest site's data to give us a broader perspective on pick popularity. (A big thanks to our friends at RunYourPool.com!)
As a result, our pick popularity estimates should now be more stable, and more importantly, more reflective of what most of you will see in real pools this year.
Given that fact, there aren't many late-breaking pick popularity changes to discuss. Pick data stabilizes pretty quickly, barring major injury news. The main thing to discuss is this year's NCAA champion pick rates. Here's a table we posted in the Early Deadline Bracket Writeup, with some updated info as of today:
NCAA Champion Public Picking Rates vs. Odds To Happen
| | Early Data | | | Current Data | | |
| --- | --- | --- | --- | --- | --- | --- |
| Team | Public Champ % | TR Champ Odds % | Difference | Public Champ % | TR Champ Odds % | Difference |
| 1 Duke | 45% | 30% | -15% | 41% | 27% | -14% |
| 1 North Carolina | 14% | 11% | -3% | 16% | 9% | -7% |
| 1 Gonzaga | 8% | 14% | +6% | 9% | 15% | +6% |
| 1 Virginia | 7% | 14% | +7% | 8% | 15% | +7% |
| 2 Kentucky | 5% | 6% | +1% | 5% | 8% | +3% |
| 2 Michigan State | 4% | 6% | +2% | 5% | 6% | +1% |
| 2 Tennessee | 4% | 4% | 0% | 4% | 3% | -1% |
| 2 Michigan | 3% | 3% | 0% | 3% | 4% | +1% |
The key changes here are:
The gap between Duke's champ odds and Gonzaga/Virginia's champ odds has narrowed. Duke was over twice as likely to win before, and +16%. Now they're a bit under twice as likely, and only +12%.
On the other hand, the gap between Duke's public pick rate and Gonzaga/Virginia's has also narrowed. Duke's champ pick rate was 5.5 to 6.5 times as high as Virginia/Gonzaga before. Now, it's more like 4 to 4.5 times as high. This combo makes it tough to make a general statement about the impact on brackets. In some cases, the champion odds gap closing may be important. In other cases, the pick popularity gap closing may be more important. It simply depends on the dynamics of the individual bracket or pool.
North Carolina's chance to win has decreased, while their pick rate has increased. That's not a good combination. You can expect to see UNC picked less often to make a deep run in your brackets.
Kentucky's champion odds have increased, but their pick rate has stayed flat. It's now possible you may see Kentucky as a value champion pick in some large pool "alternate" brackets (designed for entering multiple brackets in the same pool), especially in ones for seed-based scoring.
What Picks Have Changed From The Early Brackets?
[If you didn't view our early picks that we released Monday, you can skip this section. However, you may want to read our Early Deadline Bracket Writeup, linked in the right sidebar.]
All of the ratings adjustments and changes to public pick data discussed above have the potential to cause changes to our Early Deadline Brackets. Even something as simple as switching a couple of 8/9 matchups has the potential to create ripple effects elsewhere in the bracket, particularly if your scoring system is relatively flat, and your bracket was relying on those games for value picks.
We've reviewed our Official Brackets for a variety or pool sizes. Here are some of the most common differences you might see in traditional 1-2-4-8-16-32 scoring when you click to update your brackets for those pools, along with an explanation of why the changes were made:
#2 Kentucky to the Final Four (replacing #1 North Carolina)
#2 Michigan to the Elite Eight (replacing #3 Texas Tech)
The first change here will be seen in quite a few pools. We discussed the reasons above, but briefly, the gap in Final Four odds between UNC and Kentucky has narrowed considerably, so Kentucky looks like a much more reasonable value pick than they did before.
The second change with Michigan is interesting, because it highlights how all the picks in a given bracket are interconnected. This change will be seen in some (not all) pools where the UNC / UK flip happens. The reason is that changing the Final Four pick from #1 North Carolina to #2 Kentucky increases the overall risk profile of the bracket. In some cases, that means there is too much risk, and another pick needs flip back to something more conservative.
Essentially, brackets with both of these changes are trading the No. 3 over No. 2 Sweet 16 pick for the No. 2 over No. 1 Elite Eight pick. They are maintaining a similar risk profile, but are able to get more potential reward out of the upset pick (since later round games are worth more points).
#1 Gonzaga to Win The Tournament (replacing #1 Duke)
#1 Gonzaga to the Title Game (replacing #1 Duke)
#2 Tennessee to the Elite Eight (replacing #3 Purdue)
We see these three changes together in a lot of medium-large brackets. As discussed above, the gap between Duke and the rest of the field has shrunk a little. In some brackets a Gonzaga title run originally seemed too risky, but that may not be the case now.
The #2 Tennessee for #3 Purdue swap here is occurring for the same reason as the #2 Michigan for #3 Texas Tech swap above. You may wonder why the swap is happening in this game, instead of happening in the Michigan-Texas Tech game again. It's another example of how every pick is interconnected.
The key here is that Gonzaga, Michigan, and Texas Tech are all in the same region. Basically, in simulations where Gonzaga makes a deep run, they are less likely to have played Michigan in the Elite Eight. Michigan is better than Texas Tech, and facing them in the Elite Eight lowers Gonzaga's chance of winning the title in a given simulation run.
This is generally true in simulations like this; on average, the schedule path for a team in simulations where they make a deep run is weaker than the schedule path in simulations where they lose early. Because of that effect, the flip to a stronger #2 seed is happening in a different region, rather than in Gonzaga's own region.
#1 Gonzaga to Win The Tournament (replacing #1 Virginia)
#1 Gonzaga to the Title Game (replacing #1 Duke)
Something interesting we're seeing is that some brackets that originally had Virginia over Duke in the title game are changing to Gonzaga over Virginia. But very few are switching to Virginia over Gonzaga. Basically, if the bracket is changing the title game participant from Duke to Gonzaga, it's almost always using Gonzaga as champion as well.
We looked into the data to figure out why, and we found something pretty interesting. Our advancement odds have Virginia as more likely to win the tournament than Gonzaga, so Virginia beating Gonzaga in the final must be more likely than Gonzaga beating Virginia, right?
Nope! The key here is that in order to make the final, Gonzaga has to have already beaten the best team in the tournament. If they clear that hurdle, we project they'd be favored over Virginia in the title game.
So our simulations show Gonzaga beating Virginia in the title game about 2.1% of the time, but Virginia beating Gonzaga in the title game only 1.4% of the time. So for a bracket that has Gonzaga and Virginia in the title game, Gonzaga is the "chalk" pick, so to speak. On the other hand, Virginia is the value pick, as the public is picking Virginia over Gonzaga well under 1% of the time. And in terms of the pools we're talking about here, they originally had Duke as champ, so they tend to be on the smaller side. That makes the "chalkier" Gonzaga pick more attractive.
#3 Purdue to the Elite Eight (replacing #2 Tennessee)
#5 Mississippi State to the Sweet 16 (replacing #4 Virginia Tech)
#6 Maryland to the Sweet 16 (replacing #3 LSU)
#13 UC Irvine to the Second Round (replacing #4 Kansas State)
This batch of flips is all occurring together in some Best Brackets for very large pools. What's interesting here is that these brackets have an all-chalk Final Four, yet are deceptively value-driven.
Often in giant pools, the best strategy is to find a good sleeper pick that's lower seeded, saddle in with them as your champion pick, and hope you can ride to victory. However, as we discussed in our Early Deadline Bracket Writeup, this year is emphatically not a good year for dark horses. (Check out that writeup for more details.)
So instead of using that strategy, our simulations have settled on something different. These brackets have the four #1 seeds in the Final Four, which seems chalky — but this year, it's really not. Two of those four teams (Virginia and Gonzaga) are being underpicked by the public. Then, they have Virginia over Gonzaga in the final. As discussed above, that is the most undervalued of the possible No. 1 seed vs No. 1 seed finals matchups.
Still, since those finalist picks aren't hugely unpopular, the four value upset picks above (along with some others that were already there before this update) get sprinkled throughout the earlier rounds. Essentially, instead of placing almost all of their riskier, value-driven eggs in one basket with a dark horse champion pick, these brackets are placing a few eggs in the title game, and then a few across the rest of the bracket.
A Note About Bracket Strategy
OR: Where Are All The Upsets??!! These Brackets Are Boring!
A common question we get every year is: Why don't you pick more first round upsets?
Well, one big reason is that …
A lot of people make bracket picks that are too risky for their pool.
We imagine part of the issue here is that the mainstream sports media has trained people to think that the way to win a bracket pool is to try to guess most of the first round upsets and every dark horse team that's going to make a deep run.
Generally, that's not the way it works.
For example, one of us is in a yearly pool in the 100-200 entry range. 2015 was the only year this decade in which anybody got all four Final Four teams correct. Yet every year, somebody still walks away with a nice chunk of change for winning.
The winner most years is usually somebody who makes solid picks through the first few rounds, gets two or three Final Four teams correct, and/or nails the tournament winner. But in years when a very unpopular pick wins it all, the winner of the pool may not even have picked the champion right. And 100-200 people is not a small pool.
Given that context, it often makes sense to pick conservatively across most of the bracket, and concentrate your risk on one or two educated bets on high leverage picks. This year, for example, in many brackets with standard 1-2-4-8-16-32 scoring, we're recommending one of those high leverage picks be Kentucky to reach the Final Four.
Looking beyond that pick, we fully agree with all the talking heads on TV that if you pick almost all favorites in the early rounds, you're very unlikely to get all of your early round picks correct. But they've got the strategy all wrong.
Why? Because the alternative to picking all favorites in the first round is making more upset picks with less than a 50% chance to win, and praying that you happen to pick all the right ones. In most cases, playing it conservative early is the much better call, especially since in the 1-2-4-8-16-32 scoring system, the first round games are worth next to nothing anyway.
Designing an optimal bracket strategy is all about balancing risk and reward. If you're already making an unpopular or more risky champion pick and/or one or two value-driven Final Four picks — remember, this year #1 seeds Virginia and Gonzaga count as value FInal Four picks — taking on a bunch of additional risk with your early rounds picks usually only ends up lowering your odds to win the pool.
In a situation like that, if your "big bet" picks come through, you'll likely be in the driver's seat for a top-tier finish in the pool standings. At that point, your primary goal is to protect that lead, and not foolishly give it away by making (and most likely missing) a bunch of very risky upset picks in the earlier rounds.
However, we know that some of you want to make more first round upset picks because, OK we admit it, it's fun, even if it may be suboptimal strategy. After all, you could win a year's worth of bragging rights for picking that crazy 13-over-4 upset.
With your pleasure in mind, here are some first round double-digit seed upset picks that present decent value. By "value" we mean that their win odds are higher than their pick popularity, so the rewards of picking them (if you only consider the first round) are more than commensurate to the risks involved.
Ordered by seed level (win odds numbers are our pre-First Round calculations, which will be posted on the site late Wednesday night), this year's potential high-value First Round sleepers are:
#11 Arizona St./St. John's Play-In Winner over #6 Buffalo (38% win odds, picked by only 19%)
#11 Belmont over #6 Maryland (38% win odds, picked by only 28%)
#11 St. Mary's over #6 Villanova (33% win odds, picked by only 22%)
#12 Oregon over #5 Wisconsin (54% win odds, picked by only 37%)
#12 New Mexico State over #5 Auburn (24% win odds, picked by only 17%)
#13 UC Irvine over #4 Kansas State (44% win odds, picked by only 20%)
#13 Northeastern over #4 Kansas (28% win odds, picked by only 10%)
#14 Yale over #3 LSU (24% win odds, picked by only 15%)
Not to be fuddy duddies here, but we reiterate that we are not encouraging you to pick more upsets. If you want to truly maximize your chance of winning your pool, we suggest sticking to the brackets that the algorithms recommend.
(Every year, we get some complaints that our small pool brackets are too chalky. Every year, we survey our customers, and on average since 2015, in pools up to 30 entries in size, our brackets have won a prize over 55% of the time. The evidence speaks for itself.)
The bottom line is that if you dip way down into the 30% win odds range or lower by to pick some of the teams in the above list, you're taking a pretty big roll of the dice for what in most cases is a minimal reward in the 1-2-4-8-16-32 scoring system.
In pools with big upset bonuses, though, it's a different story. If you're in a seed difference upset bonus pool, for instance, you should see at least some pretty crazy whaa-whaaa-whaaaaat?!? types of picks in our recommended brackets. Interestingly, our research shows that players in big upset bonus pools often pick too conservatively, the exact opposite of the mistake we see many people in standard-scoring pools make.
Closing Remarks
Every year, the dynamics of the NCAA tournament bracket are different, and those differences influence the optimal picking strategy for your pool. For example, in any given tournament:
The most popular NCAA champion pick might range from severely overvalued to moderately undervalued. (2019: Duke, the most popular champion pick, is moderately overvalued.)
The most likely team to win the tournament might have far higher champion odds than any other team, or there could be no clear favorite. (2019: Duke is the clear favorite, and is the second biggest favorite this decade after 2015 Kentucky.)
The most popular Final Four picks might be all No. 1 seeds, or include some lower seeds. (2019: We have an interesting case where the No. 1 seeds are most popular Final Four picks, yet the public is still undervaluing Virginia and Gonzaga.)
The NCAA Selection Committee might do a great job seeding teams, or there can be clear "misses" where a double-digit seed is actually the favorite to win its first round game in the betting markets. (2019: The committee nailed the #1 and #2 seeds. The most egregious error was No. 12 Oregon, which is only a 2-point underdog in the betting markets against #5 Wisconsin, and our adjusted power ratings have Oregon as the slight favorite.)
The four regions might be evenly balanced in terms of overall team quality or top team quality, or there can be one Region Of Death. (2019: No Region Of Death, but there's a Region Of Life. The East features only two of our top 17 teams; No. 1 Duke is 1st in our ratings, and No. 2 Michigan State is 6th.)
When dynamics like these change from tourney to tourney, no simple set of bracket picking rules can give you the biggest edge every year — especially once you take into account different pool sizes and scoring systems.
Usually, for example, picking a hugely undervalued sleeper pick to make run to the championship is a pretty solid strategy for large pools. But not this year. The championship odds of all the No. 3-or-lower seeds are much worse than in many past years, so trying to pick the "right" one to do it will be a much greater risk.
That's why we designed our bracket pool simulation engine. We let millions of simulations (using carefully constructed inputs) do the heavy lifting, and figure out the smartest risks you should take in a particular year, given the structure of your pool's scoring system and the number of other people you need to beat.
Then we interpret the results, transform them into our customized brackets for your pool, and summarize some of the rationale and logic behind them in this writeup.
We hope our analysis of the 2019 bracket, and related bracket strategy examinations, have been helpful and informative. At the end of the day, you are paying us to help you implement the smartest possible process for making bracket pick decisions. Our goal is for you to feel like you've gotten your money's worth from the data, the tools and the insights we provide.
The smarter your strategy, the less luck you need to win. Trust the process long term, and based on the results so far, it should pay off.
If you have any questions for us, feel free to ask away in the Q&A Forum. Enjoy the Madness in 2019.
The TeamRankings Crew
Tom, David, Jon, Seth, Mike & Matt