2023 Bracket Picks Year in Review
We review the performance of our 2023 NCAA bracket picks, including what went right and wrong with our data-driven strategies and analysis.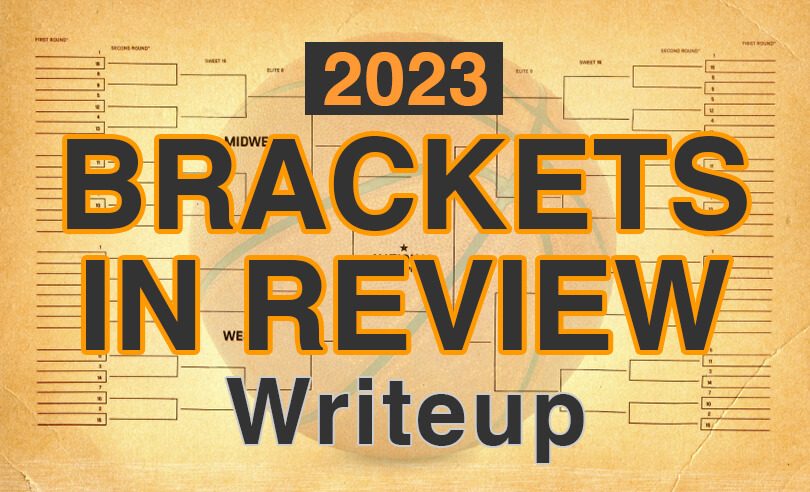 The 2023 NCAA Tournament featured several big upsets and a notable lack of top seeds in the Final Four. But it still managed to produce a dominant run, as No. 4 seed Connecticut won all of its games by double digits and finished the year as a worthy champion.
Although Connecticut wasn't a top pick in all of our optimized brackets this year (especially at the smallest and largest pool sizes), a significant percentage of our NCAA Bracket Picks subscribers generated customized brackets that featured UConn as the NCAA champion pick.
As a result, on average, our brackets in 2023 significantly outperformed the public.
Reminder: If you used the NCAA Bracket Picks product this year, please complete our subscriber survey if one is available to you, so we can collect real-world data on how our brackets performed.
The Potential For A Wide Open Tournament, Realized
As we mentioned early in our Bracket Writeup for subscribers, pre-tournament odds implied that this year's NCAA tourney was more wide open than most:
No team had higher than a 16% chance to win the title according to betting market odds.
Only No. 1 Houston and No. 1 Alabama had greater than 10% title odds.
No. 4 Connecticut was a little behind some of the other No. 1 and 2 seeds, but tied with No. 3 Gonzaga for best title odds among teams outside the top two seed lines.
In the end, we witnessed the first NCAA Tournament since seeding began in 1979 to have no No. 1 seeds reach the Elite Eight, and no teams on the top three seed lines reach the Final Four.
A Final Four that featured No. 4 Connecticut, No. 5 Miami, No. 5 San Diego State, and No. 9 Florida Atlantic was also the second-highest seed total ever in the Final Four (behind only 2011, a tournament also won by then-No.3 seed Connecticut).
PoolGenius 2023 Bracket Performance Summary
Our pre-tournament data showed Connecticut as the team with the largest positive difference between (a) their chance to win the NCAA tournament and (b) the percent of the public brackets picking them to do so.
In other words, Connecticut was a great value pick in bracket contests this year. However, they weren't in the very top tier of most likely teams to win it all, making them a highly risky champion pick in smaller pools especially.
Here's how that dynamic generally impacted our optimized brackets in 2023:
In pools that use the traditional scoring system (1-2-4-8-16-32), our Best Brackets at small pool sizes favored No. 1 Houston as champion, because Houston was a much safer pick (16% pre-tournament champ odds vs. only 4% for UConn) and was also being slightly underrated by the public.
As pool size increased, so did the prevalence of Connecticut as a champion pick in our brackets. Our Best Brackets for many mid-sized pools, and some alternate brackets for smaller and larger pool sizes, had Connecticut winning the title. (Once pool size got very large, though, bigger long shots replaced Connecticut as a champ pick.)
Our brackets for many types of pools with non-standard scoring, and especially pools with seed-based scoring, also featured Connecticut as champion in either the Best Bracket or in an alternate bracket. (Multiplying a team's seed by its chance to win the title is a quick and dirty way to estimate its value in pools featuring seed-based scoring rules, and by that measure, Connecticut came out on top.)
Connecticut Made The Difference
Overall, we had a much higher percentage of brackets picking the NCAA champion correctly than the public did:
15% of PoolGenius Best Brackets for traditional scoring had Connecticut as champ
7% of all PoolGenius optimized brackets had Connecticut as champ
2% of public brackets had Connecticut as champ
Most of the Connecticut champ picks in our optimized brackets came for mid-sized and larger pool sizes. For instance, the majority of Best Brackets generated for subscriber pools with traditional scoring and pool sizes of between 100 entries and 2,500 entries featured Connecticut as the NCAA champion pick.
In addition, even higher percentages of our brackets had Connecticut making a run to the Final Four or to the championship game, in a year when getting just one Final Four pick right was a very good outcome.
As a result, we expect that a decent percentage of our subscriber brackets finished near the top of their pools this year. Whether those brackets finished in the money or just outside of a prize-winning finish, though, will depend on the prize structure of the pool and the specific picks of other top-scoring opponents (and especially, how many other entries also picked UConn).
Overview of the 2023 NCAA Tournament
No. 4 Connecticut (West) became the fifth champion to win six straight NCAA tournament games by double digits, but the first team ever to do so that was not a No. 1 seed.
No. 5 San Diego State (South), No. 5 Miami (Midwest) and No. 9 Florida Atlantic (East) all made the first-ever appearance in the Final Four for their school, going on exciting runs through the regionals.
No. 1 Purdue became the second top seed all-time to lose to a No. 16 seed, getting upset by Fairleigh Dickinson.
No. 1 Kansas followed by losing to No. 8 Arkansas in the second round, and tournament favorites Alabama and Houston both lost on the same night in the Sweet 16.
No. 2 Texas was the only top two seed to reach the Elite Eight, but lost to Miami after blowing a late lead.
No. 15 Princeton made a run to the Sweet 16 by knocking off No. 2 Arizona and No. 7 Missouri, becoming the third straight No. 15 seed to make it that far (after Saint Peter's in 2022 and Oral Roberts in 2021).
Connecticut was the only team still alive in the Elite Eight that had previously won a national title, and went on to win the fifth title in school history (all since 1999).
What a Winning Bracket Looked Like in 2023
Based on how this year's NCAA Tournament played out, our subscribers likely saw scoring totals in their pools that were a lot lower, on average, than in most years. Based on public picking trends, the vast majority (over 80%) of all brackets had zero Final Four teams correct in 2023.
To get an idea of what kind of brackets won this year, we looked at the top 10 scoring entries in a 300-entry pool with standard 1-2-4-8-16-32 scoring. Here's what we observed:
All of the top 10 brackets had No. 4 Connecticut winning the national title. This probably won't be the case in smaller pools, but will be at this size and larger.
None had No. 5 San Diego State in the title game or Final Four. Only two entries in the entire 300-entry pool did, and one picked Kansas and the other Purdue to win it all.
None had No. 5 Miami in the Final Four. One entry that ultimately finished outside the top 10 (in 40th place) did have Florida Atlantic, Miami, and Connecticut in the Final Four—the only entry in the entire pool to get three Final Four picks right—but it had Miami winning it all.
Two of the top 10 brackets had Florida Atlantic runs to Final Four. They were the only two top-10 brackets with more than one correct Final Four pick.
They picked 22.9 games correctly in the first round, and 8.7 in the second round. That's better than the public average and similar to (but just below) our Best Brackets average in those two early rounds.
The two brackets with Florida Atlantic Final Four picks were the only two top-10 finishers that had a team seeded lower than No. 4 advancing to the Elite Eight or beyond.
And remember, this was a larger (300-entry) pool. In some small pools this year, you may not have even had to get the NCAA champion pick right to win it all.
PoolGenius 2023 Bracket Performance Detail
Here is how our bracket picks compared to the public for the 2023 tournament in each round:
| Bracket Type | Correct R1 Picks | Correct R2 Picks | Correct Sweet 16 Picks | Correct Elite 8 Picks | Correct Finalist Picks | Correct Champ Picks |
| --- | --- | --- | --- | --- | --- | --- |
| PG Best Brackets For 1-2-4-8-16-32 Scoring | 23.7 | 8.9 | 1.74 | 0.59 | 0.15 | 0.15 |
| PG Best Brackets For All Scoring Rules | 22.3 | 8.4 | 1.62 | 0.49 | 0.13 | 0.12 |
| All PG Brackets For 1-2-4-8-16-32 Scoring | 23.2 | 8.5 | 1.64 | 0.17 | 0.08 | 0.07 |
| All PG Brackets | 22.0 | 8.0 | 1.62 | 0.19 | 0.09 | 0.07 |
| The General Public | 21.4 | 7.4 | 1.64 | 0.18 | 0.06 | 0.02 |
The high number of upsets and surprises in the 2023 NCAA Tournament led to lower scoring overall in bracket pools, as less than 20% of brackets nationwide got at least one Final Four pick right.
Comparatively, though, our Best Brackets for standard scoring outscored the public average in all six tournament rounds. And our picks across all brackets (including Best Brackets and alternate brackets, across all pool sizes, scoring systems, and payout structures) outperformed the public in every round except the Sweet 16.
In general, our Best Brackets for traditional 1-2-4-8-16-32 scoring systems focused on Houston at smaller sizes and Connecticut at mid-sized pools, with some other longer shot champions in really large pools (Arkansas and Texas A&M in Best Brackets).
The position on No. 4 Connecticut ended up being the crucial call. Last year, some value picks in the same general seed range featured in our brackets (such as No. 5 Houston and No. 5 Iowa) did not work out, but Connecticut redeemed the strategy in 2023.
What remains to be seen is the overall performance of our 2023 brackets, since a heavier dose of the Connecticut champion pick brackets came in pools with larger sizes or steeper payout structures. We'll learn more about how those brackets fared once our subscriber survey results come back.
In the meantime, let's take a deeper look at what went right and wrong in 2023.
What Worked and Didn't Work in Our 2023 Brackets
As we mentioned above, a successful bracket picking strategy, especially for larger bracket pools, requires making some calculated bets against the general public.
The logic that ultimately determines which teams we "bet on" in our optimized brackets is driven in part by each team's tournament rating, which often includes an adjustment we make to its full-season power rating based on factors like lineup changes and injuries. In retrospect, we had some wins and losses there in 2023.
(As a quick reminder, we provided subscribers with all our adjusted tournament predictive ratings in our NCAA Bracket Picks product. We also provided a detailed writeup containing our thoughts on the 2023 bracket and associated pick strategy.)
Because our algorithms customize bracket picks based on a pool's size and scoring system (e.g. upset bonuses will change recommended picks to include more upset picks), the optimized brackets our subscribers generate can differ quite a bit from pool to pool. Nevertheless, there are some over-arching themes that likely impacted 2023 results for the majority of our subscribers.
1) Connecticut's Run Was Generally Good for PoolGenius Brackets
Despite being seeded as a No. 4, Connecticut was one of our top-rated contenders heading into the First Round (we had them as the sixth-best team in the tourney), and a solid value to win the title.
The West Region was a tough one, though, and that made UConn's path more difficult. Despite being our No. 6 rated team going in, Connecticut only had the ninth-best chance to win the title, according to our Round Survival Odds.
The abundance of stronger teams in the West ended up leading to more diversity regarding the teams that our various optimized brackets had winning the region. (No. 8 Arkansas, for example, was prominently featured in some seed-based scoring brackets, and as a longshot champion in very large standard-scoring pools.)
In a more typical regional context, our brackets would have featured even more Connecticut runs, which is frustrating in retrospect. Nevertheless, Connecticut was still a fairly high-leverage bet out of the West Region in our brackets, which were correspondingly light on both No. 1 Kansas and No. 2 UCLA as a result. On balance, that was a good thing.
2) Miami's Trip to the Final Four Really Hurt Overall
No. 5 Miami reaching the Final Four, especially considering the teams they beat along the way, was the biggest negative outcome for our brackets overall this year.
Miami was power-rated outside our top 30 entering the tournament, and we weren't an outlier in that sentiment. In Ken Pomeroy's rankings Miami was also outside the top 30. Defensively, Miami was poor for a top-5 seed. They had a really good set of guards and wings, but they were not a deep team, and didn't have much size. And when their top rebounder, Norchad Omier, hurt his ankle in the ACC Tournament, there was real concern about his availability.
But Miami bucked the odds. They were only a 2.5-point favorite in the First Round, and an underdog in their next four tournament games. No. 12 Drake had an eight-point lead on Miami with five minutes remaining in the First Round, but floundered, missing their last seven shots as Miami closed on a big run.
Consequently, Miami not only eliminated a common First Round upset pick in our brackets (especially in seed-bonus-based pools), but also took out our most common NCAA champion pick (Houston) in the Sweet 16. None of our brackets had a deep Miami run.
Fortunately, this Hurricane that swept through our brackets sputtered out at the Final Four.
3) We Correctly Diagnosed Regional Imbalance, But Largely Missed Out On The Left Side Of The Bracket
Coming into the tournament, six of our top eight teams were on the right side of the bracket, while only No. 1 Alabama and No. 1 Purdue were among our top eight teams on the left side.
Four of our five highest-rated teams who were seeded No. 4 or below (including Connecticut) were also on the right side of the bracket. In short, the right side looked loaded, while the left side looked wide open, outside of Alabama.
In the end, the results reflected that analysis. As of the Sweet 16, the left side had only three "chalk" teams left (No. 1 Alabama, No. 3 Kansas State, and No. 4 Tennessee), while the right side had six (No. 1 Houston, No. 2 Texas, No. 2 UCLA, No. 3 Xavier, No. 4 Gonzaga, and No. 4 Connecticut).
In addition, one of the non-chalk teams on the right was No. 8 Arkansas, which we rated as the 12th-best team entering the tourney. The other was No. 5 Miami, just one seed line below chalk.
While we correctly diagnosed that there was an imbalance across regions, however, we weren't able to capitalize much on that weak left side, as a high degree of chaos picked off the teams making runs in most of our brackets.
We had some brackets with Purdue and Arizona advancing. Others featured Creighton or Duke runs. We even had some larger pool brackets and non-traditional scoring brackets that had some deep Florida Atlantic runs.
By and large, though, our brackets didn't earn a lot of points from the left side of the bracket. Thankfully, neither did the public.
Wrapping It Up
Playing in bracket contests is very risky business, especially when one or two game results not going your way can spell doom for your bracket. In any given year, even the smartest strategies can fail miserably.
Over the long term, though, bracket picks that achieve the best balance of risk and contrarian value for your pool's size, scoring system, and payout structure will generate the best returns. But even then, there are typically some very close calls to make each year on key picks like your NCAA champion, and the results of those close calls can mean the difference between winning and losing.
(For example, we had plenty of subscriber bracket pools this year for which Houston graded out as just barely a better champion pick than Connecticut, thus relegating UConn to a champ pick in an alternate bracket but not the Best Bracket.)
2023's NCAA champion ended up being an undervalued team that had a reasonable chance to win at the start. But as a No. 4 seed in the tournament's toughest region, Connecticut was a significantly riskier champion pick than the top seeds, and best suited for mostly mid-sized pools as a result.
So we will likely see some fairly stark differences in subscriber results across different pool sizes this year. As usual, we'll publish the data after our subscriber survey closes.
Thanks And We Hope To See You Back Next Year!
If you were an NCAA Bracket Picks subscriber in 2023, we appreciate your business. Our commitment to you is that we will continue to improve our research and strategies every year, to deliver winning long term results.
In these types of pools, we expect the performance of our recommended picks to vary widely from year to year, and even from subscriber to subscriber within a single year. And we know it can be frustrating if you go multiple years without winning a pool. But that is the nature of this beast.
Since we started collecting the data in 2015, across thousands of real-world bracket pools, our subscribers have won prizes more than 3x as often as expected. We're proud of that performance, and it shows that trusting the process eventually pays off.
Have a great summer and we hope to see you back in 2024.
Reminder: If you used the NCAA Bracket Picks product this year, please complete our subscriber survey if one is available to you, so we can collect real-world data on how our brackets performed.
If you want to read some of our past yearly bracket picks recaps, you can check them out at the links below: