2019 Sweet 16 Brackets Writeup
Here was our analysis after the first weekend of the 2019 NCAA Tournament, for those entering Sweet 16 or Second Chance pools.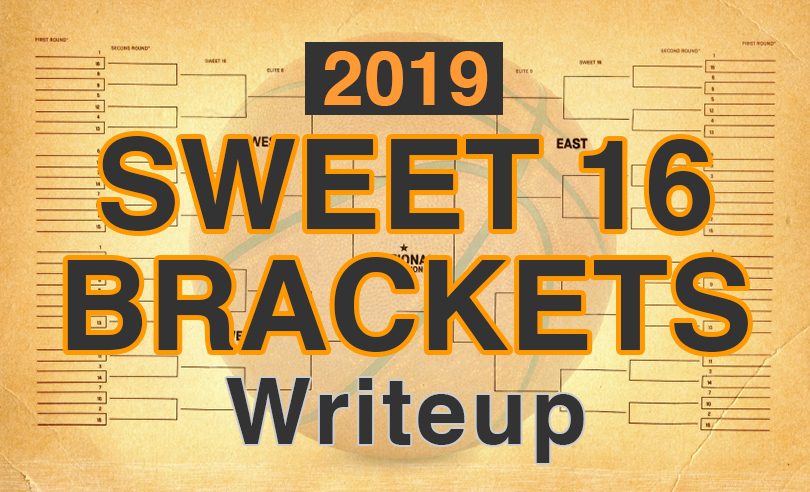 Editor's Note: The following Sweet 16 Bracket Writeup was originally published on March 25, 2019, following the completion of the first weekend of the NCAA Tournament.
We're excited to announce the release of our customized brackets for Sweet 16 pools for 2019.
These pools, which start fresh with the Sweet 16 round, are run by several bracket contest sites (ESPN, RunYourPool, etc.) and are often referred to as "Second Chance" bracket contests.
How We Make These Picks
As with our full-tournament brackets, our first step in making Sweet 16 bracket picks is to create updated "adjusted tournament ratings" for all remaining NCAA tournament teams.
Then, we create customized brackets for your Sweet 16 bracket pool by simulating two things:
The rest of the games in the NCAA tournament
Thousands of fictional bracket pools, using the latest public picking data
To simulate the rest of the NCAA tournament games, we use round survival odds based on our updated tournament ratings. Those ratings are based mainly on our own analysis of team performance — starting with our raw power ratings, and then accounting for injuries and playing time changes, plus performance so far in this tournament.
We also review the latest betting market info (both futures bets and Sweet 16 lines), and give some extra scrutiny to teams where we seem to differ from the market. Sometimes that results in us moving our numbers more in line with the market, and sometimes we stick with our own analysis. (An example of us successfully sticking with our own analysis is our high pre-tournament rating for Oregon. The betting market favored Wisconsin to emerge from that pod, while we favored Oregon.)
Combining those tournament simulation results with public picking data, we then run Sweet 16 bracket pool simulations. This approach enables us to test thousands of different combinations of bracket picks, until we find the bracket that comes out on top most often for a specific scoring system and pool size.
(If you want to read a bit more about our custom bracket pick creation process, check out our "Early Deadline Bracket Writeup", linked in the sidebar at right.)
General Strategy Notes
Strategy for Sweet 16 pools is similar to that for full NCAA tournament bracket pools. In particular:
In smaller pools, it often makes sense to play conservatively, and let your opponents shoot themselves in the foot with too many risky upset picks.
In larger pools, it's important to make one or more targeted value picks, in an effort to differentiate yourself from the pack.
In full tournament pools, the targeted value picks in larger pools can sometimes take the form of contrarian Sweet 16 or Elite Eight teams. In medium sized pools, we'll sometimes suggest the popular favorite as a champion pick, while suggesting value picks earlier in the bracket.
In Sweet 16 pools, on the other hand, there aren't as many value opportunities earlier in the bracket, partly just because there are fewer games to choose from (14 non-champion picks, compared to 62 in a full tournament bracket).
In addition, value picks to make the Elite Eight are, perhaps counterintuitively, higher risk in Sweet 16 pools than in full tournament pools. That's because in full tournament pools, the favorite to make the Sweet 16 in many pods has less than a 50% chance to get there. So when you make a value pick, you're switching off of a pick that most likely would have been incorrect anyway.
However, in Sweet 16 pools, the favorites to make the Elite 8 all have a better than 50% chance to do so. A value pick in that case often means switching off a likely correct pick to a likely incorrect pick, in exchange for the opportunity to gain ground on a larger percentage of your pool.
Because of these dynamics, making a value champion pick is relatively more important in Sweet 16 pools than in full tournament pools. As a result, the tipping point for when it starts to make sense to use a riskier value pick as your champion, as opposed to going with the favorite (Duke, this year), happens at a smaller pool size in Sweet 16 pools.
So our recommended champion picks in brackets for Second Chance / Sweet 16 pools generally skew a bit riskier than our full tournament brackets for equivalent pool sizes.
Value Picks To Expect
Here are some value picks that you may see in our customized Sweet 16 Best Brackets for standard 1-2-4-8 scoring this year.
Keep in mind that the exact brackets we recommend for your pool depend on your pool's size and scoring system, so picks for smaller pools may include only one or two of these picks.
In addition, our alternate brackets for multiple entry portfolios, as well as brackets that involve seed based scoring or upset bonuses, may include some riskier picks not listed below.
To Win The Title & To Make The Title Game
#1 Gonzaga (16% chance to win it all, picked by 11% in S16 pools)
#1 Gonzaga (26% chance to reach title game, picked by 21%)
#1 Virginia (13% chance to win it all, picked by 6%)
#1 Virginia (25% chance to reach title game, picked by 13%)
Duke is the favorite according to both our projections and the betting markets. However, Duke is being picked as NCAA champion by roughly 33% of the public in Sweet 16 pools, while their title odds are closer to 24%. In very small pools, picking Duke as the champ still makes sense, but in slightly bigger pools going with an undervalued champion pick makes more sense.
Entering the Sweet 16, Gonzaga has a higher chance to win the title than Virginia (16% vs. 13%), but the Zags are also more popular as a champion pick (11% vs. 6%), and as a consequence have less value, when measured by the difference between win odds and public pick percentage (5% vs. 7%).
As a result of the higher title odds, Gonzaga is generally the better pick in medium to large Sweet 16 pools. As a result of the higher value, Virginia is generally the better pick in very large pools.
An interesting wrinkle here is that Gonzaga is NOT undervalued to lose the title game. What we mean is that Gonzaga's chance to reach the title game, but lose it, is roughly 10%. And about 10% of the public is picking them to do just that. So there's no value there.
In contrast, Virginia has about a 12% chance to make the final game, but lose it; yet only 7% of the public is picking that result. Consequently, Virginia is a good value runner up pick to pair with Gonzaga as champion, but Gonzaga is not as attractive as a runner up pick. So in some large pool brackets with Virginia as champion, our brackets have Duke as the runner up instead of Gonzaga.
To Make The Final Four
#1 Virginia (43% chance to reach the Final Four, picked by 39% in Sweet 16 pools)
Just like what we saw with the pre-tournament data, Virginia is a rare case where the No. 1 seed is the most likely Final Four participant from a region, and has greater than a 40% chance to reach Minneapolis, yet is being undervalued by the public. So most Best Brackets for non-upset-bonus and non-seed-scoring pools will have Virginia in the Final Four.
#2 Kentucky (26% chance to reach the Final Four, picked by 18% in Sweet 16 pools)
Kentucky's chance to make the Final Four are a good bit behind the favorite to emerge from the Midwest, North Carolina (40% chance to reach the Final Four). However, the public is all over North Carolina, picking them to win the region at a 63% rate. Across all regions, that's second only to Duke at 66%. In smaller pools, going with the solid favorite (North Carolina) makes sense. In some larger pools, Kentucky's value trumps those win odds, making the Wildcats the pick.
To Make The Elite Eight
#3 Purdue (56% chance to reach the Elite Eight, picked by 36% in Sweet 16 pools)
In the first round of bracket pools, where the exact matchup is known, the public nearly always picks the better seeded team at a significantly higher than 50/50 rate. That's the case in this game, where roughly 64% of the public picks are on #2 Tennessee. Yet our adjusted power ratings give Purdue a better chance to advance (56%), and as of Monday night, the betting markets have Tennessee as only a 1-point favorite. Even if you're kind to Tennessee and go with the betting market estimate instead of ours, being a 1-point favorite doesn't justify a 64% pick rate. So most Best Brackets will have #3 Purdue as the suggested pick.
Our adjusted ratings are pretty high on #12 Oregon, so picking Oregon to upset Virginia in the Sweet 16 might seem like a sleeper pick to consider. And about 800 of the 2100 different optimized Sweet 16 brackets we generated during our testing and QA process do feature that pick, mostly for upset-driven scoring systems. However, our ratings still give Virginia over five times as good a chance to win the tournament than Oregon (12.6% vs. 2.4%, entering the Sweet 16), with value on Virginia to boot. So in more traditional scoring systems, it's usually not worth the additional risk.
Overall, with so many fewer games to pick … and fewer strong-yet-lower-seeded teams flying under the public's radar screen (especially in the chalk-heavy Sweet 16 of 2019) … and the NCAA champion pick still worth the same as all Sweet 16 games combined in 1-2-4-8 scoring … and all the very strong No. 1 seeds still alive … in most pools, there's no strong case for getting too cute with your Sweet 16 bracket this year from a risk/reward perspective.
Good luck!