2017 Sweet 16 Brackets Writeup
Our 2017 Writeup after the completion of the first weekend of games, with advice for Sweet 16 or Second Chance bracket pools.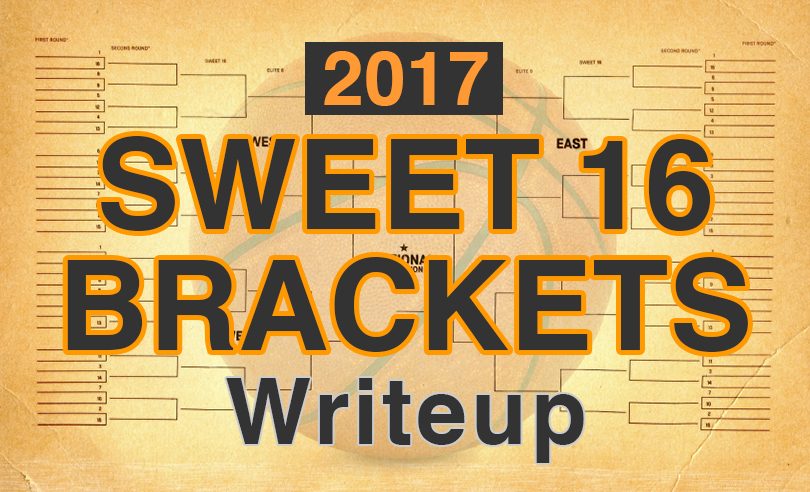 We're excited to announce the release of our customized brackets for Sweet 16 pools for 2017.
These pools, which start fresh with the Sweet 16 round, are run by several big bracket contest sites (ESPN, CBS, Fox, etc.) and are often referred to as "Second Chance" bracket contests.
How We Make These Picks
As with our full-tournament brackets, these picks are created by simulating two things:
The rest of the games in the NCAA tournament
Millions of fictional bracket pools, using the latest public picking data
To simulate the rest of the NCAA tournament games, we use updated survival odds for every team that are based on our own analysis of team performance (accounting for injuries and playing time changes), the latest betting market info (both futures bets and Sweet 16 lines) and ratings from top predictive systems coming out of the Round of 32 (like our own power ratings, ESPN's BPI, and the KenPom ratings).
Then, combining those tournament simulations with public picking data, we run bracket pool simulations. This enables us to test thousands of different combinations of bracket picks, until we find the bracket that comes out on top most often for a specific scoring systems and pool size.
(If you want to read a bit more about our custom bracket pick creation process, check out our "Early Deadline Bracket Writeup", linked in the sidebar at right.)
General Strategy Notes
With only 15 games left in the NCAA tournament, a highly conservative ("chalky") approach that picks mostly the same champ and FInal Four teams as the public has almost no chance to stand out from the crowd in a Sweet 16 pool.
It's also harder to get a big edge by doing a better job picking early round games. There simply aren't as many early round games to pick, and by the same token, not as many under-the-radar sleeper teams.
So our Sweet 16 brackets generally skew a bit riskier than our full tournament brackets.
Value Picks To Expect
Here are some value picks that you may see in our customized Sweet 16 brackets for standard 1-2-4-8 scoring this year. Keep in mind that the exact brackets we recommend for you depend on your pool size and scoring system, so picks for smaller pools may include only one or two of these picks.
In addition, our alternate brackets for multiple entry portfolios, as well as brackets that involve seed based scoring or upset bonuses, may include some riskier picks not listed below.
To Win The Title
#4 Florida (6% chance to win the NCAA tournament, picked by 2% in Sweet 16 pools)
Florida is only the 7th most likely champion at this point in the tournament. However, none of the more likely champs are being significantly undervalued by the public, and several are being overvalued, especially Kansas and UCLA. In smaller pools, Florida's 6% chance at a title is a bit too risky when there are multiple options with chances higher than 10%. It generally makes sense to go with the favorite in those cases (North Carolina). But in larger pools value becomes more important, and the risk is worth it.
#1 North Carolina (16% chance to win the NCAA tournament, picked by 17% in Sweet 16 pools)
OK, so North Carolina isn't actually an undervalued pick. But we're picking them as champion in most smaller 1-2-4-8 Best Brackets, so we want to quickly discuss why.
The main reason? They're still the team we favor to win the title, though not by a huge margin. Four teams stand out from the field at this point as the most likely champs:

North Carolina (16% champ odds, picked by 17%)

Kansas (12% champ odds, picked by 22%)

Gonzaga (12% champ odds, picked by 12%)

Arizona (11% champ odds, picked by 11%)

[no other team above 8%]

As you can see by comparing the champ% to the pick rate, Kansas is overvalued by the public, but the other three title favorites are all being valued roughly appropriately. As a result, the "default", or conservative, champ pick in our brackets will tend to be North Carolina. They're not significantly overvalued, and they have the best title chance.
To Make The Final Four
#4 Florida (30% chance to reach the Final Four, picked by 24% in Sweet 16 pools
Our Survival Odds project Florida as the most likely winner of the East region, but it's close to a three way tie, with South Carolina lagging behind:

30% Florida

27% Baylor

26% Wisconsin

18% South Carolina

The public, on the other hand, is picking Baylor 38% of the time, Wisconsin 28%, and Florida only 24%. That makes Florida not only our East region favorite, but also the most undervalued team in the region. With that combo of low risk and high value, they're the Final Four pick from the East in all of our 1-2-4-8 scoring Sweet 16 Best Brackets.
#4 West Virginia (20% chance to reach the Final Four, picked by 12% in Sweet 16 pools)
Our projections have both Arizona (37%) and Gonzaga (36%) as more likely to emerge from the West region, but both are quite popular (42% and 39% pick rates, respectively). Picking West Virginia adds quite a bit of risk to your bracket, but also adds a large amount of value. In smaller pools the risk isn't worth it, but they are our West region Final Four pick in some medium sized 1-2-4-8 pools. In these pools, picking Florida as champion is too high risk, so instead we suggest advancing Florida only to the title game, and adding West Virginia as a high-risk, high-reward Final Four pick.
#7 Michigan (23% chance to reach the Final Four, picked by 16% in Sweet 16 pools)
Kansas is the public's most popular Final Four pick in Sweet 16 bracket contests, being picked to reach Glendale by roughly 67% of the public. That leaves plenty of value on the other three teams in the region. Of those three, Michigan is the most likely to make the Final Four, according to both the betting markets and our Survival Odds. In small and medium sized pools the increased risk isn't worth it, but in very large pools, we are suggesting Michigan as a value Final Four pick.
To Make The Elite Eight
#4 West Virginia (40% chance to reach the Final Four, picked by 30% in Sweet 16 pools)
Among the undervalued Final Four picks from above, only West Virginia is significantly undervalued as an Elite Eight pick. However, WVU is also the riskiest pick of the three. (Florida and Michigan are slightly favored in their Sweet 16 games, and we're suggesting they be picked in all 1-2-4-8 Best Brackets.) In brackets where West Virginia is suggested as a Final Four pick, they obviously must be suggested as an Elite Eight pick as well. In brackets where they aren't suggested as a Final Four pick, in some cases we're still suggesting them as an Elite Eight pick, in order to add some value but not take on as much risk as a Final Four pick would.
#4 Purdue (35% chance to reach the Elite Eight, picked by 16% in Sweet 16 pools)
The Boilermakers are the third least likely team to win in the Sweet 16, ahead of only Xavier (against Arizona) and Butler (against North Carolina). However, the public is picking Purdue only 16% of the time, the lowest rate of any Sweet 16 matchup. There's a lot of value here, but it's also a high risk move. As a result, we're generally not suggesting this in small 1-2-4-8 pools, but only in very large ones. A Purdue pick also makes more sense in those pools because it's usually paired with a Michigan Final Four pick. Because those brackets need Michigan to advance to the Final Four in order to have a good shot to win, the Purdue-over-Kansas upset pick carries less potential downside — if Kansas beats Purdue and then goes on a deep run, those brackets were going to be in bad shape anyway, and the missed Purdue pick probably won't be the decisive factor.
#2 Kentucky (52% chance to reach the Elite Eight, picked by 45% in Sweet 16 pools)
The public favors UCLA to win their Sweet 16 matchup against Kentucky. However, our Survival Odds give the Wildcats a very slight edge. In a near toss up like this, it often makes sense to go with the less popular pick. We'll be suggesting Kentucky in most 1-2-4-8 Best Brackets. There may be some exceptions where the rest of the bracket is at the ideal contrarian level already, and we don't want to add any more anti-public picks. In those cases, you will see UCLA as the pick, even though they're slightly overvalued.