2023 Round Recaps: Sweet 16 and Elite Eight
We review key 2023 tournament results, and compare the positioning of PoolGenius bracket performance to the general public.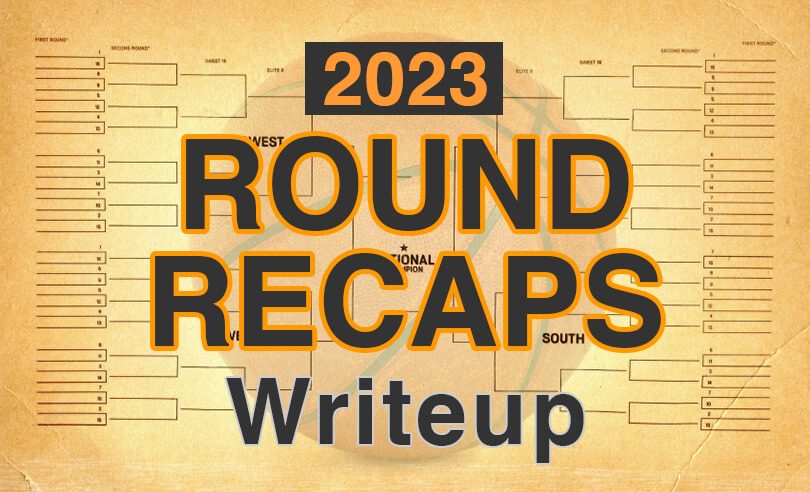 2023 Sweet 16 & Elite Eight Round Recap + Bracket Performance
(You can also skip down to our First Round Recap and Second Round Recap if you're interested.)
---
Note To Subscribers:
We will send out a link to our 2023 NCAA Bracket Picks subscriber survey via email next Tuesday, April 4, the day after the NCAA Tournament championship game. Please take a few minutes to fill it out.
It's the only way we can measure how our brackets did in real-world pools, and we'd greatly appreciate your feedback on the product.
---
The 2023 Final Four is set, and it's a wild one.
In terms of pick popularity in bracket pools, here's what an average of public picking trends data from multiple bracket contest sites looks like:
11.4% of brackets nationwide had No. 4 Connecticut in the Final Four
3.5% had No. 5 Miami in the Final Four
2.1% had No. 5 San Diego State in The Final Four
0.7% had No. 9 Florida Atlantic in the Final Four
Add those percentages up, and the "average" bracket is expected to have gotten 0.18 Final Four picks correct. Compared to the nation at large, if you got one Final Four pick right this year, you crushed it.
Assuming that Final Four picks from all four regions are independent, here is the percentage of brackets you'd expect to have gotten each possible number of Final Four picks right this year:
0.00006% (six out of every 10 million brackets) picked all Final Four teams correctly
0.00013% (a little over one in every 10,000 brackets) picked three teams correctly
0.8% (less than one in every 100 brackets) picked two teams correctly
16% (about one in every six brackets) picked one team correctly
83% (about five out of every six brackets) got no Final Four teams right
So any review of bracket performance in 2023 needs to be done in context of those overall results. As we say often, every year and every tournament is different.
Some years, even a very low score by historical standards can win a bracket pool. With a combined seed number total of 23 (4+5+5+9) making the Final Four this year, 2023 will be one of those years.
Your Pool(s) May Not Reflect National Averages
Of course, from specific pool to specific pool, pick popularity for each team can vary substantially, especially in smaller pools.
For example, if you're in a 10-entry pool that includes several residents of South Beach and someone decided to roll with both Miami and Florida Atlantic in the Final Four just for kicks, well, that's just very bad luck for you.
On the other hand, if you're in a 100-person pool in Big 12 or Big Ten country, getting two or even one Final Four picks right might put you in great position in this crazy year.
PoolGenius Brackets vs The Public after the Elite Eight