2019 Early Deadline Brackets Writeup
Check out what we wrote for subscribers in 2019 when we released our Early Deadline Bracket Write-up on the Monday before Tournament began.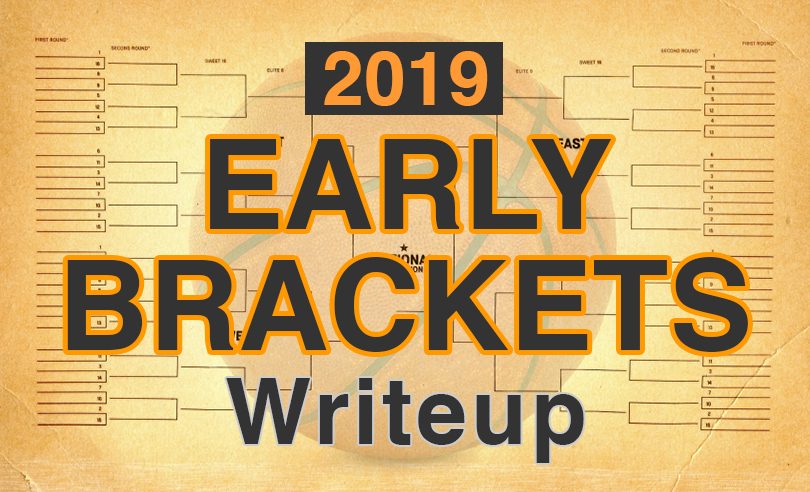 Editor's Note: The following is the 2019 Early Deadline Bracket Writeup, which was released to our subscribers on Monday, March 18, 2019. If you want to see how the picks performed, check out our 2019 NCAA Tournament Picks in Review.
Introduction
Welcome to the 2019 TeamRankings Early Bracket Writeup.
If you're a returning customer, it's great to see your beautiful face back with us this year.
If you're new to these parts, welcome to the neighborhood! We're going to do our best to make sure that you feel like using TeamRankings is well worth the price.
More than anything, we appreciate your business. We put immense pressure on ourselves (and the 18 servers at Amazon we have crunching March Madness numbers) to deliver the smartest NCAA bracket pick analysis on an extremely tight timeframe. Starting a week before Selection Sunday, we pretty much go AWOL from our families and friends, rent hotel rooms and AirBnBs, and pretty much just eat, sleep, bracket.
In short, we want to be the best at bracket pool picks and analysis, and the long term results our picks have achieved for customers is very strong evidence that we're delivering value. Still, it's pretty much a dream come true to do this kind of thing for a living, and we have your support to thank for it.
OK, now that we've all wiped the tears out of our eyes, let's get on with the bracket analysis!
What This Writeup Is, And What It Isn't
A quick background before we get to the numbers and strategy. This writeup is published on Monday afternoon to accompany our Early Deadline Brackets, and explain some of the rationale behind the picks you'll see in our brackets for some of the most popular pool sizes and scoring systems.
The Early Deadline Brackets are NOT our official bracket picks for 2019 (although in most years, they end up being pretty close). They are exactly what they say they are, brackets for customers who need to submit their picks early in the week.
Our official 2019 brackets will be released on Wednesday night according to our Release Schedule (see the Articles & Help section). We'll publish a follow-on writeup along with those brackets.
So just keep in mind that this is not our final, official, "nothing more is going to change" bracket writeup. Things do sometimes change between Monday and Wednesday (players getting injured or suspended, betting lines moving, etc.) that impact our final bracket picks.
Last year, the big one was Virginia sixth man DeAndre Hunter being ruled out of the tournament on account of an injury, after we had already generated our Early Deadline Brackets. That caused us to knock Virginia down in our ratings and consequently, in our official Wednesday brackets.
An example this year is the injury status of Kansas State forward Dean Wade. When we ran the analysis for this batch of brackets, it was unclear whether Wade would play in the tournament; he was scheduled to be evaluated by a doctor on Monday. If Wade is cleared to play, we'll bump up our power rating for Kansas State, and as a result, at least some of the final brackets we release on Wednesday may have Kansas State advancing further.
Finally, what you are going to get in these writeups is almost certainly going to be quite different than the bracket analysis you find elsewhere. We don't spend the majority of our time watching games and forming subjective opinions about players and teams. We do spend the majority of our time collecting and reviewing as much objective data as we possibly can.
Some analysts will tell you "Kansas State desperately missed Wade on offense." We don't take them at their word. Instead, we look at the data and see that Kansas State had an average Game Score (margin of victory, adjusted for opponent strength and game location) of 16.5 when Wade played, which is equivalent to the #14 ranked team in the country in our full season power ratings. Without Wade, Kansas State's average game score plummeted to just 7.6 (equivalent to a #69 national ranking).
We then feed all the reviewed and adjusted data we collect into algorithms that are far more capable than any human being at learning from it. Those algorithms do lots of math and simulations, and translate our data into the best bracket picks for your pool(s). The goal of this writeup is to provide some plain-English explanation of the results.
Still, bear in mind that the process that got us here is all about math, probabilities, odds, expected values, etc. — the type of stuff that makes Charles Barkley lose his temper. We do our best to keep it simple, but yeah, there's going to be a lot of numbers.
In the process, we also touch on some of the foundational principles behind our bracket picking strategies, such as game theory. If you're looking for hot takes like "Virginia doesn't have the mental toughness to make it in the tourney, last year's epic choke proved that!" then please just Google "how NOT to pick a bracket."
This Year Is Different
If you're a returning customer, you should already be familiar with one of the key tenets of our NCAA bracket analysis:
The dynamics of every NCAA tournament are different.
The teams, matchups, and public picking trends are all unique, compared to any past bracket.
That means that when it comes to picking brackets that give you the best chance to win, there are really no "golden rules" you can rely on year in and year out.
Classic examples of Not So Golden Rules are all the seed-based picking guidelines — that "always pick a 12-seed over a 5-seed" stuff. Those guidelines are almost always based on insufficient evidence (e.g. small sample sizes of historical data, cherry picked trends that are the result of randomness and are not actually meaningful or predictive).
The Not So Golden Rules also give no consideration to the current year's bracket dynamics. For example, all 1-seeds are not created equal. Some years, the crop of 1-seeds is head and shoulders better than the other teams in the tournament. Other years, several 1-seeds may be barely indistinguishable from 2-seeds (or worse) in terms of performance level.
So if you're just sitting down at Wendy's to tuck into a Double Baconator Supreme when the guy next to you says to always pick three No. 1 seeds and one sleeper pick to make the Final Four, drop that cheeseburger and run. Even if that strategy ends up being a decent move in any one particular year, the reason WHY it would be a good strategy will depend on a lot more than just seed numbers.
Now, the meat.
Extremely Strong Top Seeds This Season
Over the past five seasons, here is the average chance that a team from a certain seed line wins the tournament, based on our pre-tournament projections, along with the equivalent chance for this season (ignoring seeds that average less than a 1% chance to win):
| Seed Number | Avg Champ % | 2019 Champ % | Difference |
| --- | --- | --- | --- |
| 1 | 49% | 68% | +19% |
| 2 | 23% | 19% | -4% |
| 3 | 9% | 6% | -3% |
| 4 | 8% | 2% | -6% |
| 5 | 5% | 2% | -3% |
| 6 | 2% | 1% | -1% |
| 7 | 2% | 1% | -1% |
This year's No. 1 seeds are very, very good. In fact, since we started tracking and saving these projections in 2011, this season has the highest chance of a No. 1 seed winning the title. The only other season where the chance was above 60% was 2015, coming in at 65% (That season, #1 Duke topped #1 Wisconsin in the title game).
In addition, the committee's seeding for the top two lines exactly matches our adjusted power ratings, which are the basis of the tournament advancement odds used in our brackets and tools:
#1 Seeds: 1, 2, 3, 4 in TR's Adjusted Power Rankings
#2 Seeds: 5, 6, 7, 8
#3 Seeds: 9, 10, 12, 21
#4 Seeds: 11, 13, 24, 35
The No. 3 seed line is nearly spot on, as well. Then the No. 4 line sort of falls apart. #4 Kansas and #4 Kansas State's full season resumes are very good, but neither team is at full strength entering the tourney, and our rankings reflect that.
So we have strong, appropriately seeded No. 1 seeds, and weak No. 4 seeds. In addition, the No. 2 seeds face strong challenges from their appropriately-seeded No. 3 teams. This is a great recipe for a chalk Final Four.
The public isn't going to be doing this level of analysis. Sure, they may have some idea that the No. 1 seeds are strong this year. But they haven't run these numbers. We saw a somewhat similar dynamic to this year in 2008 (with the No. 1 seeds being the clear best teams), and we ended up recommending all No. 1 seeds in the Final Four. It was one of our best years ever; all four No. 1 seeds made it, and the public never likes to pick a boring looking Final Four.
No Strong Dark Horse Contenders
This goes hand in hand with the "strong No. 1 seeds this year" analysis, but it's subtly different.
Since we've been tracking our pre-tournament projections, most seasons there is at least one team seeded No. 3 or worse with at least a 5% chance to win the tournament. The exceptions:
2017 (#1 UNC beat #1 Gonzaga in the final)
2015 (#1 Duke over #1 Wisconsin in the final)
2012 (#1 Kentucky beat #2 Kansas in the final)
This season, the highest title odds of any No. 3 seed or worse seed belong to #3 Texas Tech — but those odds are a meager 2%. There are simply no great dark horse picks this year, and this has implications especially for very large pools.
Often, the best strategy in large pools is to pick a lower seeded team that has a 3% or 4% chance to win, but is only being picked by around 1% of the public. No team like that exists this season, so large brackets may look "chalkier" than normal in the late rounds, at least as far as seed numbers are concerned. (Hopefully, your big pool opponents don't understand this dynamic, and pick too-risky, not-great-value lower seeded teams in their brackets.)
Examining the Dynamics of This Year's NCAA Champion Picks
In some years, there's a team that's head and shoulders better than the rest of the NCAA tournament field, and it's worth picking them as your bracket champion — even if they're a relatively popular pick.
In other years, the most popular pick to win it all might not be the clear favorite — or even the favorite — and you will improve your odds to win your pool if you avoid that team and pick a less popular alternative as your NCAA champion.
This year is sort of a mix of the two. No. 1 Duke is a heavy favorite to win the tournament, according to both our advancement odds and the betting markets. However, Duke is also a super popular pick, with roughly 45% of public brackets picking Duke to win it all. That can be a tricky situation to deal with in terms of bracket strategy.
Let's take a look at the early public pick rate estimates for 2019 NCAA champion, and compare them to our Monday odds for each of those teams to win it all.
Keep in mind that we estimate public picking trends using data from multiple national bracket games (ESPN, RunYourPool, etc.). In addition, our NCAA tournament survival odds incorporate a broad range of objective data: leading algorithmic ratings (TR, Pomeroy, Torvik, etc.), odds from the betting markets, injury/player availability adjustments.
NCAA Champion Public Picking Rates vs. Odds To Happen
| Team | Public Champ % | TR Champ Odds % | Difference |
| --- | --- | --- | --- |
| 1 Duke | 45% | 30% | -15% |
| 1 North Carolina | 14% | 11% | -3% |
| 1 Gonzaga | 8% | 14% | +6% |
| 1 Virginia | 7% | 14% | +7% |
| 2 Kentucky | 5% | 6% | +1% |
| 2 Michigan State | 4% | 6% | +2% |
| 2 Tennessee | 4% | 4% | 0% |
| 2 Michigan | 3% | 3% | 0% |
(No other team is being picked as NCAA champion by more than 1% of the public.)
Looking at that table above, you can see that Duke is the big tournament favorite in 2019. They're more likely to win the title than the next two most likely teams combined (Gonzaga and Virginia at 14% each).
However, as you might expect for the tournament's overall No. 1 seed and recent ACC tournament champion, Duke is very overvalued as a champion pick. Nearly half the public is picking Duke to win it all, but Duke's title odds are well below 50%.
So our first big takeaway is:
1) Duke is an overvalued champion pick as of Monday, but has by far the best chance to win the tournament.
Both Duke's win odds and their pick popularity are near the upper end of the ranges that we've seen in past seasons. We've been tracking public picking trends and our tournament advancement projections for nine seasons. In that span, Duke has the second highest champion odds, and the second highest public pick rate (both behind the 2015 Kentucky team that entered the tournament undefeated).
Of course, we need to sanity check our numbers and make sure our projections aren't way off the market. Usually, we compare our projections to those from various computer power ratings systems, and the betting market. However, raw power ratings for Duke are going to severely underestimate their chances this year.
Why? Because Duke's performance (which we measure by average Game Score) when star freshman Zion Williamson played was 7.7 points higher than it was when he didn't play. And he's healthy now. Any power ratings system that takes into account all of Duke's games this season, therefore, is underrating Duke.
Still, let's look at the estimates of Duke's odds to win the 2019 NCAA Tournament from all our typical respected sources:
30% — TeamRankings*
28% — betting market
19% — FiveThirtyEight
15% — ESPN BPI (favorite: Virginia 33%)
14% — Ken Pomeroy (favorite: Virginia 21%)
* Would be 19% if we used our raw ratings instead of adjusting for injuries
As expected, because we are accounting for Zion's injury and other systems apparently aren't, our projections for Duke are at the high end of the range.
Overall, we're happy with our position in that list. It's often a red flag (or at least a yellow) if your system's projections are far off the implied projections of the betting markets. Our prediction for Duke is slightly above market, but it's not hugely off the market, and it's the closest to the market of any of the other ratings systems listed. Saying that Duke has about a 15% chance to win it all, when the real money betting markets are implying double those odds, is a clear red flag.
2) As of Monday, Virginia and Gonzaga are the most undervalued champion picks, and they each have a decent shot to win it all.
Duke being so overvalued by the public leaves a lot of room for some other top teams to be undervalued. Virginia and Gonzaga are the ones. Each of those teams is just under half as likely to with the tournament as Duke (14% odds to win vs. Duke's 30% odds), but both are being picked as NCAA champion in a far smaller number of brackets (only one fifth to one sixth as often).
Again, let's check our NCAA champion odds for these two teams against other sites and the betting market.
First, Virginia:
33% — ESPN BPI
21% — Ken Pomeroy
17% — FiveThirtyEight
14% — TeamRankings*
13% — betting market
* Would be 17% if we used our raw ratings instead of adjusted ratings
We're closer to the betting market estimate than to the other power ratings estimates. That's generally a good thing, if we had to pick one.
Now, Gonzaga:
24% — ESPN BPI
15% — Ken Pomeroy
15% — FiveThirtyEight
15% — betting market
14% — TeamRankings*
* Would be 18% if we used our raw ratings instead of adjusted ratings
Outside of BPI, there's a lot of agreement here. We're on the low end, but just barely.
With Gonzaga and Virginia having projected NCAA champion odds that are roughly double their pick popularity, plus overall strong odds to win it all, you can expect to see these teams featured as undervalued champion picks in some brackets designed for larger pools. Despite being No. 1 seeds, they offer great value, and as mentioned before, there are simply no compelling sleeper picks this year from a risk vs. reward perspective.
Is Duke the play for standard rules pools? Virginia or Gonzaga? Or some other team?
So Duke is by far the team most likely to win the tournament, but is overvalued by the public. Virginia and Gonzaga are undervalued teams with very legitimate shots to win it, with Virginia slightly more undervalued.
What should you do with that information?
Let's take a brief step back here, and review the concept of "value picking" when it comes to brackets.
In comparison to 10 or 15 years ago, there is now a good amount of bracket advice floating around the web that purports to be advanced and/or smart.
Most of it is centered around a similar theme, that your best strategy to win a bracket pool is to look for undervalued teams that have flown under the radar of the general public, and pick them as your NCAA champion.
Follow that logic, and Virginia is probably the play. They're more overlooked and more undervalued than any other potential NCAA champion pick this year.
However, it's not quite that simple. Again, there are no golden rules, and other factors, such as your pool size, also play a role in determining your optimal picking strategy.
Picking The "Most Undervalued" Team Isn't Always The Best Answer
We love value picks here at TeamRankings. There's nothing better than finding a team that has a great shot to win a game, or better yet the entire tournament, that is also flying under the radar.
That's because to win a bracket pool, you don't need to get a certain number of picks (or a certain percentage of picks) correct. You certainly don't have to be amazing, by absolute standards, at picking winners.
To win a pool, you simply need to score more points than the rest of your opponents. And the only way to do that is to make some correct picks that your opponents get wrong.
Put another way, if you correctly pick No. 2 Michigan to beat No. 15 Montana and Michigan wins, pat yourself on the back for getting a pick right, I guess. Just realize that it really doesn't mean squat in terms of your chance to win your pool. Almost all your opponents will have made that same pick, and they will gain the same number of points as you do.
The most important picks you make in a bracket pool are the ones that are different from a large chunk of your opponents. Those picks give you a chance to gain points that your opponents miss.
When a team's chance to advance to a given round is significantly higher than the rate at which your opponents are selecting them to make that round, that's potentially a great opportunity.
The limits of value-driven picking
However, there are two edges to the value-picking sword. An underrated team may offer a nice reward, but you can't forget about the risk side of the equation.
If you make an unpopular pick that doesn't end up playing out, and a very popular pick ends up surviving in its place, then it's bad news for your bracket. And because an NCAA bracket is a web of 67 interdependent decisions, you can't consider each individual pick in a vacuum.
In other words, while value-based picking makes a lot of sense as a general strategy, that doesn't mean you should pick every undervalued team in your 2019 NCAA bracket. In fact, far from it.
Here's an extreme example that illustrates why. We project that No. 16 Iona has a 3% chance to knock off No. 1 North Carolina. Only 2% of the public is picking Iona to win, though, so Iona is an undervalued pick.
However, unless you're in a giant pool or a pool with ridiculously huge upset bonuses, North Carolina is clearly a better pick from an overall risk vs. reward standpoint.
If you take a big gamble on Iona and lose — the very likely outcome — you've just torpedoed your chances at collecting even more points from likely future-round North Carolina wins. Worse yet, many of your opponents will be scoring those points, and distancing themselves from you in the pool standings.
Across the entire 2019 NCAA bracket, there are a lot of undervalued picks you could make. In fact, unless the pick popularity of two opposing teams exactly matches their respective win odds for a game, by definition, one of those two teams is underrated.
But in most cases, if you pack your bracket full of value picks, you'll end up taking way too much risk overall, and reducing your odds to win your pool.
Just for kicks, imagine that you picked all the most undervalued teams to reach the Final Four this year. Your picks would be:
#2 Michigan State (21% chance, picked by 14%)
#3 Texas Tech (16% chance, picked by 9%)
#3 Purdue (13% chance, picked by 7%)
#2 Kentucky (29% chance, picked by 23%)
That's certainly a fun bracket, but it's not going to be the smartest one for the overwhelming majority of pools.
The most likely result of that Final Four, with a 42% chance of happening, would be that you get one pick correct; you'd have a 36% chance of getting zero Final Four picks correct. On the flip side, you'd have only a 1-in-500 chance (roughly) of getting all four of your Final Four picks correct. Unless you're in some enormous bracket pool where you really need to go out on a limb to differentiate your picks, that's just too risky.
In contrast, picking the most likely team in each region to make the Final Four, independent of pick popularity, would give you a much lower 7% chance of getting no Final Four picks right, and about a 5% (1-in-20) chance of a perfect Final Four.
In most bracket pool scenarios, the ideal risk/value balance is somewhere in between these two extremes. It usually means having some value picks interspersed throughout the bracket, though your "value bets" may end up being more concentrated on a fewer number of key picks (e.g. a big gamble on your NCAA champion pick), or spread across a greater number of earlier round picks.
Now that we've established the limitations of picking for value, let's take a look at some of the value picks you are likely to see in our customized Early Deadline Brackets for the most popular 1-2-4-8-16-32 scoring system. Then, we'll circle back to the all-important (in that scoring system, at least) NCAA champion pick.
How Do You Decide Which Value Picks Are Worth Playing?
There are two often competing goals when crafting a bracket: Maximize expected reward and minimize risk.
Small pools
In very small pools with standard 1-2-4-8-16-32 scoring, it makes more sense to focus on minimizing risk. After all, you only need to beat a relatively small number of opponents. Often times, simply picking the most likely winners (especially in the earlier rounds) and relying on your opponents to make too many risky upset picks is often a great strategy, even though it looks completely boring.
This is especially true in 2019, with one of the strongest #1 and #2 seed batches we've seen since we've been tracking the data.
If we only had a dollar for every new customer that looked at our optimized brackets for very small pools, emailed to complain that they didn't have enough upset picks, then ended up winning a prize…
Large pools
In very large pools, "fading the public" comes more to the forefront, as you need to differentiate your bracket from many competing entries in order to have any realistic shot of winning (even then, your odds to win are still very long). So if you're in a very large pool, you're usually going to see some riskier pick suggestions in our customized Early Deadline Brackets.
However, it's critical to note that risky picks come in many forms. Picking a No. 1 seed as NCAA champion certainly may not seem like anything especially ingenious. But as discussed above, if you don't pick Duke to win this year, at best, you're cutting in half your chances of getting the all important NCAA champion pick correct (in 1-2-4-8-16-32 scoring at least). And Duke's title odds this year are over ten times better than the strongest team not seeded No. 1 or No. 2.
Because the title game is such a high leverage pick, picking a team like Virginia or Gonzaga to win it all is actually riskier than picking a lower seeded team to make the Final Four.
Check out the math:
(32 points for a correct champ pick) * (16% difference between Duke and Gonzaga title odds) = 5.1 fewer expected points for picking Gonzaga instead of Duke to win the tournament
(8 points for a correct Final Four pick) * (30% difference between No. 3 Texas Tech and No. 1 Gonzaga Final 4 odds) = 2.4 fewer expected points for picking Texas Tech instead of Gonzaga to make the Final Four
This year, a Final Four consisting of all No. 1 seeds with Gonzaga winning the title is actually riskier (and carries a higher reward) than picking three No. 1 seeds and No. 3 Texas Tech in the Final Four, then having Duke win it all.
Mid-Sized Pools
For bracket pool sizes in between small and large, figuring out the optimal balance of risk vs. reward is often more nuanced.
For example, using data from our Data Grid, No. 2 Kentucky is a solidly undervalued pick to make the Final Four (29% chance to make it, pick popularity of only 23%). If you pick Kentucky, though, you're adding a moderate amount of risk to your bracket compared to picking the safest alternative, No. 1 North Carolina (40% chance to make it).
In very small pools, picking Kentucky probably isn't worth the risk. In bigger pools, it might be. But where's the cutoff?
Now repeat this same question for every undervalued pick in the entire tournament, compare the risks and rewards of picking vs. not picking each one, and try to figure out the 67 pick decisions that consequently make the most sense for your specific pool. The complexity piles up real fast.
We Use Technology Do The Heavy Lifting
Finding the best set of bracket picks for a particular type of pool, with a particular number of entries, simply can't be done manually. The complexity involved in doing all the optimization math is much too high. To get over that constraint, we've spent years building and refining technology to do the heavy lifting for us.
Those 18 Amazon servers we mentioned earlier are performing millions upon millions of simulations. They simulate the possible outcomes of the 2019 NCAA tournament. They simulate the brackets that your opponents are likely to play. And they test combination after combination of bracket picks until they find the one that gives you the best chance to win.
(Fun fact: those servers cost us about $10,000 to run each March, so yeah, we couldn't do this without your help.)
So What >Are The Best Value Picks This Year?
In pools with standard 1-2-4-8-16-32 scoring, here are some value picks that you may see in our customized Early Deadline Brackets. Note that some of these may only appear in the alternate brackets designed to be entered along with the Best Bracket as part of a multiple-bracket portfolio.
Value picks to make the Final Four
#2 Kentucky (29% odds, picked by 23%) — public overrating #1 North Carolina (40% odds, picked by 56%)
#2 Michigan State (21% odds, picked by 14%) — public overrating #1 Duke (61% odds, picked by 76%)
#1 Virginia (47% odds, picked by 43%) — public overrating #2 Tennessee (21% odds, picked by 31%)
#1 Gonzaga (45% odds, picked by 44%) — public overrating #2 Michigan (16% odds, picked by 27%)
Something should immediately stand out there. You'll see there are two #1 seeds listed as "value picks" to make the Final Four. That is quite unusual. In the 9 years we've been tracking this data, only seven No. 1 seeds have been underrated by the public to make the Final Four.
It's even stranger this year considering that Virginia and Gonzaga also have very good odds to make the Final Four. This is the first time since we've been collecting the data that any team with a 40%+ chance to make the Final Four has been undervalued by the public. And in 2019 we've got two of them.
The bracket implications are huge. By simply playing the seed chalk in these two regions, you're actually making value plays. In general, a pick where you can choose the most likely result and have it be a value play is pretty much the definition of a no-brainer.
Value picks to make the Elite 8
#3 Texas Tech (36% odds, picked by 24%) — public overrating #2 Michigan (34% odds, picked by 59%)
#3 Purdue (31% odds, picked by 18%) — public overrating #2 Tennessee (44% odds, picked by 58%)
The value options here aren't too surprising. The public is leaning pretty heavily toward the better seeds that reached their conference tournament finals, rather than the worse seeds that crashed out early. That's a logical bias, but it's a bias nonetheless. And by picking Texas Tech or Purdue, you may be able to exploit it.
Solid value picks to make the Sweet 16
Purdue from the Elite Eight value picks above, plus…
#12 Oregon (36% odds, picked by 16%) — public overrating #4 Kansas State (21% odds, picked by 46%)
#5 Auburn (50% odds, picked by 43%) — public overrating #4 Kansas (35% odds, picked by 50%)
#7 Nevada (30% odds, picked by 10%) — public overrating #2 Michigan (57% odds, picked by 81%)
#5 Mississippi State (39% odds, picked by 26%) — public overrating #4 Virginia Tech (56% odds, picked by 65%)
If you look carefully at the above info, you might notice something sort of shocking. We project #12 Oregon with a better chance to make the Sweet 16 than #4 Kansas State.
There's a perfect storm of events behind that projection. Oregon is extremely good for a #12 seed (thanks to a late-season switch to a very long, athletic lineup), Kansas State may be missing Dean Wade (their only real offensive threat), and Kansas State's first round opponent, UC Irvine, is very good for a #13 seed.
In fact, 36% is the highest Sweet 16 advancement odds we've ever projected for a double digit seed. The only other time we've projected a double digit seed with a 30%+ chance to make the Sweet 16 was #11 Gonzaga in 2016. That Gonzaga team did indeed make the Sweet 16, then lost by only three in its bid to reach the Elite Eight.
Solid first round upset value picks
Oregon from the Sweet 16 value picks above, plus…
#9 Baylor (49% odds, picked by 33%) over #8 Syracuse
#13 UC Irvine (40% odds, picked by 17%) over #4 Kansas State
#11 Arizona State / St. John's Play-In Winner (37% odds, picked by 20%) over #6 Buffalo
#11 Ohio State (37% odds, picked by 28%) over #6 Iowa State
#11 St. Mary's (36% odds, picked by 20%) over #6 Villanova
#11 Belmont / Temple Play-In Winner (33% odds, picked by 22%) over #6 Maryland
#13 Northeastern (27% odds, picked by 9%) over #4 Kansas
Keep in mind that most of the Early Deadline Brackets published on Monday will feature at most some, and potentially none, of the value picks above. Using all of them would almost certainly introduce too much overall risk into your bracket, and none of these teams are actually favored to win, though Baylor/Syracuse is just about a toss-up.
IMPORTANT TO REPEAT! We are not saying that we think each of the value picks above will win or make it to the rounds specified, and that's certainly not what we expect. In fact, looking at each game individually, we expect teams like UC Irvine and Ohio State to lose in the first round, because their win odds are below 50%.
What we are saying is that the cases above look like the smartest value gambles in this year's bracket. If our brackets recommend one of them, you'll be taking on some extra risk by making the pick. But if it comes through, it will be extra helpful in terms of gaining ground over your opponents.
Early Bracket Strategies & Recommendations
After running bracket pool and tournament simulations all last night, our Early Deadline Best Brackets* for 1-2-4-8-16-32 scoring are making the following recommendations.
*Best Brackets are the brackets we recommend playing if you are entering only one bracket in a pool. When you view your custom picks for a pool, the Best Bracket is shown in the first tab at the left. Four additional brackets, the alternate brackets, are presented in tabs to the right of the Best Bracket tab. Alternate brackets are designed to be played along with the Best Bracket if you want to enter more than one bracket in the pool.
#1 Duke as a champion pick in small to medium sized pools
Yes, that's correct. In pools with less than about 75 people, our simulations showed that picking Duke as your champion is currently the best play, despite Duke also being the most popular champion pick.
Actually, let's rephrase that. In very small pools, if you make the other value picks our simulations recommend, then you should pick Duke as champion partly because of its popularity, not despite it.
The rationale here is that your contrarian/value picks in very small pools can often come in the earlier rounds, when they have a better chance of actually being correct. In a tiny pool, you usually don't need to make a gamble on a riskier but undervalued champion pick. A couple of undervalued Elite Eight and Final Four picks that come through, for example, can be enough to tip the scales in your favor.
Now, consider what happens next. If you nail those Elite Eight and Final Four value picks — in most cases, #3 Texas Tech over #2 Michigan to make the Elite Eight and #1 Virginia and #1 Gonzaga to the Final Four — then in a small pool, there's a good chance you'll be leading in the standings.
And if you're protecting a lead, your best option is to make the safest and most popular pick from then on. This is what we like to call a "defensive pick strategy." If you're winning a pool, you want to end up either picking the same team as your opponent (hence popular picks are good), or failing that, pick the higher-probability winner and force your opponent to pick a lower-probability underdog in order to be able to catch you.
So if you are winning your pool coming into the title game, and you have Duke as your champion, and all the people who can catch you in the standings also have Duke (a legitimate possibility in a small pool, given Duke's popularity this year), then the pool is over. It's impossible for them to make up ground on you. To maximize the chance of this type of situation happening, you'd want to take the more popular NCAA champion pick.
To repeat the major caveat here, Duke is the Early Brackets recommended title pick for Best Brackets in small-to-medium sized, standard-scoring pools only when paired with the earlier round value picks.
In a vacuum, if the only team you had to pick in your bracket was the NCAA champion, Duke might not be our top option, given its very high pick popularity.
#1 Virginia as champion in medium-to-large pools
Now let's move on to larger sized pools (more than 75 entrants).
Virginia as the champion pick for Best Brackets in large pools is no surprise. As discussed above, Virginia and Gonzaga are both very undervalued, mostly due to the public overvaluing Duke. Virginia has a marginally better chance to win the title, and is being picked a little less often than Gonzaga, so they're the better of the two options in larger pools where it's even more important to be contrarian.
The picks for pools just above the 75-entry cutoff are essentially the same as the smaller pool picks, except they have Virginia beating Duke in the title game, instead of the other way around.
Remember the logic we just discussed that says if you are leading a pool entering the final game, you'd want to pick conservatively? Well, in these larger pools, your relatively conservative earlier round value picks are a lot more likely to only have you in contention to win instead of in the lead. In this scenario, a correct Duke pick still may not get you in the money, whereas a correct Virginia pick likely does.
In even larger pools (above 500 people), an additional value pick is added: #1 Gonzaga over #1 Duke to reach the title game. Gonzaga is only about half as likely as Duke to reach the title game, but they are being picked to make it that far in only about one fifth as many brackets.
That gives you a title game result (Virginia over Gonzaga) that only about 1% of brackets nationwide will be picking, but it has about a 2.6% chance of occurring. In a 1,000-person pool, if you call that game correctly, you'll likely be one of only about 10 people to collect the full 64 points from the last two rounds.
Add in solid early round picking, and you should have a solid shot to win the thing. Let's estimate you'd have a 1-in-4 shot to win if you get the title game correct. That's a 2.6% / 4 = 0.65% = about 1 in 150 chance to come in first in a 1,000 person pool. That's over five times better odds to win than the baseline win odds of 1 in 1,000. Of course, you'd make it a somewhat more realistic chance to win a pool of that size this year if you play multiple brackets.
Farewell Until Wednesday night…
Our initial round of millions of 2019 tournament and bracket pool simulations is now complete. We've factored in recent public picking trends, Vegas odds, team ratings and advancement odds from the world's top predictive systems, and hands-on analysis of injuries and lineups using proprietary tools we've built.
We manually reviewed the Early Deadline Brackets for many different scoring systems and pool sizes before posting them, and did our own separate analyses and gut-checks to confirm that their algorithm-driven picks pass the smell test. At first, we were kind of shocked how conservative many of them seemed, until we recognized the dynamics of this year's tournament. In short, it looks like a really sucky year for sleeper picks.
So can now officially put our seal of approval on these Early Deadline Brackets, and say that based on the knowledge we have as of Monday morning, we're confident these brackets will give you a significant edge in your pool.
What does that mean exactly?
Well, anyone who's been a past customer knows that we don't sugarcoat reality here at TR. Odds are odds, and even if you're playing an exquisitely designed bracket, the chance that it doesn't win your pool this year is much greater than the odds that it does win. (Well, unless you're playing against like two other people.)
Keep applying this level of analysis and strategy over the long term, though (or over a large portfolio of entries), and the returns should be solid. Our track record over the last decade plus is strong evidence of that; to see the performance data we've collected from subscribers, click on the new "Past Performance" link in the top navigation bar.
And finally, just remember:
If your pool doesn't have an early submission deadline, we strongly recommend that you wait to use our Official 2019 Brackets, scheduled for release late Wednesday night.
The more time we have to do analysis and run simulations, the better. It's not likely we'll have a bunch of changes to key picks, but it's not unheard of either, since public picking trends can shift and breaking news can happen. If Duke's pick popularity changes, for example, that could have significant implications.
If you have any questions for us, feel free to ask away in the Q&A Forum. Otherwise, see ya Wednesday!
The TeamRankings Crew
Tom, David, Jon, Seth, Mike and Matt