Madness Myths: It's All Random
There are some bracket advice columns that tell you it's all random when it comes to winning your pools. Don't listen to them.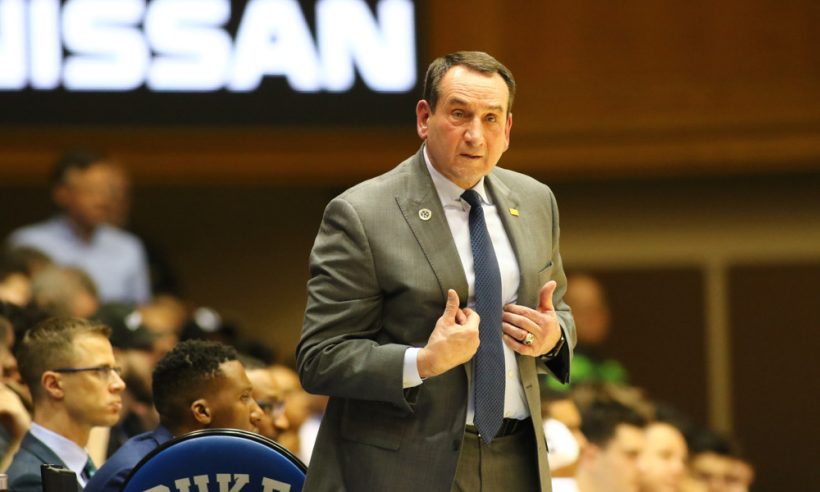 If it was really all random, would this guy have all those banners in the rafters he can point to? (Photo by Jaylynn Nash/Icon Sportswire)
There is a lot of bad bracket picking advice out there. But there's one particular strain that takes cake. It's the nihilist view that nothing matters, it's all random, and you should just pick teams however you want, then eat at Arby's.
The mythology of the random person who wins the pool by picking teams based on mascot, uniform color, or by flipping coins is a powerful one. Does this happen sometimes, especially in large pools and in crazy years? Sure, it can happen (if they are still flipping a coin loaded toward favorites). But over time, those with a knowledge, information, and strategy edge can absolutely outperform the typical player. Our history and existence as a business is testament to that.
We couldn't do this if everything was truly random.
Examples of the "It's All Random" Point of View
Lest you think we are attacking straw men here, if you run a Google search for "Bracket Advice," the top results you will generate include the following "advice":
"There is no use in putting any thought into your March Madness bracket." (source)
"Instead of pretending like you have any idea, this year just give in to reality and admit that literally no one can account for the randomness inherent in 67 basketball games played out among teams that likely have not faced each other before …" (source)
"There is no wrong way to fill out your bracket — every pick is a personal journey that's yours and yours alone." (source)
You want other people to pick brackets based on a personal journey. But you want to recognize that despite the Madness of March, it certainly is not random.
Some March Madness Data
Do upsets happen? Sure they do. But the results of the NCAA Tournament are not random. Here are some notes:
Of the 12 national champions since 2010, nine of them were No. 1 Seeds entering the tournament, and another was a highly-rated No. 2 Seed. Another was a No. 3 Seed coming off winning a major conference tournament.
Only one team (Connecticut in 2014) that won a title was a true Cinderella. And getting your title game pick right is the single-most important choice in most bracket pool scoring systems.
Over half (26 of 48) of all Final Four teams since 2010 were either No. 1 or No. 2 Seeds. In comparison, they make up under 12% of the teams in the tournament field.
In the last five tournaments, the better-seeded team in a matchup won 70% of the time (175-73).
There were only 24 (out of a possible 192) upsets by a team seeded No. 13 or worse in the first round since 2010.
We could go on and on to easily dispel the notion that the tournament is random. Big upsets stand out in the mind, but they do not happen that frequently. Most of the top teams advance, and a lot of the perception about upsets is from games where the teams are closer in quality.
The truth is, most people picking brackets pick far too many upsets and treat it like it is more random than they should.
No sport is completely predictable. But that doesn't mean it is totally random. You can give yourself an advantage by having better information and strategy.
Our Record Shows that Results are Not Random
Every year, we ask our subscribers to share the results of how they did in each pool, good or bad. And while specific results may vary for individual subscribers, the overall numbers show that our recommendations continually outperform what a random contestant in a March Madness pool should achieve.
You can see the analysis of how our picks did in 2017, 2018, 2019, 2021 and 2022. About 52 percent of our subscribers have reported winning a prize in at least one bracket pool annually over that span. Those results would simply not be possible if this were a futile exercise in randomness.
But, those results are in part possible because there is so much bad bracket advice out there. That the public continues to get bad advice, at least, does not seem to be random and unpredictable at all.