2019 Bracket Picks Year In Review
The 2019 NCAA Tournament was another successful year for us. In this post, we review the results and what picks went right (and wrong) in 2019.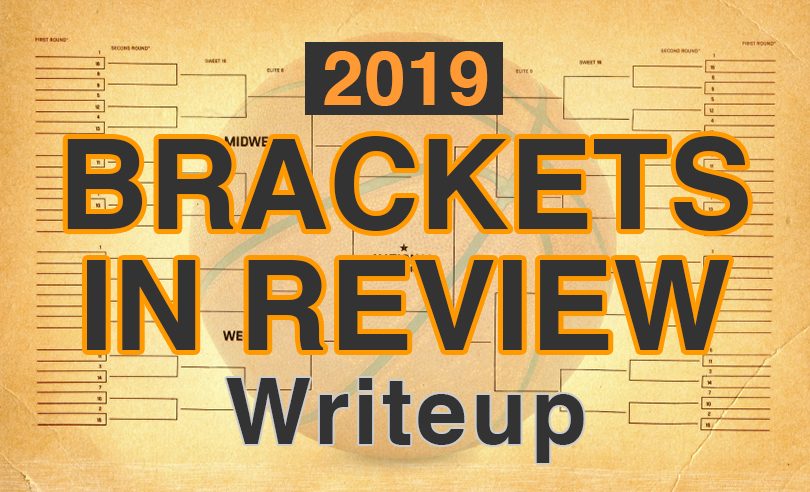 For the 2019 NCAA Tournament, our Bracket Picks had another very good year. According to survey responses provided by our subscribers, 71% of customers won at least one prize in 2019. Across all pool types, customer win rates were 4.3 times higher than you would expect based on pool size, payout structure and the number of brackets entered. If you're interested, you can see more detailed information on our Bracket Picks performance over the last five years.
Overview of the 2019 NCAA Tournament
The 2019 NCAA Tournament featured Virginia (No. 1 seed, South) beating Texas Tech (No. 3 seed, West) in the final of a thrilling tournament that featured several exciting finishes. Virginia alone accounted for three great closing games, including a miraculous comeback against Purdue in the Elite Eight. The 2019 tournament was notable for how "chalky" it was early, with the top teams almost universally advancing. In fact, every team seeded No. 3 or better advanced to the Sweet 16 in 2019. It was the first time that has ever happened, since the NCAA began seeding teams in 1979.
The favorites winning early set up some great late matchups. Duke was the tournament favorite, but lost in overtime in the East final against Michigan State (a team that many thought could have been a No. 1 seed as well). Gonzaga, the No. 1 seed in the West, lost to Texas Tech, and Auburn was the lowest seed (No. 5) to advance to the Final Four when they beat rival Kentucky in the Midwest Final. You can see the full bracket results here for the 2019 NCAA Tournament.
Here is how our average recommendations compared to the public for the 2019 tournament in each round.
| Bracket Type | Round 1 Correct | Round 2 Correct | Sweet 16 Correct | Elite 8 Correct | Final 4 Correct | Champ Game Correct | Score (1-2-4-8-16-32 format) |
| --- | --- | --- | --- | --- | --- | --- | --- |
| TR "Best Brackets" for 1-2-4-8-16-32 | 22.9 | 15.6 | 5.9 | 1.00 | 1.00 | 0.15 | 106.7 |
| TR "Best Brackets" for all scoring | 22.8 | 15.4 | 6.1 | 1.00 | 0.99 | 0.12 | 105.7 |
| All TR Brackets | 22.8 | 15.1 | 5.8 | 1.00 | 0.65 | 0.19 | 100.8 |
| Public Pick Averages | 22.3 | 11.4 | 4.2 | 0.75 | 0.22 | 0.08 | 74.0 |
Overall, the numbers in the table above are quite solid:
Our average bracket had more correct picks than the average public bracket in every single round.
Our Best Brackets for standard scoring averaged 107 points, over 40% higher than the public's average of 74 points.
100% of our Best Brackets got one title game participant correct, compared to only 22% of the public.
But our goal is not just to be better than average, we want to have brackets that finish near the top and win our customers money. And we did that this season: our "Best Brackets" at various pool sizes ranged from finishing in the 89th (pool size: 11-25) to 99th percentile (pool size: 2500+) compared to scores on ESPN's Tournament Challenge bracket contest.
What Worked in Our 2019 NCAA Tournament Picks
Those overall performance numbers are nice. But rather than just summarily tell you how we did, we are also going to show some of the key pieces of analysis that led to those results. In addition to access to a variety of data and tools, our subscribers get other information throughout tournament week.
We provide an early bracket write-up on Monday with initial thoughts and reactions to how the pick recommendations are likely to shape up. A final bracket write-up is released on Wednesday night further detailing some key recommendations. (Note: any direct quotes from those write-ups included here have been italicized.) Further, in 2019, we also provided a breakdown of all 68 teams that detailed the manual adjustments we made to the power rating for each team (for things like lineup changes, injuries, and other factors).
We also generate customized picks for our subscribers, so that your pool scoring system (and any modifications like upset bonuses or seed bonuses) and pool size can dictate the best strategy in each particular case. While the advice for one type of pool may be different than for another on a specific game or type of team advancing, some key over-arching themes led to success in a variety of pool types in 2019.
We Correctly Assessed the 2019 NCAA Tournament as Being Extremely Top-Heavy
At the outset of the tournament, we identified that the No. 1 seeds were a relatively strong group compared to many years. The Top 8 teams in our power ratings were also the Top 8 in seeding (which is not always the case).
Our national championship pick recommendations centered on Duke and eventual winner Virginia, depending on pool size. About Duke, we said they were "an overvalued champion pick as of Monday, but has by far the best chance to win the tournament." We described Gonzaga and Virginia as having "very strong value for being No. 1 seeds." Later, we said of those two teams "[t]his is the first time since we've been collecting the data that any team with a 40%+ chance to make the Final Four has been undervalued by the public. And in 2019 we've got two of them."
Of the No. 1 seeds, we were lowest on North Carolina by Wednesday, saying "North Carolina's chance to win has decreased, while their pick rate has increased. That's not a good combination. You can expect to see UNC picked less often to make a deep run in your brackets."
North Carolina was the first top seed to lose (in the Sweet 16 to Auburn), but because we were down on them and didn't suggest using them as a title game pick in Best Brackets, that loss did not hurt our subscribers much, relative to the public (even though our brackets generally had them advancing past Auburn).
We Hit on a Decent Percentage of Value Picks Advancing Deeper in the Tournament
Here were the teams we gave out as Value Picks to go to the Final Four, Elite Eight, and Sweet 16 in our early write-up:
Value picks to make the Final Four
#2 Kentucky (29% odds, picked by 23%) — public overrating #1 North Carolina (40% odds, picked by 56%)
#2 Michigan State (21% odds, picked by 14%) — public overrating #1 Duke (61% odds, picked by 76%)
#1 Virginia (47% odds, picked by 43%) — public overrating #2 Tennessee (21% odds, picked by 31%)
#1 Gonzaga (45% odds, picked by 44%) — public overrating #2 Michigan (16% odds, picked by 27%)
All four of those teams advanced to the Elite 8, so our customers got full points to that stage with all of those teams in the "Best Brackets." Two of them reached the Final Four (though our picks in the East were mostly on Duke to beat Michigan State).
Value picks to make the Elite 8
#3 Texas Tech (36% odds, picked by 24%) — public overrating #2 Michigan (34% odds, picked by 59%)
#3 Purdue (31% odds, picked by 18%) — public overrating #2 Tennessee (44% odds, picked by 58%)
Texas Tech and Purdue each winning to advance to the Elite 8 were both positive results. The public was heavily on both of their opponents. Of Texas Tech, we also wrote that they had the best title odds of any team outside the top two seed lines. So while their journey to the title game was a surprise, they were the most likely dark horse team to pull that off according to our projections.
Remember, we were coming off a tournament a year earlier where a No. 11 seed, Loyola-Chicago, went to the Final Four and the first No. 1 seed ever lost in the first round. Taking a position that the value was on the favorites was a somewhat contrarian view to those remembering 2018.
Solid value picks to make the Sweet 16
Purdue from the Elite Eight value picks above, plus…
#12 Oregon (36% odds, picked by 16%) — public overrating #4 Kansas State (21% odds, picked by 46%)
#5 Auburn (50% odds, picked by 43%) — public overrating #4 Kansas (35% odds, picked by 50%)
#7 Nevada (30% odds, picked by 10%) — public overrating #2 Michigan (57% odds, picked by 81%)
#5 Mississippi State (39% odds, picked by 26%) — public overrating #4 Virginia Tech (56% odds, picked by 65%)
Nevada lost in the first round and Mississippi State lost to Virginia Tech in the second round. But Auburn beating Kansas was a big swing result. Oregon advancing to the Sweet 16 out of a group that featured Kansas State as the No. 4 seed and Wisconsin as the No. 5 seed was also a big early bump.
Our Manual Ratings Adjustments Improved Overall Performance
We made manual adjustments to our objective power ratings for several teams. Those adjustments were made on a case-by-case basis, due to injuries or teams performing differently after changes in their starting lineup or rotations. Most of those manual adjustments improved the performance of our picks in 2019.
Oregon was the biggest positive adjustment; we had the 12th-seeded Ducks rated much higher than the public. Oregon's run to a Pac-12 tournament title was no fluke. The team had led the nation in defensive efficiency down the stretch after switching to a bigger, longer lineup. We were very high on the Ducks compared to the betting markets — probably the biggest deviation from market we've ever had in our adjusted power ratings. But we stood behind our analysis, and it paid off handsomely.
Kansas and Kansas State were two of the biggest negative adjustments for top teams entering the tournament. Kansas State was without Dean Wade, and that made a huge difference. With his absence and UC Irvine's own positive boost, we had that game at close to a pick'em, and recommended UC Irvine in an upset in a decent percentage of brackets. Kansas State losing that game (in the same quadrant as Oregon) was a positive result for our customers.
Kansas also had a top resume, but had been playing worse down the stretch after losing both Udoka Azubuike and LaGerald Vick, and were downgraded as a result. Those adjustments had us largely picking Oregon and Auburn to the Sweet Sixteen. In a chalk-heavy early tournament, Auburn and Oregon were the only two teams seeded below a No. 4 seed to advance that far. That's how we ended up getting over 15 of 16 picks right on average in that round.
What Did Not Work in our 2019 NCAA Tournament Picks
While our results outperformed the public, and our customers reported winning prizes more than four times as often as you would expect by chance, not everything went our way. The biggest negative was Duke losing to Michigan State in a close game in the Elite Eight. Duke was our most frequent champion, and customer results may have been even better with a Duke championship.
Duke was our recommended champion in "Best Brackets" in small-to-medium sized, standard-scoring pools. In Duke's case, we recommended using them as champion in smaller pools because of their popularity, and a belief in the value plays that would win the pool elsewhere. ("In very small pools, if you make the other value picks our simulations recommend, then you should pick Duke as champion partly because of its popularity, not despite it.")
That strategy of picking Duke as champ would have likely worked, based on our performance in the second round and Sweet 16 being well above the public average. But then Duke lost. Though, to be fair, they did not look like the dominant force they had been much of the year with Zion Williamson, as they also barely survived against Central Florida in the second round.
The Duke elimination impact was somewhat muted because of the next result. Texas Tech then beat Michigan State in the Final Four, a result that benefited only a small percentage of brackets. The Spartans, on the other hand, were the third-most popular championship game pick on that side of the bracket, behind Duke and Gonzaga.
Wrapping It Up
When the dust settled on the 2019 NCAA tournament, all of our Best Brackets for standard scoring had beaten at least 89% of the public, and survey results indicate 71% of our subscribers won at least one prize. Those are positive results, especially considering that our most frequent champion pick (Duke) was eliminated in the Elite Eight. Having Virginia in the final in most brackets, and sometimes as champion, offset that.
For those of you that have been subscribers, we hope that you found value in both the NCAA Bracket Picks product and our accompanying writeups and analysis. For those that have not yet subscribed, we hope that this has given you a deeper look into the kind of analysis and value that we can provide.
Year-to-year results will always be subject to high variability, and even with our picks you're not going to be expected to win a prize in any given pool. But in the long run, sticking with our analysis and strategy should yield strong results. We wouldn't be here today, still doing this after almost 15 years, if it weren't for our returning customers, and new customers, that gave us a chance.
If you want to see other yearly write-ups you can also see the 2018 Brackets in Review and 2017 Brackets in Review articles.