The Danger of Picking Too Many Upsets
When it comes to your March Madness picks, you need to be careful not to go too crazy, because picking too many upsets can be a silent killer.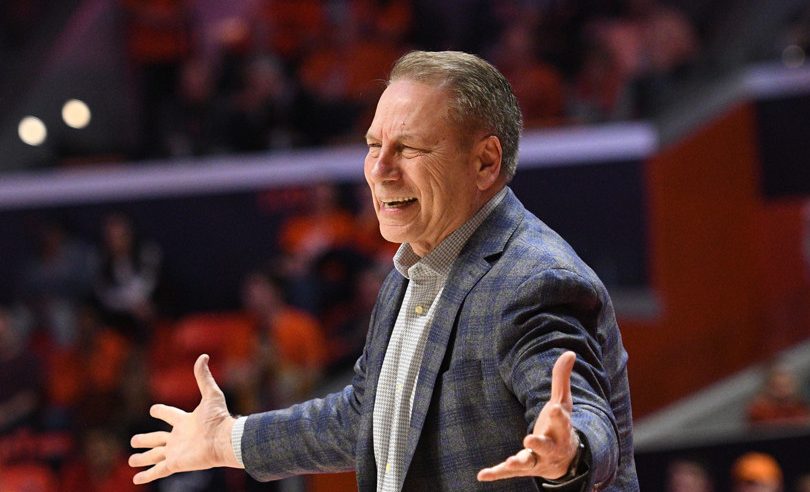 Tom Izzo performs "The Music of the Night" from Phantom of the Opera (Photo by Michael Allio/Icon Sportswire)
Picking too many upsets is the silent killer of many brackets, at least in standard scoring formats. The psychology of why people pick more upsets than they should is understandable. It's called March Madness because sometimes the improbable and seemingly impossible happens. The public lives for the underdog in March. It's not as fun to brag about how you correctly predicted the No. 4 seed to handle the No. 13 seed. Everyone wants to pick the next Loyola-Chicago, who made an improbable run to the Final Four as a No. 11 seed in 2018 and captured the nation.
We imagine another part of the issue here is that the mainstream sports media has trained people to think that the way to win a bracket pool is to try to guess most of the first round upsets and every dark horse team that's going to make a deep run.
Generally, that's not the way it works.
The Reality of What Wins Pools
One of us is in a yearly pool in the 100-200 entry range, which has been running for over 20 years. Only about once per decade has even a single person in the entire pool picked all four Final Four teams correctly. Yet every year, somebody still walks away with a nice chunk of change for winning.
The winner most years is usually somebody who makes solid picks through the first few rounds, gets two or three Final Four teams correct, and/or nails the tournament winner. But in years when a very unpopular pick wins it all, the winner of the pool may not even have picked the champion right. And 100-200 people is not a small pool.
Given that context, it often makes sense to pick conservatively across most of the bracket, and concentrate your risk on one or two educated bets of high leverage picks.
The smaller your pool, the more that becomes true. If you are in a small pool of less than 10 people, simply going with chalk picks and letting your opponent shoot themselves in the foot with risky upset picks is a sound strategy.
Don't Just Take Our Word for It
We'll get to our own results soon, but first we want to highlight a research article published back in 2009 in the Journal of Applied Social Psychology about NCAA Tournament predictions. The professors that studied picks from the public came to a similar conclusion:
"Furthermore, it appears that individuals would have been better served, on average, by using a more conservative strategy. The average performance of participants in the Tournament Challenge in 2004 was 75.2% correct (72.9% in 2005). A strategy of always picking the lower seed would have resulted in 87.5% correct in 2004 (75.0% in 2005). Thus, on average, individuals predicted too many upsets and would have done better by always picking the lower seeds."
Now, we will discuss why you do want to diversify with some risk on upsets in a bit, but our findings based on doing this year after year match what this study found. People should generally be more selective in picking upsets than they are.
Thought Exercise: the 12-5 Upset Example
Over the last five tournaments, seven No. 12 seeds won in the first round against the No. 5 seeds, in 20 tries (35%).
How many No. 12 seeds should you pick in your bracket in that hypothetical, knowing that just over one per year has won in recent years?
A large number of people would respond by picking one No. 12 seed to win, and staying with the favorite in three games. In fact, that's largely what our data shows. Over the last decade, the average No. 12 seed has been picked to win 24.3% of the time in the first round by the public.
Here's a quick probability study. Let's assume that in fact, in the next NCAA tournament, exactly one No. 12 seed will win. Based on that assumption, if you blindly pick one No. 12 seed to beat a No. 5 this year, what is the expected outcome?
There's a 25% chance that you choose the right 12 seed to win, and you get all four of the 5 vs. 12 seed games right. As a result, You would earn 4 points in most scoring systems.
There's a 75% chance you pick the wrong 12 seed, meaning you only get two of the four 5 vs. 12 games right. As a result, you would earn 2 points in most scoring systems.
You would therefore expect to score 2.5 points on average by following this strategy of randomly guessing one 12-seed to beat a 5-seed.
Compare that to a strategy where you just pick all the 5 seeds to win. If you do that, your expected points scored is 3.0, or 20% higher.
Of course, we're not saying that you should never pick a 12-over-5 upset. Our point is that you should only pick upsets when they are justified by the strength and popularity of the teams, and not blindly follow "experts" that say you must pick one upset by a 12-seed.
In 2019, Oregon, a No. 12 seed, just happened to be our recommended pick to the Sweet 16 because we had them power rated that highly, compared to the matchups they would face to get there. But we didn't make that pick based on filling a quota of needing to pick "upsets." Occasionally, there's an Oregon in your bracket, and a 12-over-5 makes sense. But most years that's not the case, and you're better off picking all the No. 5 seeds to advance rather than forcing an upset into your bracket.
But What About Crazy Years Like 2018 Where Upsets are Rampant?
One of the reasons people pick a lot of upsets is because in real life, there are upsets. If you simply pick every favorite, you will not go 63-0. But here's a newsflash: you aren't going 63-0 by mixing it up and picking a lot of upsets either. (Check out our Myths article on matching historical results if you want more details.)
In large pools, you do want to take on some extra risk (see our section on Balancing Risk and Value), but even then, you are usually better off picking and choosing where to allocate and concentrate your risk-taking.
But what about a year like 2018? That year, Loyola-Chicago reached the Final Four as a No. 11 seed. By the end of the first weekend of games, one entire half of the bracket consisted of teams seeded No. 3 or worse, including two 7's, two 9's, and an 11 advancing.
Picking fewer upsets was still the better strategy
But here's the thing. Even though everyone loves picking the upsets and underdogs, the public isn't particularly good at identifying the right ones. Loyola-Chicago was a first round "value gamble" pick we highlighted in our 2018 Early Brackets Writeup, because the public picked them far lower than their true odds that year, to just win one game. Less than 0.5% of the public actually had them in the Final Four.
Our "Best Brackets" across All Scoring Systems averaged 23.9 wins in the first round, and 8.7 wins in the second round of the 2018 NCAA Tournament. In a vacuum, those are lower numbers than usual. But remember, you aren't trying to post a certain score to win a bracket. You are trying to be better than your opponents.
In 2018, the public averaged 21.6 wins in the first round, and 7.0 wins in the second round.
Furthermore, our strategy was also better positioned moving forward, with an average of 5.0 Elite Eight teams and 2.4 Final Four teams alive (Compared to 3.8 and 2.0 respectively for the public). Our overall performance in the wild and wacky 2018 was that users won a prize 3.1 times more often than expected. That was in line with our five-year performance. So in a year where chaos reigned, picking fewer upsets than the public still led to excellent results.
Be Aware of Your Pool Rules and Size When It Comes to Upsets
The advice here to be wary of picking too many upsets is context-dependent, and is generally good advice for standard-scoring pools and pools of relatively small size (less than 50).
But obviously, that advice could change with different rules. We find that while generally, people are too risky with upset picks in most pools, they aren't actually risky enough in pools that provide upset or seed-based bonuses in early rounds. If you get "extra credit" for picking upsets, the calculation changes on when upsets become profitable.
For example, let's go back to our hypothetical scenario where exactly one No. 12 seed wins in the first round. If your pool has a "seed difference" upset bonus in addition to the standard 1 point for a first round win, then a correct No. 12 seed pick is worth 8 points, while a correct No. 5 seed pick is only worth 1 point.
With this scoring, you'd maximize your first round score by picking all four No. 12 seeds to win (which would earn you 8 points for the single correct upset) rather than all four No. 5 seed (which would earn you only 3 points for three correct picks). However, many of your opponents will likely still only pick one or two No. 12 seeds to win.
If you are in larger pools, the risk profile needed to post a likely prize-winning score also changes. In those cases, we may recommend a few more reasonable upset plays.
That's why we customize our advice to each individual subscriber and pool. So while most people pick too many upsets, and they are the silent killer of their pool chances, be aware there are some cases where people are not risky enough.
Wrapping It Up
In several years, our simulations have shown that in small pools, our subscribers can often have an optimal bracket by picking the tournament favorite to win the title, precisely because of their popularity, and by being fairly conservative early. That's because the early round picks are often expected to provide enough value to win the pool. The strategy here is that many other pool members will also take the most popular champion choice, but make too many upset picks early, so they'll fall behind and cannot then catch up.
Every year, like clockwork, we get complaints that those small pool brackets are too chalky. People subscribe and then want to be amazed by their early upset picks.
Every year, we also survey our customers at the conclusion of the tournament. On average, since 2015, in pools of 10 or less, our brackets have won a prize 52% of the time (compared to an expected prize rate of 21% based on pool sizes and the number of brackets our customers enter). In pools of 11 to 30 entries, our brackets have won a prize 48% of the time (compared to an expected prize rate of 14%).
The evidence speaks for itself.