2018 Final Brackets Writeup
In our 2018 Final Bracket Writeup, we go in depth on what has changed in our picks over the three days since Selection Sunday, and why.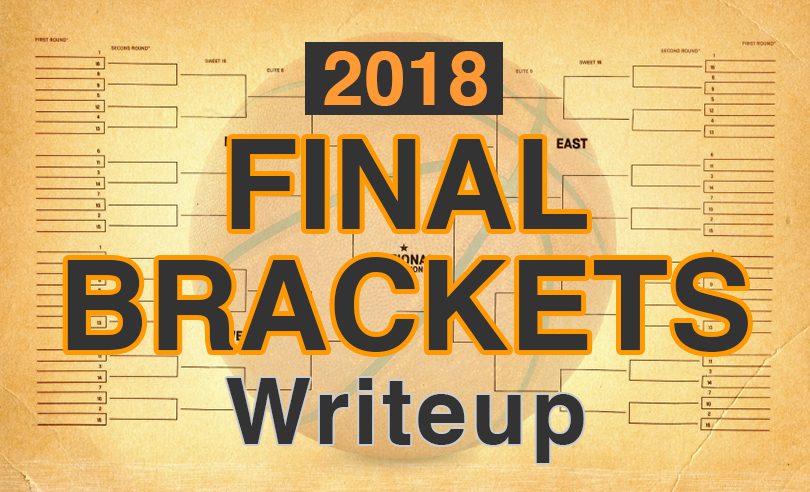 Editor's Note: The following is the 2018 Early Deadline Bracket Writeup, which was released to our subscribers on Wednesday, March 14, 2018. If you want to see how the picks performed, check out our 2018 NCAA Tournament Picks in Review.
We're excited to announce the release of our official, customized NCAA brackets for 2018!
We hope you have enjoyed using our NCAA Bracket Picks product so far this week. If you're a first-time subscriber, welcome aboard. If you're a TR veteran, welcome back, old friend. We greatly appreciate everyone's business, and your trust in our analytical skills.
Given that it's getting late on Wednesday night and you need to get brackets in, we're going dispense with any further pleasantries and dive straight into the good stuff. Oh wait! We almost forgot the…
Obligatory Disclaimer / Section About Realistic Expectations
Hopefully, with some luck, our picks will come through for a good portion of our customers this year.
Just remember — it certainly doesn't happen every year. This is a long term game. When you're competing against tens, hundreds, or thousands of people in a bracket pool, even with ridiculously smart picks, you're never going to be expected to win. We don't sugarcoat reality here; those are just the odds.
In addition, the algorithms we've developed now customize bracket picks for many different types of scoring systems, several of which have radically different scoring structures (e.g. huge upset bonuses vs. no upset bonuses). That usually means that when a portion of our customers' picks are doing great, some other portion of our customers' picks aren't doing so great.
As a result, it's almost a guarantee that we'll never have a March Madness season where all of our paying customers walk away thrilled. That bums us out, but unfortunately it's just the nature of this business.
The good news is, over time, the edge our picks give you accumulates and eventually pays off. We just can't predict exactly when it will. In the long run, though, you should win bracket pools more often than your opponents do, and the financial returns involved in doing so (not to mention the bragging rights, of course) can be very compelling. But it WILL be a boom-or-bust cycle, where occasional winning years more than make up for more frequent years when you don't win.
In the end, it's always great to be hopeful, but it's just as important to be realistic. Even with our help, if you're playing a single bracket in a single pool this year, you're probably going to lose. So faced with that reality, you have two options:
Trust the process. Bracket pools are a beatable game, but the odds of winning in any given year are low, and they only happen once a year. Stick with our picks for the long term, and hopefully you win your 30-person pool once every 5-10 years instead of once every 30 years, which is the baseline expectation.
Play more brackets. If you want to increase the chance that you taste some sort of victory on a more frequent basis, this is your best option. You'll technically sacrifice a bit of your edge. After all, as Highlander says, THERE CAN BE ONLY ONE Best Bracket for a given pool, and the next-best bracket you play in that pool is by definition at least a little bit worse. But the expected returns of playing 2+ brackets in a pool can still be quite good, and you can diversify your risk by making "bets" on a bunch of different teams. Plus, it's a lot more fun when you have a bunch of different dogs in the fight. David, our resident bracket maniac, plays about 30 brackets a year in various pools. You don't necessarily need to be as crazy as him, but lots of our customers play 2-5 brackets, for instance.
If you're a new subscriber, or if you remain unconvinced about TR after using our picks for a year or two and not winning anything, it's probably best just to listen to one of our long-term customers. Here's an email we received last year, unsolicited:
I haven't commented before. But, this morning I read your email from Seth talking about last year's pool successes, etc. I've been using TeamRankings for a few years now. Don't remember how many. However, each and every year since the late eighties I've participated in a NCAA March Madness Pool that's grown to about 100 entries per year. It includes astute players from many states.
Me I'm a rank amateur. I hardly ever watch any of the NCAA Men's basketball games leading up to the tournament. The only reason I even watch the games beginning with the Sweet Sixteen is — after using TeamRankings I might add — I'm always in the running to at least place or show. So, as it goes, it's more enticing to watch a game if one has skin in the game.
Let me qualify. I don't do just one pick. Generally, I'll throw five to seven entries in the 100-entry pool. It pays five places win, place and show. That said, the results over the past four years defy the odds. I won this March Madness Pool in 2016 picking UNC over Villanova. (Only one picked Villanova to win; he placed fifth.) And I won it all with Louisville in 2013.
So, participating in this 100-entry Madness Pool for over 30 years, and placing multiple entries each year, one of those WON it outright two out of the past four years. To put this into perspective, before TeamRankings, I may have placed or showed up in the top 5, but split sharing a win only once in over 30-years, I think 1987 or 1988. Wow. What a difference TeamRankings has made.
And by the way, that email came in before the outcome of last year's tourney, and 2017 was one of our best years ever for bracket picks.
In conclusion, we're confident we're delivering value with this bracket picks service, but depending on how lucky you get during your first few years as a customer, it can take more patience to reap the rewards than a lot of people are willing to commit. We understand that, but there's nothing we can do to change it. We just keep on doing the best analysis we can, and working to improve our methods year after year.
Now, let's get to the bracket analysis. We'll kick it off with a question that may be running through your mind:
How Can You Release Your Official Brackets Before All The Play-In Games Are Decided?
Our plan every year is to get our Early Deadline Brackets out Monday night, as soon as we can, so people who have to submit brackets (for whatever ungodly reason) on Monday or Tuesday can actually use our service.
Then, we generally finish our more in-depth analysis by Wednesday afternoon.
If we conclude that the outcome of the late play-in game on Wednesday evening could have a significant impact on our final brackets, we'll wait to release the Official Brackets until after that game finishes.
However, if the result of the late Wednesday play-in game won't really impact our brackets in a meaningful way, we try to release the Official Brackets as early as we can, since we know a lot of our customers have to scramble to get them submitted on time.
This year, it turns out that the results of the Wednesday late game isn't a very important one in terms of bracket dynamics, for a couple reasons:
Our tournament power ratings for #11 Arizona State and #11 Syracuse are within 1 point of each other. Arizona State is a 2-point favorite in the betting markets right now, but our adjusted ratings have this game as being a little bit closer than that, favoring ASU by only 0.8. Either way, If Arizona State wins tonight they will be a slightly tougher first round opponent for #6 TCU. And regardless of which team wins, TCU will be a moderate favorite (70-75% odds) to win that matchup, and #3 Michigan State will still be the favorite to make the Sweet 16 from that pod in any case, with roughly a 65% chance.
TCU is a strong #6 seed, while both Arizona State and Syracuse are weak #11 seeds. If you seeded the bracket based on our adjusted tournament power ratings, TCU would be a #5 seed, Arizona State would be the last #11 seed, and Syracuse would be a #12 seed. Compare that to #6 Miami vs. #11 Loyola-Chicago, where Miami would be a #8 seed and Loyola a #9 seed. Simply put, the winner of this last play-in game isn't going to figure prominently as an upset pick in most of our brackets.(Note: We will be listing Play-in Winner in all the brackets we are releasing today, then will fill in the results of the game once it is known.)
Given that situation, we think it's more important to get our Official Brackets out sooner, rather than wait until the winner of the last Wednesday play-in game is known, by which point all you overworked moms and dads out there are already passed out on the couch snoring with a slight trail of sleep-drool coming out of your mouth.
What Has Changed Since Sunday?
The primary benefit of our bracket picks simulation engine is that it tailors picks for your bracket pool based on your pool's size (i.e. number of entries), scoring system, and payout structure. The level of computation that our approach applies to the extremely complex challenge of optimizing a set of bracket picks for a specific pool can generate a huge edge.
The bad news is that having algorithms optimize picks for thousands of different scoring systems and pool sizes means that there's no quick answer we can give to a question like, "What's changed in your recommended brackets since Monday?"
In short, we're asking these optimization algorithms to solve thousands of different problems, none of which are exactly the same. The result is lots of different answers, and not a consistent logic or reasoning that applies uniformly across all of the many brackets we publish.
Between Monday and tonight, thousands of individual picks likely have changed across all the unique brackets being seen by all our customers for different types of pools, solely as a result of the breaking news about the Virginia injury.
Still, we do our best to compare as many "Early vs. Official" brackets as we can, and in this writeup we'll summarize some of the biggest changes likely to be seen by customers using the most popular 1-2-4-8-16-32 scoring system.
First, though, let's quickly review why picks can change between the Monday and Wednesday brackets.
It's really quite simple. Our customized brackets are data-driven, and over the course of the two days, important data inputs to our algorithms can change. Examples include:
Betting odds / betting market expectations (sharp bettors causing lines to move)
Public picking trends (certain picks getting more or less popular nationally)
Player or team information (e.g. injuries, suspensions)
In addition, time is another critical element to our analysis. We go into sprint mode the moment the tournament field is announced on Selection Sunday evening, until now. By Wednesday night, we've had three times the amount of time to analyze the 2018 bracket as we'd had on Monday night when we released our Early Deadline Brackets.
This means:
Roughly 48 more hours to run millions more bracket and bracket pool simulations on the 18 computer servers we have fired up over at Amazon.
The same amount of additional time (minus a few hours of sleep a night, advantage computers) to scour the web to identify and incorporate solid bracket analysis being done by other thought leaders; observe how betting lines are moving; pore over proprietary tools we've built to analyze team-specific factors like lineup performance; and explore matchup effects between individual teams who are likely to play one another.
This is why we urge you to wait for our Wednesday bracket release to get picks for your pools, unless you absolutely can't. In short, we're smarter on Wednesday.
So…what HAS changed in the last two days?
Well, if you've been following the college basketball news wire this week (we forgive you if you weren't, since that's what you're paying us for after all…), you know there's been a major development for one of the tournament's biggest favorites:
Virginia's De'Andre Hunter has a broken wrist, and will miss the 2018 NCAA tournament.
Hunter is a 6'7″ redshirt freshman who was voted the ACC Sixth Man Of The Year. However, in this case, "sixth man" severely understates his importance to Virginia. If you're an NBA fan and old enough to remember, this guy is kind of like "Kevin McHale status" sixth man. He played more minutes than starter Jack Salt, and is arguably the team's most athletic player and most skilled offensive player. To quote TheStepien.com:
The 20-year-old has been the best offensive player for the best team in the country since ACC play started, and the scary part is, he keeps improving. Consistently impressive performances as of late have helped Hunter place his name squarely in the middle of NBA draft discussions, and it's entirely possible that he is the best prospect in the ACC who doesn't play for Duke.
In ACC games, Hunter had Virginia's highest usage rate (a measure of how many offensive possessions end with an action by that player) and second-highest offensive rating (a measure of how efficient the player is on offense). In addition, Hunter had the second highest offensive rebounding percentage, the lowest turnover rate, and shot the most free throws on the team. In short, he's a top-level contributor.
To exacerbate the situation, Virginia does not have great team depth. Their regular rotation involves only 8 players, and the player with the next-most playing time in the 2018 calendar year is Marco Anthony, who has averaged a measly 2.2 minutes per game. Either Virginia's rotation is going to have to go only 7 players deep, thus increasing their fatigue risk late in games, or they will have to play an essentially untested freshman.
So what's the expected impact here?
Based on our pre-tournament research and analysis, we had Virginia rated as the second best team in the bracket, less than half a point behind Villanova. Virginia was also a point and a half clear of a second tier of teams that included Duke, Kansas, Michigan State, Purdue, and North Carolina.
After doing as much research as we could, which included gut-checking our analysis against the adjustments made for the injury by respected practitioners such as FiveThirtyEight and Bart Torvik, as well as observing shifts in the betting markets, we are lowering Virginia's tournament power rating by two points. That means that in a game on a neutral court, we project that at this point in the season, Virginia is worse by two points without Hunter.
Two points may not seem like much of a difference to a lot of people, but it's quite significant. That adjustment now places Virginia as the third best team in the tournament, behind Villanova and now Duke.
The two point adjustment we made is slightly larger than the adjustment implied by the betting markets (in particular, by Virginia's NCAA tournament futures odds), but it's also lower than our initial analysis suggested. So two points represents a compromise between our internal analysis and the perspectives of respected third party sources.
After recalculating round by round advancement odds based on Virginia's new power rating plus some other team rating changes listed below, Villanova is now the clear favorite to win the tournament.
| Team | Title Odds |
| --- | --- |
| Villanova | 16.6% |
| Duke | 10.5% |
| Virginia | 9.6% |
| Kansas | 7.5% |
| Michigan State | 7.0% |
| North Carolina | 6.7% |
| Purdue | 6.7% |
| Cincinnati | 5.5% |
| Gonzaga | 4.6% |
| Michigan | 3.9% |
As you might expect, a change of this magnitude in NCAA champion odds has had an impact on many of our recommended brackets in many different types of pools. We'll review some of those changes below, but first, let's quickly go over the other things that have changed since Sunday night.
We've adjusted our public picking data calculations.
Those of you who used our data tools when we first released them in the wee hours of Monday morning may have seen a message on the Data Grid about ESPN public data being "skewed."
To quickly summarize the situation, ESPN now includes a high number of pre-loaded "default" brackets in the public pick data that they publish. These already-set-up brackets had all the seed-based favorites advancing in every round, and Virginia winning it all. Those fake brackets were severely skewing ESPN's pick popularity data in the early part of the week.
For example, an hour after the end of the Selection Show, ESPN showed Virginia being picked as NCAA champion by more than 40% of the public. A few hours later, that number was down to 30%. Yesterday, even before the Hunter injury news broke, it was down to around 22%.
Those changes weren't the result of people actually picking Virginia less often. Rather, they resulted from all those pre-loaded default brackets being changed by ESPN users, and by yesterday, the volume of "real" pick data was finally getting large enough to drown out the bias of the default brackets.
Why do we mention this? Because when we ran our simulations for the Early Deadline Brackets released on Monday, we had to try to "un-skew" the data, and adjust the published numbers to more closely represent what we presumed the true public pick percentages were. A bracket pool simulation that assumes 30% of your pool opponents will pick every single seed-based favorite to advance isn't going to be very realistic or useful.
Now that we have a couple more days of data, it looks like our initial adjustments to the raw ESPN pick data were a little bit too strong. That means that the "true" public pick rates lean toward the seed-based favorites a bit more than the estimates we used for the Monday bracket pick simulations. This is good news, as it means there should be more value opportunities available when looking to pick against the favorites.
For these Wednesday brackets, we used the raw data from ESPN, combined with some triangulating info from other bracket games. The end result of this process should be that the bracket pick suggestions in our Official Brackets should be slightly less chalky than the Early Deadline Brackets.
Finally, not to toot our own horn or anything, but….if you ever meet someone that goes this deep into analyzing public pick percentages in bracket pools, let us know. In the meantime, file this one under, "This is what I pay those TR geeks to do."
We adjusted our tournament ratings for a few teams based on additional betting market data.
When we start crunching the numbers late Sunday night, there is some betting odds data available, but a lot of it is based on "low limit" opening lines (where the sports books don't let people bet very much money at first, until they see how the first bets come in, which helps them learn whether they set a good opening line or not…then they adjust the odds if needed before they let people lay serious money down), or futures odds that similarly haven't been "bet into shape" yet.
We do use those Sunday betting lines in our analysis, but more reliable betting market info is available today.
There were a few teams where our initial tournament ratings diverged more strongly from the updated betting market data than from the initial market data. We reviewed those teams, and adjusted our ratings where we felt it was warranted.
The most notable adjustments (and the reasons we suspect we diverged from the market) were:
#8 Creighton +1.5 points. Epperson's increased playing time has helped counter the loss of Krampelj.
#4 Arizona +1 points. Futures markets are high on Arizona. This is essentially a case where Arizona has a lot of raw talent, and if that talent gels at the right time, they could make a much deeper run in the tournament than their performance level to date suggests.
#11 St. Bonaventure +1 points. They beat UCLA, and just as importantly Stockard played well after having injury concerns coming into the game.
#8 Missouri -2 points. Jordan Barnett (Missouri's most efficient offensive player and second-leading scorer) is suspended for at least Missouri's first round game after being arrested for a DWI this weekend. This is compounded by the fact that a player who would have been the natural choice to fill some of Barnett's minutes, Cullen VanLeer, tore his ACL the previous week and is out for the season. And Missouri was already extremely thin in terms of the depth chart. They now only have five players on their roster who have played 20+ minutes in multiple games this year. Of course, they also have a superstar in Michael Porter, Jr., but that still makes only six players that can be trusted for solid minutes.
What Picks Have Changed From The Early Brackets?
[If you didn't view our early picks that we released Monday, you can skip this section. However, you may want to read our Early Deadline Bracket Writeup, linked in the right sidebar.]
All of the adjustments explained above have the potential to cause changes to our Early Deadline Brackets. Even something as simple as switching a couple of 8/9 matchups has the potential to create ripple effects elsewhere in the bracket, particularly if your scoring system is relatively flat, and your bracket was relying on those games for value picks.
We've reviewed our Official Brackets for a variety or pool sizes. Here are the some of the most common differences you might see in traditional 1-2-4-8-16-32 scoring when you click to update your brackets for those pools, along with why the changes were made:
#1 Villanova to Win the Title (replacing #1 Virginia)
#2 North Carolina to the Title Game (replacing #1 Virginia)
#2 Cincinnati to the Final Four (replacing #1 Virginia)
These three changes will be seen together in a lot of brackets for very small pools, where we originally suggested picking Virginia as the champion as a "defensive" pick.
With the injury to Hunter, and the drop in Virginia's title odds, it no longer makes sense to use them as a conservative champion pick. Instead, Villanova looks like the better champion in small pools.
In fact, Virginia's odds have dropped enough (while their pick popularity has remained relatively high) that we now suggest making the moderate value pick of Cincinnati to the Final Four in many small pools.
#2 Cincinnati to the Title Game (replacing #1 Virginia)
#4 Arizona to the Sweet Sixteen (replacing #5 Kentucky)
In some slightly larger brackets, instead of replacing #1 Virginia in the title game with #2 North Carolina out of the West region, we're suggesting replacing them with #2 Cincinnati out of the South. Cincinnati is slightly less likely to advance that far, but is a much less popular pick, making this a more aggressive value gambit.
Because these brackets are taking more risk with their pick of Cincinnati to reach the title game, in many cases you'll see that "Cincy to the title game" pick switch paired with more conservative switches in the earlier rounds, in order to maintain roughly the same level of overall risk in the bracket, and so the bracket doesn't become too contrarian.
Most commonly, you'll see #4 Arizona switched into the Sweet 16 in place of #5 Kentucky.
#3 Michigan State to the Final Four (replacing #1 Kansas)
#3 Michigan State to the Elite Eight (replacing #2 Duke)
#4 Gonzaga to the Final Four (replacing #2 North Carolina)
#4 Gonzaga to the Elite Eight (replacing #1 Xavier)
#11 Loyola-Chicago to the Second Round (replacing #6 Miami)
This group of changes don't generally all occur in the same bracket, but they all have the same underlying cause.
Above, we discussed how ESPN's initial public pick data was skewed early on this year, and how our adjustment resulted in pick popularity estimates that weren't as chalky (e.g. tilted toward the higher seeds) as the true values. Now that we've adjusted for that, there are a few more value picks across the brackets.
Not much has changed about our analysis of the teams in these games, or their odds to reach these spots in the bracket. It's just that with the public pick data shifting slightly towards the better-seeded teams, some of the lower seeded teams look like better values than they did before.
#8 Creighton to the Second Round (replacing #9 Kansas State)
#9 Florida State to the Second Round (replacing #8 Missouri)
#7 Nevada to the Second Round (replacing #10 Texas)
#4 Gonzaga to the Final Four (replacing #3 Michigan)
#8 Virginia Tech to the Second Round (replacing #9 Alabama)
#4 Arizona to the Sweet Sixteen (replacing #5 Kentucky)
These games are all simply cases where we tweaked our tournament ratings for one or both teams based on the most recent betting market info and additional analysis we've had time to do since Monday. These tweaks resulted in a different team being favored to reach a certain spot in the bracket, or in the case of #4 Gonzaga replacing #3 Michigan, a new team becoming the "second most likely team to make it" and the best contrarian pick in that spot.
A Note About Bracket Strategy
OR: Where Are All The Upsets??!! These Brackets Are Boring!
A common question we get every year is: Why don't you pick more first round upsets?
Well, one big reason is that …
A lot of people make bracket picks that are too risky for their pool.
We imagine part of the issue here is that the mainstream sports media has trained people to think that the way to win a bracket pool is to try to guess most of the first round upsets and every dark horse team that's going to make a deep run.
Generally, that's not the way it works.
For example, one of us is in a yearly pool in the 100-200 entry range. The last time anybody in the entire pool picked all four Final Four teams correctly was 2009. In over 1,200 cumulative tries since then, no one has gotten a perfect Final Four. Yet every year, somebody still walks away with a nice chunk of change for winning.
The winner most years is usually somebody who makes solid picks through the first few rounds, gets two or three Final Four teams correct, and/or nails the tournament winner. But in years when a very unpopular pick wins it all, the winner of the pool may not even have picked the champion right. And 100-200 people is not a small pool.
Given that context, it often makes sense to pick conservatively across most of the bracket, and concentrate your risk on one or two educated bets on high leverage picks. This year, for example, in many brackets with standard 1-2-4-8-16-32 scoring, we're recommending one of those high leverage picks be Cincinnati to reach the title game.
Looking beyond that pick, we fully agree with all the talking heads on TV that if you pick almost all favorites in the early rounds, you're very unlikely to get all of your early round picks correct. But they've got the strategy all wrong.
Why? Because the alternative to picking all favorites in the first round is making more upset picks with less than a 50% chance to win, and praying that you happen to pick all the right ones. In most cases, playing it conservative early is the much better call, especially since in the 1-2-4-8-16-32 scoring system, the first round games are worth next to nothing anyway.
Designing an optimal bracket strategy is all about balancing risk and reward. If you're already making an unpopular or more risky champion pick and/or one or two value-driven Final Four picks, taking on a bunch of additional risk with your early rounds picks usually only ends up lowering your odds to win the pool.
In a situation like that, if your "big bet" picks come through, you'll likely be in the driver's seat for a top-tier finish in the pool standings. At that point, your primary goal is to protect that lead, and not foolishly give it away by making (and most likely missing) a bunch of very risky upset picks in the earlier rounds.
However, we know that some of you want to make more first round upset picks because, OK we admit it, it's fun, even if it may be dumb strategy. After all, you could win a year's worth of bragging rights for picking that crazy 13-over-4 upset. Or this year, maybe even be the first person ever to correctly pick a 16-over-1 with Penn over Kansas!
With your pleasure in mind, here are some first round double-digit seed upset picks that present decent value. By "value" we mean that their win odds are higher than their pick popularity, so the rewards of picking them (if you only consider the first round) are more than commensurate to the risks involved.
Ordered by seed level (win odds numbers are pre-Round-of-64 calculations, which will be posted on the site late Wednesday night), this year's potential high-value sleepers are:
#11 Loyola-Chicago over #6 Miami (45% win odds, picked by only 32%)
#11 St. Bonaventure over #6 Florida (30% win odds, picked by only 16%)
#12 New Mexico State over #5 Clemson (33% win odds, picked by only 27%)
#12 Davidson over #5 Kentucky (29% win odds, picked by only 19%)
#13 Charleston over #4 Auburn (22% win odds, picked by only 12%)
#13 Buffalo over #4 Arizona (17% win odds, picked by only 9%)
#14 Montana over #3 Michigan (13% win odds, picked by only 6%)
#14 Bucknell over #3 Michigan State (11% win odds, picked by only 6%)
#15 Georgia State over #2 Cincinnati (10% win odds, picked by only 7%)
#16 U Penn over #1 Kansas (8% win odds, picked by only 4%)
Not to be fuddy duddies here, but we reiterate that we are not encouraging you to pick more upsets. If you want to truly maximize your chance of winning your pool, we suggest sticking to the brackets that the algorithms recommend. Their track record is now over five years and tens of thousands of customer bracket pools long, and it's pretty darn impressive.
Bottom line, dipping into the 30% win odds range (or lower) by picking some of the teams in the above list is taking a pretty big roll of the dice for what in most cases is a minimal reward in the 1-2-4-8-16-32 scoring system.
In pools with big upset bonuses, though, it's a totally different story. If you've got a scoring system like that, you should see some pretty crazy whaa-whaaa-whaaaaat?!? types of picks in our recommended brackets. Interestingly, our research shows that players in big upset bonus pools often pick too conservatively, the exact opposite of the mistake we see many people in standard-scoring pools make.
Closing Remarks
Every year, the dynamics of the NCAA tournament bracket are different, and those differences influence the optimal picking strategy for your pool. For example, in any given tournament:
The most popular NCAA champion pick might range from severely overvalued to moderately undervalued. (2018: Virginia, the most popular champion pick, is now significantly overvalued, post-De'Andre Hunter injury.)
The most likely team to win the tournament might have far higher champion odds than any other team, or there could be no clear favorite. (2018: Villanova is now the clear favorite, however they don't have very high title odds compared to past clear favorites. It's a pretty open field this year, so don't be shocked if Villanova doesn't win.)
The most popular Final Four picks might be all #1 seeds, or include some lower seeds. (2018: #2 North Carolina is one of the most popular Final Four picks.)
The NCAA Selection Committee might do a great job seeding teams, or there can be clear "misses" where a double-digit seed is actually the favorite to win its first round game in the betting markets. (2018: #10 Butler is a 1.5-point favorite over Arkansas as of Wednesday, but no other double digit seeds were favored to win.)
The four regions might be evenly balanced in terms of overall team quality or top team quality, or there can can be one Region Of Death. (2018: Three of the top five teams in our adjusted power ratings — Duke, Michigan State, and Kansas — are all in the Midwest region. That negatively impacts title odds for all of them.)
When dynamics like these change from tourney to tourney, no simple set of bracket picking rules can return you the optimal picks for all the possible scenarios — especially once you take into account different pool sizes and scoring systems.
That's why we designed our bracket pool simulation engine. We let millions of simulations (using carefully constructed inputs) do the heavy lifting, and figure out the smartest risks you should take in a particular year, given the structure of your pool's scoring system and the number of other people you need to beat.
Then we interpret the results, transform them into our customized brackets for your pool, and summarize some of the rationale and logic behind them in this writeup.
We hope our analysis of the 2018 bracket, and related bracket strategy examinations, have been helpful and informative. At the end of the day, you are paying us to help you implement the smartest possible process for making bracket pick decisions. Our goal is for you to feel like you've gotten your money's worth from the data, the tools and the insights we provide.
Are you gonna win? Not without some luck. But the smarter your strategy, the less luck you need. Trust the process!
If you have any questions for us, feel free to ask away in the Q&A Forum. Enjoy the Madness in 2018.
The TeamRankings Crew
Tom, David, Jon, Seth, Mike & Matt