2021 Round Recaps
The round recaps have now been updated to include the results of the Sweet 16 and Elite 8 games and look ahead to what is needed in the Final Four.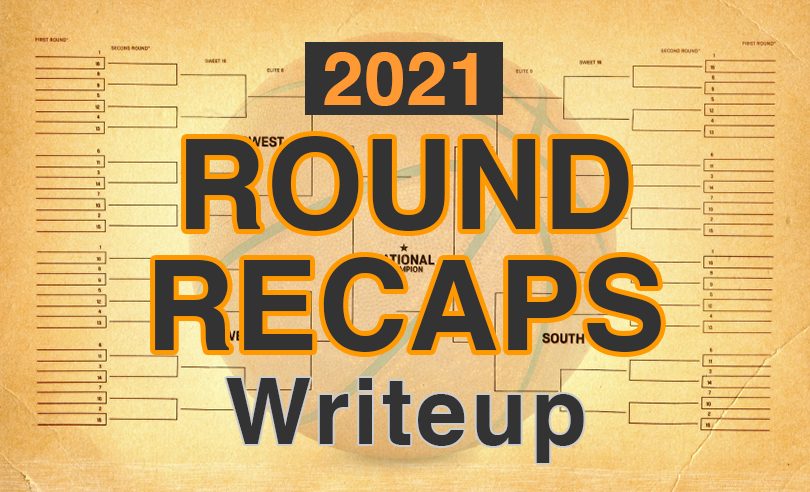 Sweet 16 & Elite 8 Recap
The 2021 Final Four is now set. In terms of pick popularity, here's how it breaks down according to an average of public picking trends data from multiple bracket contest sites:
69% of brackets picked #1 Gonzaga to make the Final Four
48% of brackets picked #1 Baylor to make it
16% of brackets picked #2 Houston to make it
0.7% of brackets picked #11 UCLA to make it
Add those percentages up, and the "average" bracket this year is expected to have gotten a little more than one Final Four pick right (1.34, to be precise). So if you got two Final Four picks right, you did better than expected.
Assuming the picks for all four regions are independent, here is the percentage of brackets you'd expect to have picked a specific number of Final Four teams right this year:
0.04% (1 in 2,500) of brackets picked all 4 teams correctly
5% picked 3 teams correctly
36% picked 2 teams correctly
45% picked 1 team correctly
13% picked no teams correctly
The Overall Bracket Pool Landscape after the Elite Eight
The dynamics of the Final Four teams in 2021, with two very popular choices making it plus a team that almost nobody picked rounding out the field, mean that most brackets nationwide (about 81%) have 1-2 Final Four picks correct.
Only about 5% of entries have three correct (almost always Gonzaga, Baylor, and Houston), which means that in small pools under 25 entries, there might be plenty of pools where no one has more than two Final Four teams correct.
At the same time, 5% of entries having three Final Four picks correct means it's almost certain that in larger pools, someone, and often several entries, will have at least three of the teams right.
Compared to the last NCAA tournament in 2019, when Virginia was the only No. 1 seed to reach the Final Four, entries are five times more likely this year to have three of the teams to the Final Four.
About those upsets…
It's also worth noting that after a historically upset-heavy first few rounds, we were a grand total of 3 points away from seeing a Final Four made up of three No. 1 seeds and a No. 2 seed. On top of that, almost no one picked the lower seeded team that made it.
So if you got the No. 1, No. 1, and No. 2 seed that made the Final Four correct, you're probably in a great position to win your pool (in standard 1-2-4-8-16-32 scoring, at least), as long as you've got two of those three teams also making the final.
In retrospect, a "chalkiest possible" pick strategy of having all No. 1 seeds make the Final Four this year would have yielded two picks correct, while mixing it up with one or two No. 3 or worse seeds would have almost certainly done worse. And the most likely winners of bracket pools this year will be brackets that have No. 1 Gonzaga, No. 1 Baylor, and No. 2 Houston in their Final Four.
We will say it again until we are blue in the face: You do not HAVE to make dark horse Final Four picks in order to win your pool.
Your Pool(s) May Not Reflect National Averages
Of course, from specific pool to specific pool, pick percentages for each team can vary substantially, especially in smaller pools. If you're in a 10-person pool in Texas and several entries had both Baylor and Houston, along with Gonzaga, well, that's just bad luck.
On the other hand, if you're in a 100-person pool in Big Ten country, getting two Final Four picks right might put you in great position, since no Big Ten teams made it.
With just three games left to play, let's break down how the TR brackets are currently doing, and review the Sweet 16 and Elite 8 outcomes that impacted them the most.
TeamRanking Brackets vs The Public after the Elite Eight
As usual, there were plenty of picks over the last two rounds that TR brackets missed. However, what matters most is how those developments impacted TR brackets relative to the general public. 
Bracket Type
Correct Round 1 Picks
Correct Round 2 Picks
Correct Sweet 16 Picks
Correct Elite 8 Picks
Finalist Teams Alive
Champ Teams Alive
TR "Best Brackets"
For 1-2-4-8-16-32 Scoring
20.9
7.7
3.89
1.67
1.01
1.00
TR "Best Brackets"
For All Scoring Rules
20.9
7.5
3.72
1.60
1.01
1.00
All TR Brackets
20.7
7.3
3.58
1.57
1.10
0.73
The General Public
20.6
6.8
2.96
1.34
0.88
0.50
Just as with the first two rounds, TR brackets ended up outperformed the public average in both the Sweet 16 and Elite Eight. The size of that lead, though, grew with the results from the second weekend of action.
TR Best Brackets were on average only two points better than the public average after the first two rounds, but now are more than 8 points better than the public average using 1-2-4-8-16-32 scoring by round. Our brackets for the smallest pool sizes are doing the best, with Best Brackets for standard scoring pools of 35 people or less in the top 10-15% of ESPN, such as this one for sub-15 person pools.
Future Positioning
More importantly, TR brackets also have more potential points left to score from the Final Four onward, than the public does. Here is a summary of the average points (using 1-2-4-8-16-32 scoring) for TR Brackets versus the public: