Week 2 Survivor Pick Strategy & Advice (2023)
Week 2 of the 2023 NFL season gives us some big names and some potential for overreaction. Where should you look for survivor pools?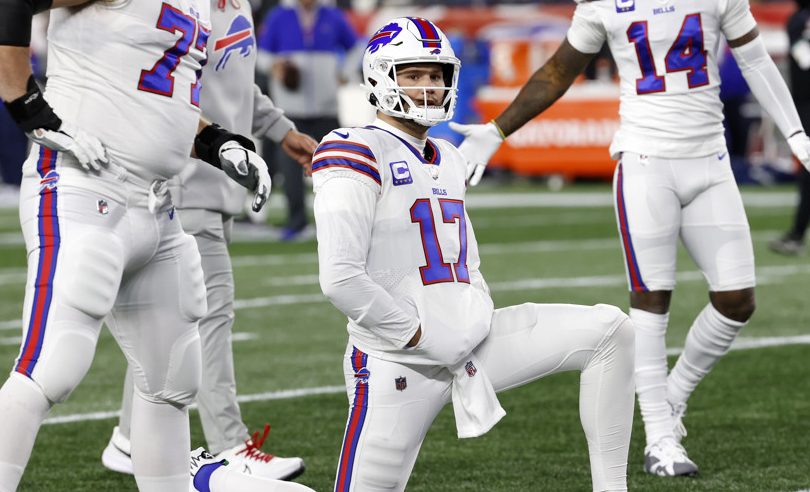 Josh Allen will join us in trying to bounce back in Week 2 (Fred Kfoury III/Icon Sportswire)
The Week 1 survivor slate went to the popular kids. After that, though, it was largely chaos as more than half of the remaining favorites in Week 1 lost.
We jump back into Week 2, where some of the best teams in the NFL are the biggest favorites, so there are going to be tough choices on who to use.
In these weekly columns, we explore strategies to maximize your edge in NFL survivor pools, also known as knockout pools or eliminator pools. We also provide some of the rationale behind picks potentially recommended by our product.
We plan to periodically update this post until Sunday of Week 2 arrives, and we will also be posting video updates throughout the week as well, so check our articles section for those. Here's what's available now:
---
Sunday 9/17
Week 2 Sunday AM Pick Overview
NOTE: We will have a live chat from 11:45 a.m. ET to 12:30 p.m. ET this morning to answer questions about survivor Week 2.
Here's where things stand as of Sunday morning at 9:15 a.m. ET, comparing public picking trends to the percentage of picks we're recommending to PoolGenius subscribers (the "PoolGenius" column).
The last five columns in the table show how our recommended picks vary by subscriber pool format/rules. The table shows every team with at least 2% public popularity and/or is drawing at least one recommendation from PoolGenius to one of your pool entries.
| Team | Public | PoolGenius | Standard | Strike | Rebuy | Multi-Pick | Playoffs |
| --- | --- | --- | --- | --- | --- | --- | --- |
| Denver | 2.6% | 29.4% | 24.7% | 30.9% | 27.2% | 24.6% | 20.7% |
| Buffalo | 28.0% | 24.4% | 28.9% | 21.9% | 17.7% | 13.0% | 8.0% |
| NY Giants | 12.0% | 22.9% | 16.1% | 29.3% | 24.0% | 21.0% | 24.0% |
| Philadelphia | 8.8% | 18.6% | 23.9% | 17.2% | 13.8% | 8.1% | 4.2% |
| Dallas | 20.6% | 3.6% | 5.3% | 0.9% | 3.3% | 0.9% | 1.0% |
| San Francisco | 10.0% | 0.4% | 0.6% | 0.4% | 0.2% | 0.1% | 0.0% |
| Detroit | 6.0% | 0.4% | 0.4% | 0.6% | 0.1% | 0.3% | 0.0% |
| New Orleans | 2.8% | 0.2% | 0.1% | 0.5% | 0.3% | 0.3% | 0.1% |
| LA Chargers | 2.0% | 0.0% | 0.0% | 0.2% | 0.0% | 0.0% | 0.0% |
| Tampa Bay | 1.8% | 0.0% | 0.0% | 0.0% | 0.0% | 0.0% | 0.0% |
Entries can fall under more than one category. For example, a pool that requires multiple picks in future weeks and also allows a strike would be separately included in the percentages for each.
Not much has changed since our Friday rundown. The picks are still concentrated among a top four of Buffalo, Denver, New York Giants and Philadelphia. The Eagles dropped from third (21.5%) to fourth (18.6%) but this is almost certainly due to subscribers updating to get picks for the first time after the Thursday Night game.
As a result, some of our recommended picks are now going to Dallas, likely as a replacement for Philadelphia in portfolios that started after Thursday. (Remember to get picks before Thursday, as the Eagles had better EV!)
Splits Based on Pool Type and Size
As you can see in the above table, we have a few differences based on pool type. Denver is the most common overall, but Buffalo is most common in standard pools (and smaller pools).
We see a similar split between the Philadelphia and New York Giants picks, where the Eagles are more common in standard pools, and the Giants rise up in strike pools and other specialty rules pools that tend to be larger.
Week 2 Expectations
Based on our model projections, we would expect 75.1% of our pick recommendations to advance. Based on market odds, it is very similar, at 74.6%. That's very similar to where we would expect the public elimination rate to be (74.6% based on our models, 75.2% based on market odds).
Of course, we now have an expectation of being even with the public on average after Philadelphia already won on Thursday night, and our recommendations were more than double the public rate on Philadelphia. So our entries have more banked advancements already, and still have the same expected win rate overall for the week.
That's because we did take on extra risk now, to save future value on Dallas and San Francisco on a lot of entries.
But let's put the math behind that roughly 75% advancement into more focus, because it's pretty unlikely that is the exact number that we see on Tuesday morning. Most of our recommendations that are still outstanding are on Buffalo, Denver, and the Giants. Here are the chances that a certain number of those three teams win, based on our estimates:
All three win: 33%
Two win: 45%
One wins: 19%
None win: 3%
So the median outcome is two of the three advancing entries, but there's about a one-in-three chance that all get through, and a 3% disaster scenario (along with another 19% of outcomes that would be very bad).
---
Friday 9/15
Friday Strategy Rundown: Saving Future Value
Let's take a look at how our pick recommendation strategy is shaping up as we head toward the weekend. You can also check back in Sunday morning, where I will have a specific breakdown of pick recommendations and pool types. We will also have a live chat on Sunday at 11:45 a.m. ET where I will be answering questions that you have leading into the games.
Saving Future Value on Dallas and San Francisco
Of the most popular options this week, we are lightest on Dallas and San Francisco. In fact, we currently have about 1% of all recommendations on these teams. The reason is future value, as these teams rose to the top of our rankings after last week in that category. Both have a lot of really attractive weeks upcoming, and give you a lot of flexibility, so our pick logic is showing a preference for saving them, even though they have good win odds and EV now.
Buffalo and Philadelphia: the Alternatives
Teams like Buffalo and Philadelphia also have good future value, but relative to Dallas and San Francisco, it's lower, so that's why you are seeing more of those teams as the counter to saving the top two future value teams.
Neither is a smash high value pick, but both provide a decent case. Buffalo is our most frequent recommendation, at 32% as of Friday afternoon, so just a bit above the public average. Philadelphia is the third-most common, at 21%, and has already advanced those entries that took them.
Both have decent win odds, and a little less future value. If you think of survivor a bit like a game of chess, these teams are like sacrificing the rook in an exchange to gain an advantage longer term. You'd rather not use them, but they are a decent way to play it out by spreading a majority of your picks across these two now.
These two teams are also showing up more in smaller pools, while they are still part of the portfolios in really large pools, but may not be the top-graded option.
Denver and New York Giants: All Present, No Future
Denver and the New York Giants are showing up as the other type of alternative. They are the riskier picks that save even more future value, because this is probably the best spot to use them this year if you are going to do so.
Right now, Denver is ahead based on the better EV, since the Giants are showing up as more popular in our data. Those relative differences could shift based on any weekend line moves. But for now, Denver is a fairly high leverage pick, especially in large pool sizes. About 25% of all entry recommendations are on Denver today, while 18% are on the Giants.
Overall Summary
As a result, this week features a quartet of teams that are mostly making up your portfolio of picks. Buffalo, Denver, Philadelphia, and the New York Giants are making up about 98% of all pick recommendations.
Because we are lighter on Dallas and San Francisco, and heavier on Denver and the Giants, that means our position is one of a little higher win odds risk than the public, while gaining a future value edge versus the field this week. The Eagles' win, though, shifts that dynamic already a bit, as we were more than double the public on getting them through, so a higher percentage of our entries are moving on to Week 3 as we head to the weekend.
---
Thursday 9/14
Philadelphia on Thursday Night Football
The Eagles take on the Minnesota Vikings tonight on Thursday Night Football, providing a game of survivor import early in the week. Philadelphia is now a 6-point favorite with 71% win odds, a slight drop from Tuesday. They are fifth in popularity currently, projected at around 8%.
It's not a super high value week for the Eagles, but in what feels like a weird twist, using Philadelphia gives you some future value savings versus the other popular options this week (other than the Giants).
The Eagles now rank *only* seventh in our future value rankings, but Dallas, San Francisco, and Buffalo are all above that. The Eagles' relatively lower future value is a function of:
Some teams like Dallas and San Francisco moving up in power rating and thus projected value over the rest of the year; and
Their own tough schedule, coupled with the fact that their two best matchups are very late, in Week 16 (Giants) and Week 17 (Cardinals), when there is more uncertainty what the landscape will look like, what the Eagles' motivations will be, and whether particular pools will even make it there.
So you may see Philadelphia in your pick sets. Check in as close to kickoff as possible, as late line shifts could dictate where they rate.
---
Wednesday 9/13
Dallas Rising in Popularity
The Dallas Cowboys have been climbing in popularity over the last 24 hours, and could continue to do so throughout the week.
In the last 24 hours, Dallas has moved from 11% to 18% in pick popularity, while the rest of the top five most popular picks have seen slight decreases. Given how popular Dallas has been, we should expect that increase to continue. Will they get all the way to Buffalo? Maybe not, but the gap looks like it will continue to close.
Obviously, people are reacting to the news on the Jets and starting Zach Wilson, in addition to the Cowboys winning by 40. But you know what else a big win does? It raises the team's power rating, and raises their win odds projections in all future weeks. So as Dallas rises in popularity this week, that also makes for even more future value increases, as fewer entries will have them available going forward with each bump up this week.
---
Tuesday 9/12
Five Most Popular Week 2 Survivor Picks
Here are the most popular teams early on for Week 2 of the 2023 NFL season:
Buffalo Bills (29%) vs. Las Vegas Raiders
San Francisco 49ers (12%) at LA Rams
New York Giants (12%) at Arizona Cardinals
Dallas Cowboys (11%) vs. NY Jets
Philadelphia Eagles (10%) vs. Minnesota Vikings
We may see some shifting in this early data because of Week 1 results and reactions, since some of this data is for entries that put picks in before the Week 1 games.
Let's briefly go through the five most popular options.
Buffalo Bills
The Bills are currently the most popular team. While that should hold, we'll see if they drop in popularity coming off a Monday Night loss, and with some other options looking impressive in Week 1.
Right now, the Bills are tied for the biggest favorite of the week, with Dallas, both at 9.5 points.
Because of the current popularity, their EV is just solid, at 1.04. But while the Bills have traditionally had high future value in recent years, they are not among the leaders as we enter Week 2. That's both a function of the performance of some other teams (Dallas, San Francisco moving up in power rating) as well as a pretty tough future schedule for Buffalo.
In fact, this is our highest projected win odds week for Buffalo, just ahead of Week 6 (vs. Giants) and Week 8 (vs. Bucs). They don't have a lot of clear late spots, though they could still be useful throughout the season. In a weird twist, using Buffalo now does save some future value relative to other options this week.
San Francisco 49ers
The 49ers were impressive in Week 1, crushing Pittsburgh and never really being in danger. Brock Purdy returned to his form from last season, Christian McCaffrey made big plays, and the defense dominated.
As a result, it's possible that the 49ers rise in popularity with additional arrivals throughout the week. They are currently an 8.5-point road favorite at the Rams, making them one of the bigger favorites in Week 2, just behind Buffalo and Dallas.
San Francisco is now one of our highest future value teams after last week (and already being rated highly). We now project them with six other weeks with win odds above 76%. That includes a Week 4 matchup with Arizona (which will happen before Kyler Murray could come off IR) where they are going to be one of the biggest favorites of the year. So you may want to keep that in mind when deciding between options this week.
New York Giants
The Giants got throttled last week, getting shut out by Dallas. Now, they catch the woeful Cardinals on the road. The Giants present an interesting decision. They are riskier than the other options this week (favored by 5.5 points) but now actually have zero future value. Just like last week, when the public took Washington against Arizona, this is the week to use them if you are going to.
The positive is that they are far less popular than Washington was, and only slightly lower in win odds. So while they don't have a great EV, they do allow you to save future value, particularly in larger pools, in a week where a bunch of valuable teams are the biggest favorite.
Dallas Cowboys
The Dallas Cowboys have jumped to being a 9.5-point favorite in the aftermath of their own performance, coupled with Aaron Rodgers' season-ending injury, as they should get to face the Jets with Zach Wilson at QB.
They have lower popularity than Buffalo, and as a result have a pretty good EV this week.
But Dallas has also shot to our top future value spot ,just ahead of San Francisco. They get the woeful Cardinals next week. They host the Patriots in Week 4. And they have a mid-season stretch where they play the Rams, Giants, Commanders, and Seahawks at home, and the Panthers on the road, and could be favored by at least a touchdown in all of those weeks.
Philadelphia Eagles
The Eagles are an interesting survivor option this week hosting Minnesota, a team they dominated a year ago. Philadelphia is a touchdown favorite, which puts them just below Buffalo, San Francisco, and Dallas. But they still have a solid EV this week.
The Eagles also rate more similarly to the Bills in future value. They also have a tough schedule. A lot of their tougher games are mid-season, and two of their most attractive matchups are late in the year (Giants in Week 16 and Cardinals in Week 17) so those may not be all that important in smaller pools.
They are also part of an interesting Week 2/Week 4 combo. The Eagles (who host Washington) join Dallas and San Francisco as the top projected favorites in Week 4, and are also top options this week. So you may want to consider how you might want to play Week 4 in addition to this one in deciding between teams.
As we noted above, the popularity numbers could shift. You can get the most up-to-date popularity data in our Data Grid. Check your specific pool rankings and recommendations to see what makes sense for you.
---
Tuesday 9/12
Week 1 Survivor Recap
Week 1 always carries more risk than a typical week, because there are just more unknowns on how new coaches, quarterbacks in new situations, and new team chemistry will work.
So we knew entering the week that it was going to be one with higher risk (our average expectation was that 69% of our entries would advance based on the win odds).
The public also went heavily on Baltimore and Washington with that risk dynamic, as 58% of an average pool was on one of those two teams. For comparison, the two most popular Week 1 picks last year drew 37% combined, and in 2021 it was 49% combined for the top two.
Because of the public concentration, we had more picks on some contrarian options. Our four most common survivor recommendations mirrored the top four for the public, but in a different order. We ended up heaviest on Seattle, as the least popular of the foursome, but with the third-highest win odds. We also were heavier than the public on Minnesota, because of their similar low future value to Washington but lower popularity and higher expected value. Of the four, we were lowest on Washington because of the higher popularity creating a lower expected value, since they still carried a fair amount of risk.
It did not work out, which we'll cover below.
Here is a full summary of the most popular picks for Week 1, and the results:
| Team | Opponent | Popularity | Result |
| --- | --- | --- | --- |
| Baltimore | Houston | 32% | W, 25-9 |
| Washington | Arizona | 26% | W, 20-16 |
| Minnesota | Tampa Bay | 11% | L, 20-17 |
| Seattle | LA Rams | 6% | L, 30-13 |
| Jacksonville | Indianapolis | 6% | W, 31-21 |
| Kansas City | Detroit | 5% | L, 21-20 |
| Philadelphia | New England | 3% | W, 25-20 |
| Atlanta | Carolina | 2% | W, 24-10 |
With a few different play results, the position on Minnesota versus Washington could have produced very different outcomes. The Vikings actually dominated more in terms of yards (369 to 242), while Washington-Arizona was more even (248 to 210). Minnesota led at half, Washington trailed (and still trailed in the 4th quarter). But the key late plays went to Tampa Bay (fourth and short conversion in own territory, 57-yard field goal to take lead, and key 3rd-and-long conversion to ice the game) and to Washington (fumble recovery to set up the go-ahead score late).
Seattle, meanwhile, played an ugly second half. So ugly that their 13-7 halftime lead evaporated and then they mounted zero resistance, allowing 7th-round rookie Puka Nacua to look like the second coming of Cooper Kupp, and gaining only one first down the entire second half.
As a result, about 73 percent of the public advanced from Week 1, while 49 percent of our recommendations advanced, on Baltimore, Washington, and Atlanta.
So we aren't going to sugar coat the results here. They went about as badly as possible, with both positions above the public pick rate both going down.
The process, though, is the same that we use to produce the results that have many of you coming back year after year, and the same process that we will use going forward. With an opportunity to play against the public concentrated on a couple of popular teams, our pick recommendations will likely skew toward some other chances. You don't win survivor pools by following the public on a regular basis.
So with all the entries remaining, we are on to Week 2.
---
FYI
Survivor Strategy Articles
If you're serious about winning more survivor pools, it pays to learn the strategies that give you a long-term edge.
You can start with our free survivor strategy articles, which explain a number of the concepts we apply to our customized survivor pick recommendations:
---
FYI
About Our Survivor Pool Advice
We break down the pros and cons of various survivor pick options in this column, but none of our advice is ever absolute.
Why can't we just tell you the "best" survivor pick of the week? Because there is no universal "best pick" for all NFL survivor pools.
The best weekly pick for your pool depends on a variety of factors, including the number of entries still alive and your pool's rules. For example:
Bigger survivor pools reward more risk-taking.
The more entries in your pool, the lower the chance you have to win it. In addition, you have a fixed number of weeks to send hundreds (or even thousands, in really big pools) of opponents to slaughter while you survive unscathed. As a result, your best strategy for bigger pools generally demands more of a focus on avoiding the most popular picks.
Non-standard rules change optimal pick strategy.
If your pool requires double picks late in the season, or if it's a strike pool (i.e. your first incorrect pick doesn't eliminate you), you don't want to use the exact same pick strategy that you'd use in a standard-rules survivor pool. Those rule variations significantly influence decision factors, such as whether you should be more inclined to save a good team for later vs. use it now.
And then there's all this stuff:
What if you've already picked the team (or teams) that some article says is the best pick this week?
What if the point spread for that "best pick" has gotten several points worse since the article was published?
How should you spread your picks across multiple teams if you're playing more than one entry?
Technology to the rescue
As far as we know, we're the only site that has built algorithms that evaluate all of the strategy factors that matter in survivor pools and provide you with customized survivor pick recommendations based on the data updated multiple times a day.
The result? Since 2017, our subscribers have reported over $5.7 million in survivor pool winnings using our data-driven picks and tools.
If you want to see all the picks we recommend for your pool, use our NFL Survivor Picks product.
Why we write this column
At the same time, we know our subscribers like to understand the rationale behind picks the product may recommend, especially when those picks go against the grain. So, over the years, we've started to write more about the "whys" behind our approach.
This column can also help educate our readers about survivor pool strategy. We highlight tactics proven to result in more survivor pool wins over the long term and point out common pitfalls to avoid.
We hope you enjoy reading, and we encourage you to check out more of our survivor pool strategy articles.