Week 12 Survivor Pick Strategy & Advice (2022)
Week 12 of the 2022 NFL season in survivor pools has Miami leading the way, but several teams are favored by more than a touchdown this week.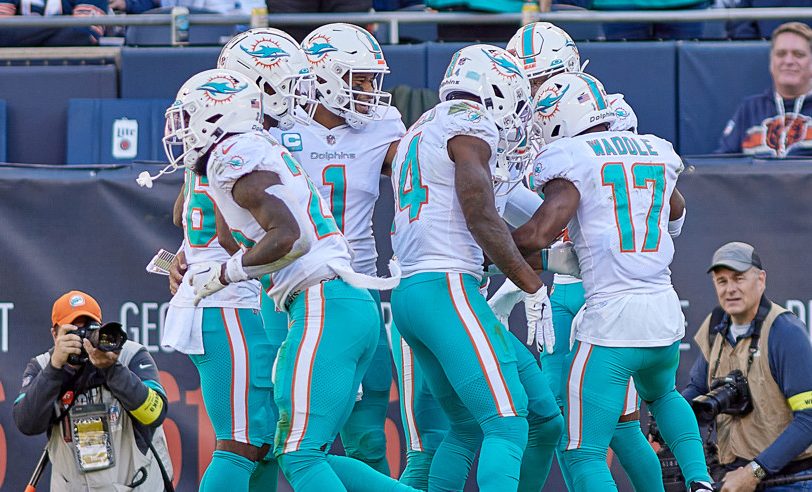 The Dolphins look to roll against the Houston Texans (Robin Alam/Icon Sportswire)
Week 12 brings us three Thanksgiving Day games and more, as all 32 teams are in action this week. There are lots of survivor options, with some bigger favorites this week as well.
In these weekly columns, we explore strategies to maximize your edge in NFL survivor pools, also known as knockout pools or eliminator pools. We also provide some of the rationale behind picks potentially recommended by our product.
We plan to periodically update this post until Sunday of Week 12 arrives, and we will also be posting video updates throughout the week as well, so check our articles section for those. Here's what's available now:
---
Tuesday 11/22
Five Most Popular Week 12 Survivor Picks
Here are the most popular teams early on for Week 12 of the 2022 NFL season:
Miami Dolphins (61%) vs. Houston Texans
San Francisco 49ers (8%) vs. New Orleans Saints
Buffalo Bills (7%) at Detroit Lions
Dallas Cowboys (5%) vs. New York Giants
Kansas City Chiefs (3%) vs. Los Angeles Rams
Here are some notes on each of these teams:
Miami Dolphins
Pros: high win odds, relatively low future value compared to other options this week, using them improves overall survival odds for year
Cons: very popular, reducing EV this week
San Francisco 49ers
Pros: High EV, fairly high win odds
Cons: Valuable because mostly unavailable to entries
Buffalo Bills
Pros: High EV, fairly high win odds
Cons: Versatile future value in several remaining weeks
Dallas Cowboys
Pros: High EV, fairly high win odds
Cons: Good future value in Weeks 13 and 14
Kansas City Chiefs
Pros: Best EV so far because of high Miami popularity, highest win odds of week
Cons: High future value, particularly due to a tough Week 15 where they are top projected favorite
---
Tuesday 11/22
Week 11 Survivor Recap
Baltimore came in as the heavy favorite in Week 11. Though it didn't exactly roll to a victory against Carolina, it did manage to pull away late. Most of the other favorites won as well, so most entries advanced.
| Team | Opponent | Popularity | Result |
| --- | --- | --- | --- |
| Baltimore | Carolina | 45% | W, 13-3 |
| Buffalo | Cleveland | 13% | W, 31-23 |
| San Francisco | Arizona | 11% | W, 38-10 |
| Washington | Houston | 10% | W, 23-10 |
| NY Giants | Detroit | 8% | L, 31-18 |
| Cincinnati | Pittsburgh | 3% | W, 37-30 |
| Philadelphia | Indianapolis | 2% | W, 17-16 |
| New England | NY Jets | 2% | W, 10-3 |
| Green Bay | Tennessee | 1% | L, 27-17 |
| New Orleans | LA Rams | 1% | W, 27-20 |
| Kansas City | LA Chargers | 1% | W, 30-27 |
Based on our public pick data, about 90% of the public survived Week 11. That means 10% were eliminated, with the Giants' loss to the Lions making up the majority of those eliminations.
Our most common picks were Baltimore, San Francisco, and New England. About 99% of our pick recommendations advanced, with a few picks on the Giants, Packers, or Broncos contributing to the losses.
Overall Season Summary
After nine weeks, less than 1.5% of all public entries are still alive (assuming no strikes and standard rules). Many smaller pools are done, and some larger pools are at much lower number of entries left.
About 3% of PoolGenius subscriber entries that started Week 1 are still alive. That still leaves our subscriber base advancing about two times more often so far than the public in pools that started in Week 1.
At this point, about 59% of all of our pick recommendations are for pools that started in Week 1 (so late-start pools made up 41% of pick recommendations last week). Meanwhile, standard pools without any multi-picks, strikes, or other specialty rules are only making up about 17% of pick recommendations.
---
FYI
Survivor Strategy Articles
If you're serious about winning more survivor pools, it pays to learn the strategies that give you a long-term edge.
You can start with our free survivor strategy articles, which explain a number of the concepts we apply to our customized survivor pick recommendations:
---
FYI
About Our Survivor Pool Advice
We break down the pros and cons of various survivor pick options in this column, but none of our advice is ever absolute.
Why can't we just tell you the "best" survivor pick of the week? Because there is no universal "best pick" for all NFL survivor pools.
The best weekly pick for your pool depends on a variety of factors, including the number of entries still alive and your pool's rules. For example:
Bigger survivor pools reward more risk-taking.
The more entries in your pool, the lower the chance you have to win it. In addition, you have a fixed number of weeks to send hundreds (or even thousands, in really big pools) of opponents to slaughter while you survive unscathed. As a result, your best strategy for bigger pools generally demands more of a focus on avoiding the most popular picks.
Non-standard rules change optimal pick strategy.
If your pool requires double picks late in the season, or if it's a strike pool (i.e. your first incorrect pick doesn't eliminate you), you don't want to use the exact same pick strategy that you'd use in a standard-rules survivor pool. Those rule variations significantly influence decision factors, such as whether you should be more inclined to save a good team for later vs. use it now.
And then there's all this stuff:
What if you've already picked the team (or teams) that some article says is the best pick this week?
What if the point spread for that "best pick" has gotten several points worse since the article was published?
How should you spread your picks across multiple teams if you're playing more than one entry?
Technology to the rescue
As far as we know, we're the only site that has built algorithms that evaluate all of the strategy factors that matter in survivor pools and provide you with customized survivor pick recommendations based on the data updated multiple times a day.
The result? Since 2017, our subscribers have reported over $3.7 million in survivor pool winnings using our data-driven picks and tools.
If you want to see all the picks we recommend for your pool, use our NFL Survivor Picks product.
Why we write this column
At the same time, we know our subscribers like to understand the rationale behind picks the product may recommend, especially when those picks go against the grain. So, over the years, we've started to write more about the "whys" behind our approach.
This column can also help educate our readers about survivor pool strategy. We highlight tactics proven to result in more survivor pool wins over the long term and point out common pitfalls to avoid.
We hope you enjoy reading, and we encourage you to check out more of our survivor pool strategy articles.
---