Week 9 Football Pick'em Contest Strategy & Advice (2022)
Week 9 of the 2022 NFL season is here, and we have several value favorites showing up in your pick'em pools.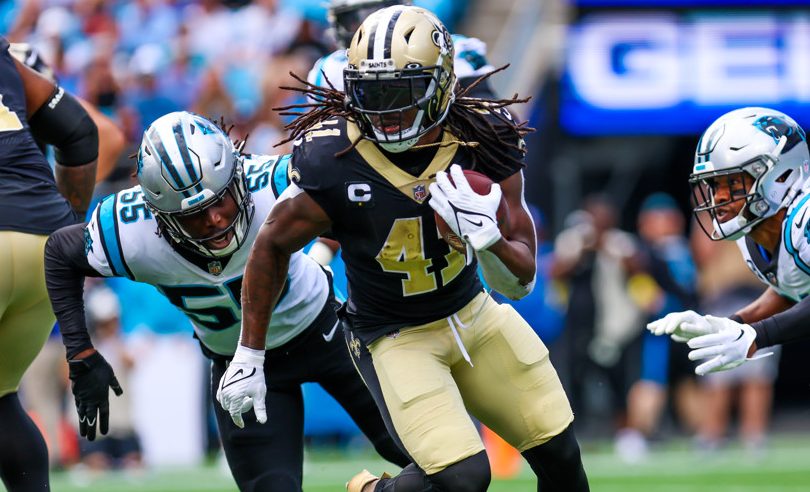 Alvin Kamara and the Saints take on Baltimore (David Jensen/Icon Sportswire)
Week 9 in NFL pick'em contests gets us up to the halfway point of the season, and to the NFL trade deadline. It's been a compelling season so far, with notable teams like the Bucs and Rams falling, and surprises like the Eagles, Giants, and Vikings emerging.
In these columns, we explore strategies to maximize your edge in NFL and college football pick'em contests. We also provide some of the rationale behind picks potentially recommended by our premium product.
We plan to periodically update to this post through Sunday of Week 9, so check back for updates. Here's what's available now:
---
Tuesday 11/1
NFL Week 9 Early Value Picks
Here are some early value picks we are seeing in Week 9 based on win odds and popularity info.
New Orleans Saints (vs. Baltimore Ravens)
Spread: +3.0
Win Odds: 44%
Pick Popularity: 17%
The Saints are coming off a 24-0 win over the Raiders. They're now a home underdog against a Baltimore team that just traded for LB Roquan Smith (from Chicago).
Our models give a slight lean to the Saints relative to the market odds. When you add in the extreme popularity in favor of Baltimore, that makes the Saints a good-value upset play in weekly pools.
Tampa Bay Buccaneers (vs. Los Angeles Rams)
Spread: -3.0
Win Odds: 60%
Pick Popularity: 56%
Tampa Bay lost to Baltimore on Thursday Night Football last week. But it isn't like the Rams are tearing things up, as they fell to a 3-4 record with their loss to San Francisco.
Neither of these teams have been able to run the ball. In fact, both rank among the seven worst teams in rushing yards to this point in a season since 1978.
Right now, the public is more evenly split on this one. That makes Tampa Bay a value favorite that should be part of season-long and weekly pick strategy.
Las Vegas Raiders (at Jacksonville Jaguars)
Spread: -1.5
Win Odds: 53%
Pick Popularity: 45%
The Raiders were embarrassed and shut out last week in New Orleans. They are staying east between games and will play Jacksonville next.
Teams that get shut out are actually decent plays the next week compared to the public perception. Right now, the public is picking the Jags more often.
Several key Raiders players did miss practice with an illness last week, so they have bounce-back potential here.
Arizona Cardinals (vs. Seattle Seahawks)
Spread: -2.0
Win Odds: 54%
Pick Popularity: 48%
Arizona is the final small favorite where the public is picking the opponent more frequently. That makes the Cardinals a slight value favorite in a week where there aren't a lot of great value options.
Arizona lost at Seattle 19-9 just three weeks ago, when it had two turnovers and went only 1-for-5 on fourth down attempts. Grab the slight favorite in this one, looking for revenge in the division rematch.
Washington Commanders (vs. Minnesota Vikings)
Spread: +3.5
Win Odds: 36%
Pick Popularity: 12%
Our final value gamble on an upset this week is Washington, who gets to go against the 6-1 Vikings.
Washington has gone 2-0 with Taylor Heinicke at QB in place of Carson Wentz and is suddenly back in the playoff picture. Minnesota is 6-1, but it has not been dominant. The Vikings have allowed more yards than they've gained, and they rank near the bottom of the NFL in most pass defense categories.
Washington should have a chance to make plays through the air with Heinicke. The Commanders have a much better chance than the public is giving them in this one, which makes them an excellent value.
---
Tuesday 11/1
Week 8 Results Summary
Week 8 was a fairly average week thanks to a few key results. Our picks in both game-winner and spread pools tended to come in near the public in most formats.
Game-Winner Pools
In game-winner pools, the public averaged 9.5 wins out of 15 games in Week 8.
Overall, our season-long "Max Profit" picks finished just behind the public at 9.3 wins. Weekly picks finished down this week at 8.8 wins.
The single biggest swing outcome was the Tennessee-Houston game. The public was very heavy on Tennessee, but the line moved to around a pick'em by kickoff with Ryan Tannehill out. Tennessee won even with rookie QB Malik Willis having only 55 yards passing, thanks to a monster day from RB Derrick Henry and some awful offense from Houston.
That single result swung the public and PoolGenius results in either direction by nearly one win.
Spread Pools
The public was right around .500 in Week 8 in spread pools, averaging 7.6 wins in 15 games. The Jets, Patriots, and Chiefs were the most popular picks, and they went 2-1.
Our pick recommendations in season-long pools were just below that, averaging 7.3 wins in season-long max-profit picks. Meanwhile, weekly picks, which tend to also account for public pick popularity more to differentiate, finished just ahead of the public at 7.9 wins.
New Orleans and New England were big positive results in weekly spread pools, while losses like Arizona and Houston were notable negatives.
---
FYI
Important Notes About Picks We Highlight
Keep in mind three things about picks we highlight in this article:
Optimal pick'em contest strategy balances risk and potential reward.
Maximizing your odds to win a pick'em pool generally requires exploiting the best opportunities to differentiate your picks from your opponents's picks. Ideally, you want to fade the public while taking on minimal additional pick risk to do so. For example, taking a betting market favorite being picked by less than 50% of your opponents is usually a great opportunity.
Not all of the picks we highlight are suitable for all pools.
Don't be surprised if our Football Pick'em Picks product doesn't recommend several of the picks we mention in this post for your pool specifically—especially the upset picks. The best pick strategy for you depends on a number of factors such as your pool's size, rules, and prize structure (a concept that's covered in part by our article on season vs. weekly prize strategy).
Picks we highlight may no longer look compelling by game day.
We analyze and write about picks using data (e.g. win odds and pick popularity) current at the time we publish this article, but that data can change before kickoff. For example, key player being ruled out or a shift in public sentiment about a team can erase the differentiation value that a pick initially offered.
We'll provide periodic updates in this post if major data changes occur for picks we've mentioned, so make sure to check back. However, there's a much better way to stay on top of changing data trends throughout a week, which all sharp players need to do.
Our Football Pick'em Picks product automatically imports the latest win odds and pick popularity data multiple times per day. You can see the latest information in the Data Grid.
After you generate customized picks for your pool, you can also update those pick recommendations whenever you want via the My Pool Picks screen. The updated picks will incorporate the most recent data we have.
---
FYI
About Our Pick'em Pool Advice
What makes pick recommendations from our Football Pick'em Picks product different from other sites is that it isn't generic.
In any given week, the best picks for your football pool depend on a number of variables. Your pool's size, rules, and prize structure all influence strategy, as do factors like your current place in the standings and how many weeks are left.
So many different scenarios exist that it's impossible to give pick advice that makes sense for every one. An underrated 6-point underdog could be a great pick in a big weekly prize pool and a terrible pick for a small season-long pool where you're currently in the money.
Technology to the rescue
As far as we know, we're the only site that has built algorithms to evaluate all these strategy factors and provide you with customized pick recommendations every week.
The result? Every year, an average of 71% of our subscribers win a prize (season-long or weekly) in a football pick'em contest.
If you want to see all the Week 1 picks we recommend for your football pick'em contest, use our Football Pick'em Picks product.
Why we write this column
At the same time, we know our subscribers like to understand the rationale behind picks our product may recommend, especially when those picks go against the grain. So over the years, we've started to write more about the "whys" behind our approach.
This column can also help educate our readers with pick'em pool strategy. We highlight tactics proven to result in more pick'em pool wins over the long term and point out common pitfalls to avoid.
We hope you enjoy reading, and we encourage you to check out more of our football pick'em strategy articles.
---