Week 1 Football Pick'em Contest Strategy & Advice (2023)
Week 1 of the 2023 NFL season features many close matchups. Here's what you should consider as you make your picks in pick'em contests.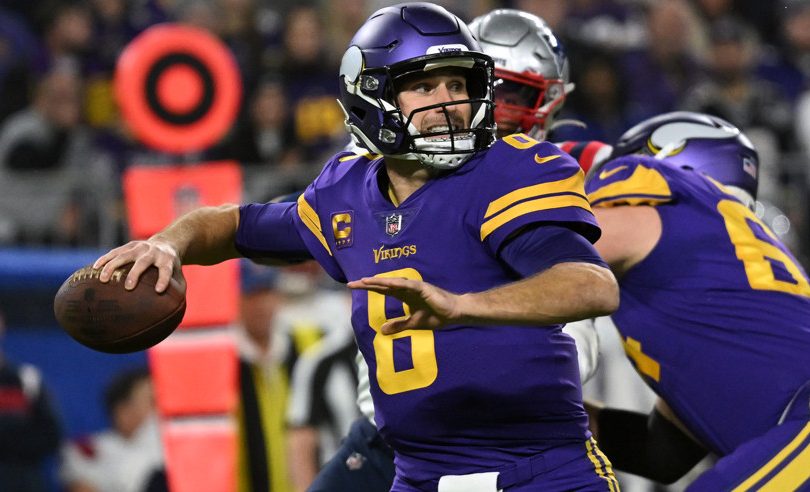 The Vikings are one of the bigger Week 1 favorites against the Bucs post-Tom Brady (Nick Wosika/Icon Sportswire)
We have launched our Football Pick'em Picks product for 2023, along with our initial pick'em contest strategy and advice column for Week 1 of the 2023 NFL season.
In these columns, we explore strategies to maximize your edge in NFL and college football pick'em contests. We also provide some of the rationale behind picks potentially recommended by our premium product.
We plan to periodically update this post through Sunday of Week 1, so check back for updates. Here's what's available now:
---
Sunday 9/10
NFL Week 1 Sunday Overview 
Here are some of the key games we are seeing across various types of pools:
Game Winner
A lot of the shorter to moderate favorites are pretty key in Week 1 in Game Winners, as we lean into the team with higher win odds. Several of them are pretty universal as both the season-long pick and the pick in the top option pick sets for weekly. These include Atlanta over Carolina, LA Chargers over Miami, Denver over Las Vegas, Jacksonville over Indianapolis, and Seattle over LA Rams.
In addition, Chicago over Green Bay is a pretty high leverage game, as the Bears are the shortest favorite but our models are leaning to Chicago and our season-long picks have that as a toss-up type game where we are heavy on the Bears.
Weekly Game Winner
For weekly prize contests, Cleveland and the New York Jets are two high leverage outcomes, with over 90% of our Top Option recommendations being on those two slight home underdogs in division games.
Pittsburgh and New England are two more home underdogs showing up frequently in weekly pick sets, while Tennessee is in about half of them.
Confidence Points
In confidence point pools, Atlanta is a pretty important one across all formats, as they are likely getting pushed a little bit up the board because (a) our models are favoring them, and (b) they are in a range where there are a lot of teams with similar win odds.
In weekly prize sets, Cleveland and the Jets are likely getting moved up to higher point amounts as key leverage plays on unpopular underdogs with reasonably high win odds approaching 50%.
Spread Pools
You'll see a little more overlap between our season-long and weekly pick sets this week, because a lot of our top model leans are also very unpopular with the public.
Lots of key underdogs for us today. We always have some fluctuation because of different contest lines, but here are games where most of you are getting one side, usually the underdog (we list the current consensus line, which is not what everyone has):
Houston (+10)
Arizona (+7)
New England (+3.5)
Tennessee (+3)
Chicago (-1)
Tampa Bay (+5)
Cleveland (+1.5)
---
Friday 9/8
CFB Week 2 Value Picks
As we head toward Week 2 in college football, here are some of the value plays we are seeing. There are two massive ones as the betting favorite is being picked like a big underdog in a couple of contests.
Value Favorites
James Madison (-6.5) at Virginia: Only 19% of the public is picking James Madison in this one, even though they are nearly a touchdown favorite. Obviously, this points to issues with our educational system, as most of these people are unaware that James Madison has a Virginia Plan.
Marshall (-3) at East Carolina: The Thundering Herd are a field goal favorite but only about a third of all entries are picking them this week.
UTEP (-2) at Northwestern: The line in this one has moved from UTEP being a dog to being favored against a Northwestern team in disarray, but the public is evenly split here, offering slight value.
Value Upset Picks
In weekly contests, all or some of these upset plays may be good leverage opportunities:
Nebraska (+2.5) at Colorado: The public is all aboard the Deion Sanders train in Colorado after last week's upset of TCU. Only 14% are picking the Cornhuskers in this one.
Purdue (+2.5) at Virginia Tech: The Boilermakers lost at home to Fresno State and now only 22% are picking them as a slight road dog against Virginia Tech.
Ohio (+3.5) at Florida Atlantic: Only about 10% of the public is taking the Ohio Bobcats in this one. It's tough to pick against the March Madness Cinderella run.
---
Thursday 9/7
Chiefs and Lions Open Season Tonight
Kansas City and Detroit will play in the Thursday Night opener. Here are the numbers that matter:
Spread: KC -5
Win Odds: KC 68%
Game Winner Popularity: KC 93%
Spread Pick Popularity: KC 72%
As of this update, Chiefs' tight end Travis Kelce's status is still uncertain, so refresh your pick as close as possible to the pick/game deadline.
Based on the current numbers, there is a split in strategy depending on pool type and size.
Kansas City is the pick in game winner season long pools.
In weekly game winner pools, the pick likely depends on pool size. With Detroit's increase in win odds, and the Chiefs' high popularity, the Lions become an attractive upset play in larger pools. They could also be appearing more in alternate pick sets.
In spread pools, it might depend on your specific contest line and value. A lot of lines on this game were locked at the higher numbers, so there is some line value on taking Detroit. In weekly spread pools, the Chiefs' high popularity also means more picks on Detroit.
---
Wednesday 9/6
Washington and Baltimore Lead in ATS Popularity 
You might notice that our spread data looks different than it did earlier in the week, and that's because we were waiting on more data from spread pool sources, and that data is now far more robust.
And surprise, surprise, the two biggest favorites of Week 1 are the most popular public spread picks. Neither of those lines have budged over the last week, but they are quite popular.
Washington, at 77%, is the most popular pick of the week as we still await official word on who will start at QB for Arizona.
Baltimore, at 75%, is the biggest favorite going against Houston with rookie QB C.J. Stroud making his first start.
Next up is the Thursday night game in Kansas City, where the Chiefs are a popular pick in spread pools, though the line has moved downward on the Travis Kelce injury news in that one.
The most popular underdog pick in spread pools is the New York Giants (+3.5 vs. Dallas) who are getting 62% of spread pool picks.
These popular picks often present an excellent "fade" opportunity to go the other way, especially in weekly contests where differentiating yourself from the crowd is key to increasing your edge.
---
Tuesday 9/5
Kelce Injury News Pushes Detroit to a Value Gamble Option
Chiefs tight end Travis Kelce suffered a hyperextended knee and his status for Thursday's season opener is in question. The line has already dropped a point, and Kansas City's win odds have dipped to 69%. Meanwhile, the Chiefs are the second-most popular pick this week in game winner at 95%.
Going with the Lions is too risky in season-long pools and even smaller weekly pools, but in large ones, there is an excellent odds-to-value payoff. If the line drops further on news that Kelce will miss the game, Detroit could become even more attractive as an upset play at low popularity.
---
Friday 9/1
CFB Value Picks for Week 1
College Football is going full swing this weekend, after a small number of games a week ago. While there aren't many top-level showdowns, we thought we would go through some of the values we are seeing.
Value Favorites
UTSA (-2) at Houston: UTSA is favored in this Texas Two-Step, but only 37% of pool pickers are selecting them, so you get an edge here by playing the odds.
North Carolina (-2.5) vs. South Carolina: The public is evenly split in North vs. South here, providing a slight value opportunity on the favorite.
Value Upset Plays 
Most of the games feature big lines and are not worth the risk, but there are a few opportunities to consider.
South Alabama (+6.5) at Tulane: Longer shot, but only 9% of the public is picking USA here, and their odds are closer to 30%.
Hawaii (+3) vs. Stanford: Hawaii gets Stanford at home in the first game for head coach Troy Taylor, and only 26% of the public is taking Hawaii in this one.
Fresno State (+3.5) at Purdue: Purdue has a lot of turnover post-Jeff Brohm era, and this line has moved down significantly since opening. Fresno State is now an underdog of just over a field goal while only 25% of the public are taking them.
---
Wednesday 8/30
Cleveland and New England Look Like Early Upset Values 
We are through the initial cut day to get to 53-man rosters, and the season starts in just over a week. We are seeing some potential upset plays start to emerge.
New England (+3.5): This line has suddenly dropped today from +5 to +3.5, and that move is going against public popularity data, where the NFC Champion Eagles are pretty popular (over 80% picking them to win in early data).
Cleveland (+2.5): This is one to monitor, as the line has started to move back the other way with Joe Burrow officially returning to practice, after missing most of the last month with a calf strain. The Bengals are fairly popular here, which could mean Browns value if the line doesn't get too high.
---
Friday 8/25
Washington Looking Like an Early Value as Heavy Favorite
Washington is looking like they may be an early value as one of the bigger favorites of Week 1. Since we posted the early lines two weeks ago, Washington has now moved up to a 7-point favorite, second-largest of the week behind only Baltimore.
The two biggest factors in that are likely (a) Sam Howell being named the Washington starting QB and then looking pretty good in the Monday Night game and (b) Arizona still not naming a starting QB in place of injured Kyler Murray, and possibly being quite a mess, as further evidenced by trading for QB Joshua Dobbs today.
Arizona is the worst team in the betting market win totals and in our power ratings. However, there hasn't been that much difference between these two franchises in recent years, so we project that Washington could be under-picked based on that factor. Right now, we are still using our own modeling to fill in most of the public pick data, but we should start getting more actual data next week, as pickers return to their pools for the season.
---
Thursday 8/10
Early Spreads and Matchups for NFL Week 1
Week 1 of the NFL season begins on Thursday, September 7th with the Kansas City Chiefs hosting the Detroit Lions. We do not have reliable public pick data to begin to identify the best value plays of the week, but we do have the spreads and matchup info. 
Here are the games for Week 1 listed in order of spread and betting market win odds for the favorite:
Baltimore (-9) vs. Houston: 79% win odds
Kansas City (-6.5) vs. Detroit: 72% win odds
Minnesota (-6.5) vs. Tampa Bay: 72% win odds
Washington (-6) vs. Arizona: 67% win odds
Seattle (-5.5) vs. LA Rams: 69% win odds
Philadelphia (-4.5) at New England: 68% win odds
Denver (-4) vs. Las Vegas: 64% win odds
Jacksonville (-3.5) at Indianapolis: 64% win odds
Dallas (-3.5) at NY Giants: 62% win odds
New Orleans (-4) vs. Tennessee: 61% win odds
Atlanta (-3) vs. Carolina: 61% win odds
San Francisco (-3) at Pittsburgh: 60% win odds
Chicago (-2.5) vs. Green Bay: 59% win odds
LA Chargers (-2.5) vs. Miami: 58% win odds
Buffalo (-1.5) at NY Jets: 53% win odds
Cincinnati (-1.5) at Cleveland: 51% win odds
You can also see our Week 1 Mega-Preview with in-depth team notes for all these games.
The general pick'em overview of the week is that there aren't many complete mismatches.
Baltimore is the only team favored by more than a touchdown as of right now. That should make for a Week 1 with plenty of closer games and potential high leverage swings in weekly contests.
Some of the close lines are related to the uncertainty associated with Week 1. But there are also a fair amount of matchups where top teams have to open on the road. Of our top eight teams by preseason predictive power rating, six of them are opening the season away from home. And one of the teams who is playing at home (the Jets) are a slight home underdog because they are playing Buffalo.
Based on the current market odds, an entry picking all sixteen favorites would be expected to average 10.2 wins and 5.8 losses in Week 1.
---
FYI
Important Notes About Picks We Highlight
Keep in mind three things about picks we highlight in this article:
Optimal pick'em contest strategy balances risk and potential reward.
Maximizing your odds to win a pick'em pool generally requires exploiting the best opportunities to differentiate your picks from your opponents' picks. Ideally, you want to fade the public while taking on minimal additional pick risk to do so. For example, taking a betting market favorite being picked by less than 50% of your opponents is usually a great opportunity.
Not all of the picks we highlight are suitable for all pools.
Don't be surprised if our Football Pick'em Picks product doesn't recommend several of the picks we mention in this post for your pool specifically—especially the upset picks. The best pick strategy for you depends on a number of factors such as your pool's size, rules, and prize structure (a concept that's covered in part by our article on season vs. weekly prize strategy).
Picks we highlight may no longer look compelling by game day.
We analyze and write about picks using data (e.g. win odds and pick popularity) current at the time we publish this article, but that data can change before kickoff. For example, a key player being ruled out or a shift in public sentiment about a team can erase the differentiation value that a pick initially offered.
We'll provide periodic updates in this post if major data changes occur for picks we've mentioned, so make sure to check back. However, there's a much better way to stay on top of changing data trends throughout a week, which all sharp players need to do.
Our Football Pick'em Picks product automatically imports the latest win odds and pick popularity data multiple times per day. You can see the latest information in the Data Grid.
After you generate customized picks for your pool, you can also update those pick recommendations whenever you want via the My Pool Picks screen. The updated picks will incorporate the most recent data we have.
---
FYI
About Our Pick'em Pool Advice
What makes pick recommendations from our Football Pick'em Picks product different from other sites is that it isn't generic.
In any given week, the best picks for your football pool depend on a number of variables. Your pool's size, rules, and prize structure all influence strategy, as do factors like your current place in the standings and how many weeks are left.
So many different scenarios exist that it's impossible to give pick advice that makes sense for every one. An underrated 6-point underdog could be a great pick in a big weekly prize pool and a terrible pick for a small season-long pool where you're currently in the money.
Technology to the rescue
As far as we know, we're the only site that has built algorithms to evaluate all these strategy factors and provide you with customized pick recommendations every week.
The result? Every year, an average of 73% of our subscribers win a prize (season-long or weekly) in a football pick'em contest.
If you want to see all the Week 1 picks we recommend for your football pick'em contest, use our Football Pick'em Picks product.
Why we write this column
At the same time, we know our subscribers like to understand the rationale behind picks our product may recommend, especially when those picks go against the grain. So over the years, we've started to write more about the "whys" behind our approach.
This column can also help educate our readers with pick'em pool strategy. We highlight tactics proven to result in more pick'em pool wins over the long term and point out common pitfalls to avoid.
We hope you enjoy reading, and we encourage you to check out more of our football pick'em strategy articles.