Circa Survivor Contest Week 11 (2022)
Jason from PoolGenius reviews the results so far in the 2022 Circa Survivor contest, provides value estimates, and projects Week 11.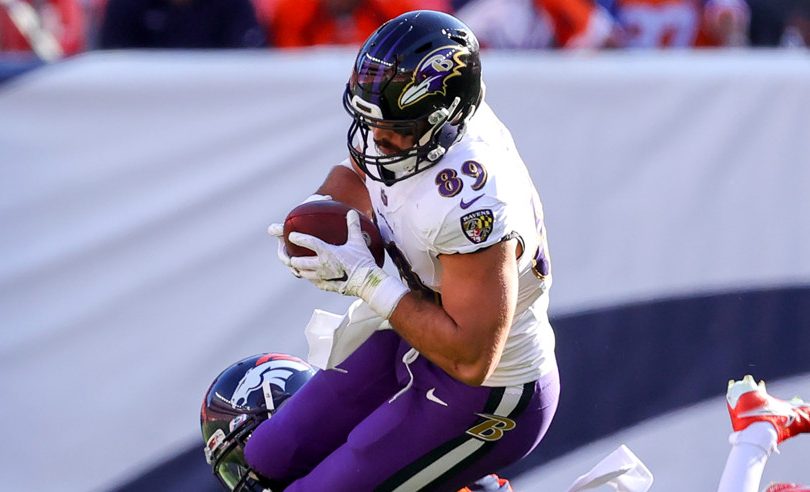 Mark Andrews and the Ravens are atop the survivor outlook (Photo by Steve Nurenberg/Icon Sportswire)
Circa got turned upside down in Week 10, as some of the highest value plays got eliminated, while those that went with the Giants got the last laugh.
This week, we will have a more abbreviated rundown of the contest, as we had our in-person team meetings this week, and time is limited. With next week being the Thanksgiving and then rest-of-Week 12 pick week, we will have a breakdown on Wednesday for both. Then after that, likely just a weekly update in a single "rest of season" article since the numbers will likely be below 50 remaining entries after Week 12.
Circa Week 10 Results
Entering Week 10, there were 115 entries alive. The Chiefs, 49ers, and Giants were the most popular picks, and all advanced. But the next tier of plays all got wiped out, as the Eagles lost as the largest favorite, and highest expected value play of the week. Las Vegas and Chicago also both lost as riskier picks that had similar win odds to the Giants, but were lower in popularity.
As a result, 86 entries are still alive, as we head to Week 11.
Each week, Jason projects the Circa pick rates to try to assess strategy and value. Last week, the Chiefs were more popular than projected and the Giants less so, as contest participants were a little less keen on loading up on the Giants based on market movement against them.
Week 11 and Future Value Estimates
The future value estimates have not been updated since last week, but the general order is still correct from a week ago, so you can check out the Future Value section from that article. Eight teams stand out as being the most valuable teams to still have left: Buffalo, Philadelphia, Kansas City, Dallas, Baltimore, San Francisco, Minnesota, and Miami.
Combined, the average Circa entry only has 3.47 of those teams available for the rest of the contest, so any entry that has four or more left is in above-average position.
We are also not updating the Thanksgiving and Christmas EV calculators, but again, not much has changed in overall outlook since last week's update. Buffalo, Dallas, and Minnesota are the three projected favorites for Thanksgiving games, while Miami, Tampa Bay, LA Rams, and LA Chargers are the projected favorites for the Christmas slate.