Week 4 Football Pick'em Contest Strategy & Advice (2022)
Week 4 of the 2022 NFL season is here, and we have several value favorites showing up in your pick'em pools.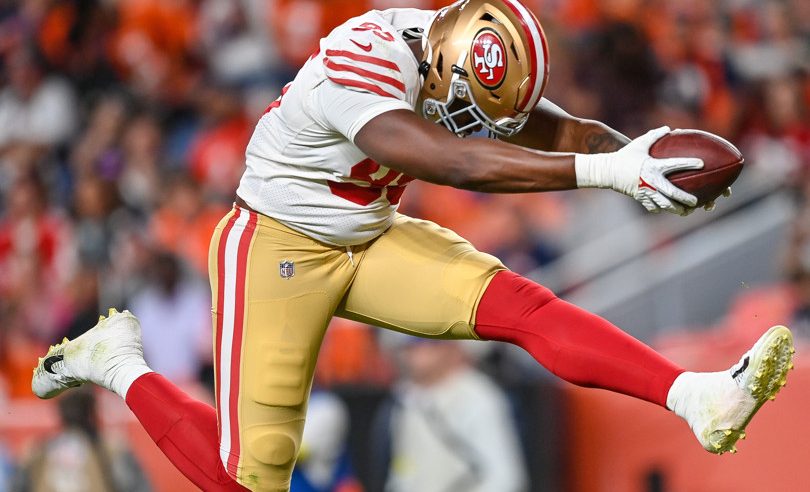 The 49ers get to match up against the rival Rams in a Week 4 game (Dustin Bradford/Icon Sportswire)
We move on to Week 4 in NFL pick'em contests after three really good weeks of playing against the public. We have only two undefeated teams (Philadelphia and Miami) and one team that has started 0-3 (Las Vegas) after just three weeks of action, as the NFL has been very balanced so far. 
In these columns, we explore strategies to maximize your edge in NFL and college football pick'em contests. We also provide some of the rationale behind picks potentially recommended by our premium product.
We plan to periodically update to this post through Sunday of Week 4, so check back for updates. Here's what's available now:
---
Tuesday 9/27
NFL Week 4 Early Value Picks
Below are some picks initially setting off the value radar for Week 4 in game-winner-based NFL pick'em contests. Things are bound to change as kickoffs near, but it's worth keeping an eye on them.
Cincinnati Bengals (vs. Miami Dolphins)
Spread: -3.5
Win Odds: 65%
Pick Popularity: 44%
The public is on the 3-0 Dolphins, but Cincinnati is the home favorite by more than a field goal on Thursday night. That makes Cincinnati a high-value pick to start the week.
The Dolphins are a bit fortunate to be 3-0. Buffalo outgained them by nearly 300 yards, but the Dolphins held on for a close victory despite a butt punt. The week before, they had the big comeback against Baltimore.
Cincinnati, meanwhile, is a few plays away from being 3-0. Instead, it lost in overtime to Pittsburgh and on a last-second field goal against Dallas.
Take the public discount here and stay on Cincinnati.
San Francisco 49ers (vs. Los Angeles Rams)
Spread: -2.5
Win Odds: 55%
Pick Popularity: 28%
Niners-Rams is another game where the public is on the team with the better record so far, but the home team is favored. This is also a matchup that has favored San Francisco in recent years, as the 49ers are 6-1 against the Rams over the last three seasons. (The one win for the Rams was in last year's NFC Championship Game.)
Over that span, the Rams have averaged only 301 total yards per game against the 49ers. San Francisco's defense has frequently frustrated the Rams.
The Rams' offense has also been struggling despite their 2-1 start. They are 25th in total yards after three games.
You also may be getting a discount here because the 49ers just played on Sunday Night Football and lost in an ugly game. Grab that value and stick with the favorite in this matchup.
Carolina Panthers (vs. Arizona Cardinals)
Spread: -2.0
Win Odds: 54%
Pick Popularity: 36%
Carolina is our third favorite who the public isn't high on this week. The majority of the public is going with Arizona on the road, but Carolina is a two-point favorite in this one.
By reputation, the public sees Arizona as the superior team here. But the numbers so far do not support that.
The Cardinals rank dead last in net yards per pass attempt allowed and are 30th in net yards per pass attempt on offense. Carolina is also near the bottom of the league in yards on offense, but the difference is on defense, where the Panthers are in the top 10 in pass efficiency.
Carolina presents a good value opportunity in all game-winner formats against the public this week.
New York Jets (at Pittsburgh Steelers)
Spread: +3.5
Win Odds: 44%
Pick Popularity: 16%
These aren't your slightly older brother's Steelers. They have remained popular each week with the public, which means they're now providing a value opportunity picking against them for the third week in a row.
Pittsburgh's defense isn't quite as dominant as it could be with star DE T.J. Watt out. (Safety Minkah Fitzpatrick is also in the concussion protocol.) Meanwhile, the offense still has Mitch Trubisky at quarterback. Even though he was a little better in the first half against Cleveland, he is still averaging only 5.5 yards per pass attempt and is rarely pushing the ball downfield.
The Jets are the underdog here, but going against a limited opponent with a struggling offense makes for an appealing upset play, particularly with the public heavily on the Steelers.
Atlanta Falcons (vs. Cleveland Browns)
Spread: +1.5
Win Odds: 47%
Pick Popularity: 31%
Cleveland is coming off the Thursday Night Football win over the Steelers in prime time. Meanwhile, the Falcons have somewhat quietly been competitive in every game, and they just beat Seattle on the road.
It's also worth monitoring Cleveland DE Myles Garrett's health. He was involved in a car crash Monday and was released from the hospital. But it was still a significant crash that involved a rollover, so he may be limited in practice as he recovers.
Without him, Cleveland should probably be the underdog, as Garrett is one of the best pass-rushers in the NFL. Either way, this one is closer than the public thinks, as it's one of the shorter spreads on the board in Week 4.
---
Tuesday 9/27
Week 3 Results Summary
Week 3 provided more upsets of the teams the public thought were the most invincible, as Kansas City (97% popularity), the Chargers (92%) and Buffalo (87%) all lost as three of the four most popular picks this week.
Before we get to the rest of Week 3, we'll note that all of subscribers' reported Week 2 results are now in. The Week 1 (19.9%) and Week 2 (18.9%) win rates have been very good, but we do want to put the disclaimer that these are not typical.
How not typical? Here's how many total weeks that subscribers reported weekly win rates higher than 15% in recent seasons in NFL pools:
2021: 2
2020: 3
2019: 1
2018: 7
2017: 2
That's an average of three weeks per season with win rates that high. So don't expect this every week.
With that said… it looks like win rates could be very good again for Week 3. So let's get to the results.
Game-Winner Pools
In game-winner pools, the public averaged 8.2 wins in Week 3,  with a typical entrant again barely clearing the .500 mark in most pools yet again.
Carolina, Atlanta, Green Bay, Denver, and Dallas were all toss-up type games where the far less popular side prevailed. Jacksonville was a big upset value pick, as the public was still heavily on the Chargers.
Overall, the season-long "Max Profit" picks (9.1 wins) and weekly picks (12.7 wins on average) again came out ahead of the public. The weekly prize pool picks beat the public by 4.5 wins on average thanks to all of those toss-up and slight upset picks that hit. So while we just had the disclaimer about win rates, it looks like Week 3 could be a big one in weekly contests.
Spread Pools
We are entering broken record territory early in the season, but the public got smoked again in Week 3. It wasn't quite as bad as Week 2, but the public average of 7.8 wins still comes in below .500.
Our pick recommendations averaged 11.0 wins in season-long max-profit picks. Meanwhile, weekly picks, which tend to also account for public pick popularity more to differentiate, averaged 10.6 wins. With those results being about three wins better than the public average, we can again expect a fair amount of you to report weekly wins in spread pools.
In pick-five-type pools, our playable model picks went 6-0-1 against closing lines. Subscribers in those type of pools likely also fared well as a group, depending on which specific contest lines and picks were recommended.
---
FYI
Important Notes About Picks We Highlight
Keep in mind three things about picks we highlight in this article:
Optimal pick'em contest strategy balances risk and potential reward.
Maximizing your odds to win a pick'em pool generally requires exploiting the best opportunities to differentiate your picks from your opponents's picks. Ideally, you want to fade the public while taking on minimal additional pick risk to do so. For example, taking a betting market favorite being picked by less than 50% of your opponents is usually a great opportunity.
Not all of the picks we highlight are suitable for all pools.
Don't be surprised if our Football Pick'em Picks product doesn't recommend several of the picks we mention in this post for your pool specifically—especially the upset picks. The best pick strategy for you depends on a number of factors such as your pool's size, rules, and prize structure (a concept that's covered in part by our article on season vs. weekly prize strategy).
Picks we highlight may no longer look compelling by game day.
We analyze and write about picks using data (e.g. win odds and pick popularity) current at the time we publish this article, but that data can change before kickoff. For example, key player being ruled out or a shift in public sentiment about a team can erase the differentiation value that a pick initially offered.
We'll provide periodic updates in this post if major data changes occur for picks we've mentioned, so make sure to check back. However, there's a much better way to stay on top of changing data trends throughout a week, which all sharp players need to do.
Our Football Pick'em Picks product automatically imports the latest win odds and pick popularity data multiple times per day. You can see the latest information in the Data Grid.
After you generate customized picks for your pool, you can also update those pick recommendations whenever you want via the My Pool Picks screen. The updated picks will incorporate the most recent data we have.
---
FYI
About Our Pick'em Pool Advice
What makes pick recommendations from our Football Pick'em Picks product different from other sites is that it isn't generic.
In any given week, the best picks for your football pool depend on a number of variables. Your pool's size, rules, and prize structure all influence strategy, as do factors like your current place in the standings and how many weeks are left.
So many different scenarios exist that it's impossible to give pick advice that makes sense for every one. An underrated 6-point underdog could be a great pick in a big weekly prize pool and a terrible pick for a small season-long pool where you're currently in the money.
Technology to the rescue
As far as we know, we're the only site that has built algorithms to evaluate all these strategy factors and provide you with customized pick recommendations every week.
The result? Every year, an average of 71% of our subscribers win a prize (season-long or weekly) in a football pick'em contest.
If you want to see all the Week 1 picks we recommend for your football pick'em contest, use our Football Pick'em Picks product.
Why we write this column
At the same time, we know our subscribers like to understand the rationale behind picks our product may recommend, especially when those picks go against the grain. So over the years, we've started to write more about the "whys" behind our approach.
This column can also help educate our readers with pick'em pool strategy. We highlight tactics proven to result in more pick'em pool wins over the long term and point out common pitfalls to avoid.
We hope you enjoy reading, and we encourage you to check out more of our football pick'em strategy articles.
---