Week 3 Football Pick'em Contest Strategy & Advice (2022)
Week 3 of the 2022 NFL season is here, and it looks like one full of close matchups and some values to jump on in your pick'em pools.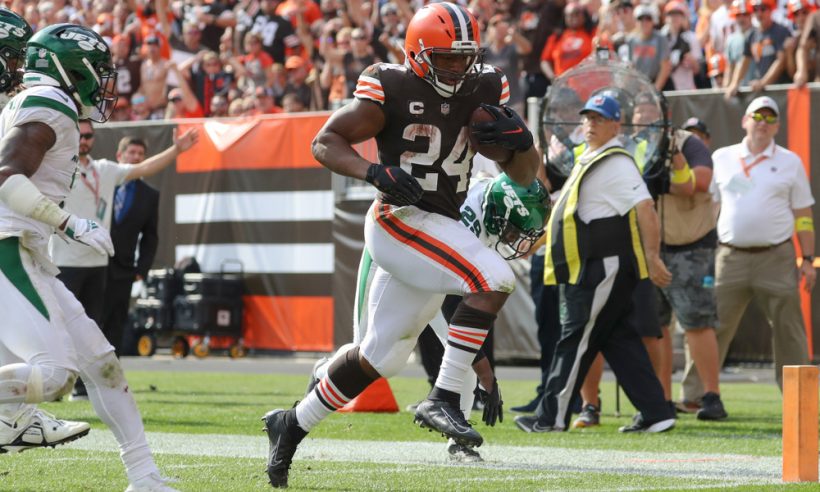 The Browns face Pittsburgh to start Week 3 (Frank Jansky/Icon Sportswire)
We move on to Week 3 in NFL pick'em contests after yet another compelling week of big upsets and public darlings going down in flames.
We called last week an opportunity based on overreactions, and that bore out. Now, we jump back into the mix as we continue to see big swings in the public's mood on teams. 
In these columns, we explore strategies to maximize your edge in NFL and college football pick'em contests. We also provide some of the rationale behind picks potentially recommended by our premium product.
We plan to periodically update to this post through Sunday of Week 3, so check back for updates. Here's what's available now:
---
Tuesday 9/20
NFL Week 3 Early Value Picks
Below are some picks initially setting off the value radar for Week 3 in game-winner-based NFL pick'em contests. Things are bound to change as kickoffs near, but it's worth keeping an eye on them.
Cleveland Browns (at Pittsburgh)
Spread: -5.0
Win Odds: 68%
Pick Popularity: 64%
The Browns have been on a roller coaster with the fickle public.
They were very unpopular in Week 1 at Carolina when we had them as a value play, and they won a close game. The public then went all-in on the Browns against the New York Jets, which made the Jets a good upset-value play. The Browns lost that one in a wild, close game.
Now, they face the Pittsburgh Steelers on Thursday night, and they are coming in as a value favorite. The Browns are a five-point favorite, but the public is picking eight (!!) teams favored by a field goal or less at a higher rate than they are the Browns.
That should lead you to pencil in Cleveland to start your week in all formats. Pittsburgh is also the one underdog drawing over half of the public's picks in spread pools. It makes us wonder if anyone has actually watched Steelers QB Mitch Trubisky play quarterback this year.
Houston Texans (at Chicago Bears)
Spread: +2.5
Win Odds: 47%
Pick Popularity: 17%
Speaking of whether anyone is watching the actual quarterbacks this year, the Bears have thrown for less than 200 yards so far. That's combined, in two games, as in less than 100 yards per game.
The Bears are only a slight favorite over the Houston Texans, but 83% of the public is currently clamoring to get a piece of nostalgia by picking the Bears as they try to set football back a century. Houston is not a great team by any means, but when the public is so heavily on one side in a matchup like this, the best option is to take the other team in what is essentially a toss-up game.
Atlanta Falcons (at Seattle)
Spread: +2.0
Win Odds: 47%
Pick Popularity: 28%
Seriously, is anyone watching the offenses this year?
The Seahawks aren't exactly the Bears when it comes to the passing game, but they are also trying to set offensive football back to at least the 1970s. Seattle is 31st in total yards through two weeks, ahead of only Chicago.
Last year, Seattle ran a league-low 954 offensive plays last year, about 56 per game. They've managed to make last year look like the Greatest Show on Turf, as they have averaged 48 offensive plays in the first two weeks.
Meanwhile, Atlanta has been bad but fun team this season, showing signs of life. The Falcons blew a late lead to the New Orleans Saints in Week 1, and after some early miscues, they nearly came back to beat the Los Angeles Rams on the road, as a pass to the end zone was intercepted late.
The Seahawks are only a narrow favorite at home, but 72% of the public is on Seattle. Just like Houston at Chicago, that presents a solid value-upset opportunity where you aren't taking on much incremental risk compared to picking the favorite with a bad offense.
Minnesota Vikings (vs. Detroit)
Spread: -6.0
Win Odds: 70%
Pick Popularity: 81%
We ordinarily might not highlight a team with 70% win odds drawing 81% popularity as a value to consider, but this isn't a typical week. There are no big favorites this week, and the Vikings are right there with the Los Angeles Chargers, Kansas City Chiefs, and Philadelphia Eagles for the highest win odds. But they are far less popular, as the Chiefs (95%) and Chargers (94%) are both being picked at higher rates.
That means more entries are willing to pick the upset here than in the Chiefs and Chargers games combined. As a result, you should avoid that tendency and grab value, which is why you might see Minnesota as a higher confidence-point pick this week.
Green Bay Packers (at Tampa Bay)
Spread: +2.5
Win Odds: 45%
Pick Popularity: 27%
At the other end of the spectrum from matchups like Houston-Chicago and Atlanta-Seattle, the Packers present a compelling risk-reward play in Week 3 as well.
Yes, Tampa Bay is 2-0, but that is somewhat masking that the offense so far has been disjointed because of injuries and personnel changes. The Bucs have scored only one offensive touchdown in each of the first two games (they also had a pick-six in the fourth quarter against New Orleans). The team's leading receiver, Mike Evans, is also suspended for this game after his hit on Saints CB Marshon Lattimore late in last week's game.
The Packers have a better chance of winning this one than the public is giving them. They should be in consideration in weekly pools where you can leverage a value upset against your pool opponents.
---
Tuesday 9/20
Week 2 Results Summary
Week 2 gave us another wild week, with several big comebacks on Sunday. It also looks like another nice week for PoolGenius subscribers as a group, as both the game-winner and spread picks outperformed the public.
Before we get to the rest of Week 2, we'll note that all of subscribers' reported Week 1 results are now in. Weekly win rates for the opening week in NFL game-winner (20.1%) and spread pools (19.5%) were both at least three times higher than expected based on the number of entries in subscribers' pools.
Game-Winner Pools
In game-winner pools, the public averaged 8.8 wins in Week 2,  with a typical entrant again barely clearing the .500 mark in most pools.
Our biggest value favorite, New England, won the game, which meant most of the public got that one wrong. A couple of the biggest underdog upset plays in weekly pools also hit, with the Jets pulling off the late miracle and the Jaguars handling the Colts. Two late line-movers that moved to a pick'em didn't go our way, though, as Washington and Carolina lost as toss-ups that were relatively unpopular, somewhat muting weekly contest gains.
Overall, the season-long "Max Profit" picks (10.2 wins) and weekly picks (9.2 wins on average) again came out ahead of the public. The max-profit season-long averages are nearly four wins ahead of the public average after the first two weeks.
Spread Pools
The public took a beating in Week 2. Not only did most of the popular favorites lose outright or fail to cover, but the handful of underdogs the public favored (the Steelers, Seahawks, and Vikings) all took it on the chin as well. As a result, the more popular side publicly went 5-11 ATS in Week 2, and the public average was 6.9 wins out of 16, for a 43% cover rate.
Our pick recommendations averaged 9.9 wins in season-long max-profit picks. Meanwhile, weekly picks, which tend to also account for public pick popularity more to differentiate, averaged 10.9 wins. With those results being three and four wins better than the public average, we can expect a fair amount of you to report weekly wins in spread pools.
In pick-five-type pools, our top five picks by our betting models against the contest lines went 4-1 ATS, and the five least popular spread picks publicly went 4-1 ATS. Subscribers in those type of pools likely also fared well as a group, depending on which specific contest lines and picks were recommended.
---
FYI
Important Notes About Picks We Highlight
Keep in mind three things about picks we highlight in this article:
Optimal pick'em contest strategy balances risk and potential reward.
Maximizing your odds to win a pick'em pool generally requires exploiting the best opportunities to differentiate your picks from your opponents's picks. Ideally, you want to fade the public while taking on minimal additional pick risk to do so. For example, taking a betting market favorite being picked by less than 50% of your opponents is usually a great opportunity.
Not all of the picks we highlight are suitable for all pools.
Don't be surprised if our Football Pick'em Picks product doesn't recommend several of the picks we mention in this post for your pool specifically—especially the upset picks. The best pick strategy for you depends on a number of factors such as your pool's size, rules, and prize structure (a concept that's covered in part by our article on season vs. weekly prize strategy).
Picks we highlight may no longer look compelling by game day.
We analyze and write about picks using data (e.g. win odds and pick popularity) current at the time we publish this article, but that data can change before kickoff. For example, key player being ruled out or a shift in public sentiment about a team can erase the differentiation value that a pick initially offered.
We'll provide periodic updates in this post if major data changes occur for picks we've mentioned, so make sure to check back. However, there's a much better way to stay on top of changing data trends throughout a week, which all sharp players need to do.
Our Football Pick'em Picks product automatically imports the latest win odds and pick popularity data multiple times per day. You can see the latest information in the Data Grid.
After you generate customized picks for your pool, you can also update those pick recommendations whenever you want via the My Pool Picks screen. The updated picks will incorporate the most recent data we have.
---
FYI
About Our Pick'em Pool Advice
What makes pick recommendations from our Football Pick'em Picks product different from other sites is that it isn't generic.
In any given week, the best picks for your football pool depend on a number of variables. Your pool's size, rules, and prize structure all influence strategy, as do factors like your current place in the standings and how many weeks are left.
So many different scenarios exist that it's impossible to give pick advice that makes sense for every one. An underrated 6-point underdog could be a great pick in a big weekly prize pool and a terrible pick for a small season-long pool where you're currently in the money.
Technology to the rescue
As far as we know, we're the only site that has built algorithms to evaluate all these strategy factors and provide you with customized pick recommendations every week.
The result? Every year, an average of 71% of our subscribers win a prize (season-long or weekly) in a football pick'em contest.
If you want to see all the Week 1 picks we recommend for your football pick'em contest, use our Football Pick'em Picks product.
Why we write this column
At the same time, we know our subscribers like to understand the rationale behind picks our product may recommend, especially when those picks go against the grain. So over the years, we've started to write more about the "whys" behind our approach.
This column can also help educate our readers with pick'em pool strategy. We highlight tactics proven to result in more pick'em pool wins over the long term and point out common pitfalls to avoid.
We hope you enjoy reading, and we encourage you to check out more of our football pick'em strategy articles.
---